Yes! Roadster Starts at $77,995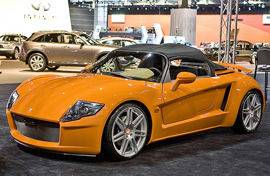 German carmaker Yes! released pricing on its all-new roadster yesterday. The 255-hp, naturally aspirated version starts at $77,995, while the 355-hp turbo roadster will set you back $97,995.
The latter goes from zero to 60 mph in just 3.8 seconds, which is two tenths of a second quicker than the most powerful Lotus Exige. Opt for an additional turbo power upgrade on that car, and it spits out 415 hp and storms to 62 mph in 3.4 seconds. That sort of acceleration leaves a number of supercars in the dust — and considering the upgrade costs $7,995, we'd pass up options like the navigation system ($4,995) and full leather interior ($4,995) to get the extra power.
Option pricing ranges from affordable — like a $149 cupholder and $595 heated seats — to steep; an adjustable sports suspension runs $2,795, and there's that already-mentioned navigation system. Front and rear parking sensors ($749) seem like a worthwhile investment, but we're not sure why air conditioning costs $2,995. Write us a check for three grand and we'll sweat it out.
Load up the turbo with every conceivable option, and it could run close to $150,000. Worth the cash? Weigh in below.
More Yes! Roadster info and photos