Eco-Friendly Car of the Year Runners-Up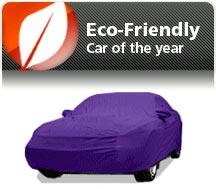 You can't talk cars these days without talking about hybrids and alternative fuels. This year we had so many new or significant ones that this category was one of the toughest to call in our Lifestyle Awards.
Green Cars of the Year: 2007 Toyota Camry Hybrid and 2007 Toyota Prius
Runners-Up: Chevrolet Avalanche E85, Chevrolet Suburban E85, Ford Escape Hybrid, Honda Civic Hybrid, Mercury Mariner Hybrid, Saturn Vue Green Line
The Debate: It came down to extreme mileage versus a mix of value, fuel economy and clean emissions. This was a tough one, with the Honda Civic Hybrid touted by some as superior to the Prius. The Vue Green Line also impressed us with its inexpensive price of entry, but none were better-executed than the Camry Hybrid, and none win the mileage battle like the Prius. Case closed … this year.
Related:
Family Car of the Year Runners-Up