GM's Ugly Yet Simple iPod Solution
While many car companies are quickly adopting USB inputs for iPods and other MP3 players, GM has resisted the change on most of its more affordable models. Yes, you could get a dealer-installed adapter cable, but nothing built-in. Recently, we had a bright yellow Chevy Cobalt XFE in our fleet, and I took it out to run an errand. When Ask.Cars.com editor Joe Bruzek told me it had a USB interface and he liked it, I was skeptical. But I took my 120GB iPod Classic with me and couldn't believe what I discovered.
The $100 option is ugly.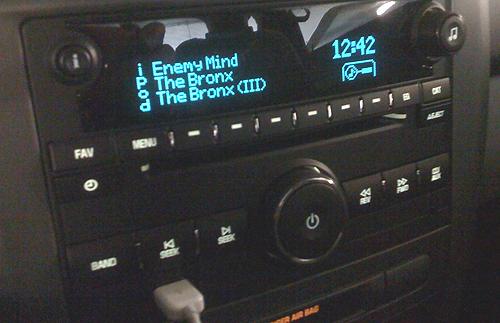 There is literally a jagged rectangle cut into the face of the stereo head unit with a USB plug sitting in it. The readout is in plain blue text, which looks pretty dated.
But sometimes simplicity works.
The second you plug in your MP3 player, the head unit recognizes it and you can sort through your catalog. I was surprised at how quickly this happened. After I got in and out of the car a few times, when I plugged the player back in it picked up where I had left off. It was also very easy to scroll through playlists.
By far the best aspect of GM's system is that it has three lines of text, and it displays artist, song title and album all at once. Even lengthy titles fit without scrolling. This is terrific when you're using "shuffle" on 120GBs of music.
The basic GM stereo head unit has been a favorite of mine for years because of how simple and easy to use it is. There's a huge knob in the center for volume and power, which makes blind alterations easy. Also, the presets for radio stations can be mixed between AM, FM and satellite radio. That means if you like sports talk radio and rock 'n' roll, it takes just one button to switch between them, instead of two taps. Yes, that annoys me.
Back to the USB connector. When I finished my drive, I could only think of one thing: GM should make it standard and give everyone a $100 break, because I think it would impress more shoppers if it were in every car on the lot.
Note: The first photo is actually from a Cobalt SS we had in the fleet a few months back, and the other two I shot with a camera phone in the Cobalt XFE.