Airbags for Three-Rows Not Universal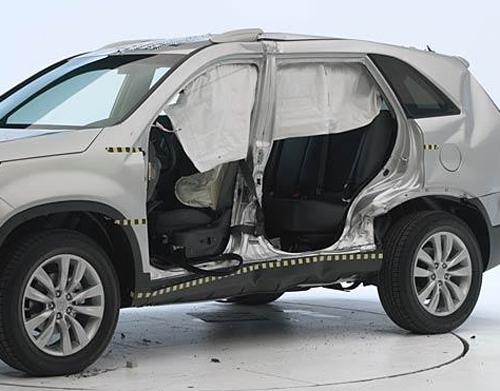 Andrew Friedman admits safety wasn't a top priority when he was shopping for a new car, even though it would carry his wife and three children.
An attorney in the Washington, D.C. area, Friedman bought a 2011 Ford Explorer last February for what seemed like more practical reasons. His family evaluated seating and drivability across a cadre of SUVs: the Explorer, the Chevrolet Traverse and GMC Acadia as well as the Honda Pilot. The Ford got the family vote for its high seating positions in the second and third rows. Space, not side airbags, won the day.
Cars.com $37,000 Three-Row SUV Shootout
And while the Explorer's side-curtain airbags do extend to the third-row, they aren't universally standard and in a few cases are completely absent.
"The safety features of this car versus another didn't really have an impact," says Friedman, whose children are ages 8, 11 and 14. "It's also something that's not very visible."
You can hardly blame him. All the SUVs the Friedmans tested have good ratings for front and side crash tests, and they come equipped with antilock brakes, electronic stability systems and six or more airbags — features limited to luxury models a decade ago.
And the improvements keep coming. Two years ago, Ford announced inflatable rear seat belts in the Explorer. Toyota followed four months later with airbags for the front-seat cushions and rear window in the pocket-sized Scion iQ. Last month, GM introduced the first front-seat center airbag for its three-row SUVs.
No protection in third row
Safety experts laud the innovation, but amid the airbag increase, a few third rows remain airbag-free — and could remain that way until the 2018 model year, when new federal standards all but require them.
Cars.com audited the market's SUVs, minivans and wagons with three rows of seats available, and found 47 models in total. Most have curtain airbags that span all three rows. But six models stop their curtains at the second row: the BMW X5, Kia Sorento, Mitsubishi Outlander, Mercedes-Benz E-Class wagon, Subaru Tribeca and Toyota RAV4. The E-Class wagon and Tribeca include third-row seats standard; the rest offer an optional third row.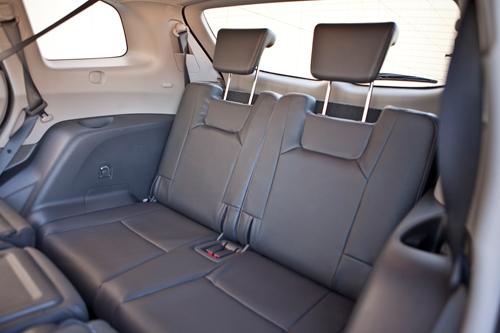 Automakers say their vehicles have sufficient protection. Subaru spokesman Dominick Infante says the Tribeca's third row sits near a cushioned D-pillar (the one that flanks the SUV's tailgate) for head protection. BMW's Dave Buchko cites similar measures in the X5, adding that the two third-row occupants sit more inboard than those in the second row, keeping them farther away from an impact.
There currently are no crash tests for third rows. The National Highway Traffic Safety Administration has plans to require ejection mitigation in all three rows — complete with a test that simulates passenger ejection — that should lead to better curtain coverage, the agency says. But the program doesn't phase in until the 2014-18 model years.
Lack of data
Right now, "very little analysis has been done comparing the relative safety of second- and third-row occupants in the real world and the laboratory," says safety advocate Joe Colella, who owns Frederick, Md.-based Traffic Safety Projects, a group that focuses on occupant protection education. "We don't know if those curtain airbags are needed for the third row or not without having some of that data."
That could take some time. Mitigating ejections is one thing; evaluating third-row side-impact protection is another, and it ranks down the list of crash-test priorities. The rearmost seats usually go empty, so fatalities are slight. Deaths from belted passengers behind the second row — a group that includes third- and, if equipped, fourth-row passengers — comprised just 1.2 percent of belted light-truck occupant deaths in 2009, according to the most recent year of NHTSA data.
IIHS doesn't plan to conduct third-row testing anytime soon, agency spokesman Russ Rader says. But crash-tested or not, third rows need curtain airbag coverage, he adds.
How often do families use their third rows? The ones in question — cramped seats shoehorned in back of small or midsize SUVs or a rear-facing jump seat in the E-Class' case — probably see little use, Rader notes.
"This isn't a Top 10 highway safety problem," he says. But "if you got a vehicle and are putting people in the third row, you should be getting the same level of safety back there that the first two rows are getting."
Are more airbags better?
Stuffing cars with airbags makes for impressive tallies for automakers to trumpet. The sub-$14,000 Chevrolet Sonic has 10 standard airbags, while Scion's $15,265 iQ carries 11. Results matter most: The last-generation Subaru Forester earned a Good side-impact IIHS rating with just four airbags, while the eight-airbag Hyundai Azera only scored an Acceptable rating.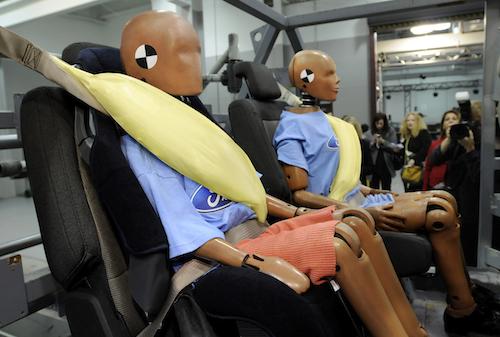 "We haven't seen any major advantage to the airbags that some automakers are putting in to protect the knees of drivers," Rader said. "But innovations like GM's center-seat airbag could make a significant difference to reducing the risks to people in crashes. "The good news about all of this is that automakers are competing on safety, and they want to be seen as leaders," he said.
The final choice
What about the Friedmans' new SUV? The curtain airbags in their Explorer, and all the competitors they cross-shopped, cover the third row — a good thing, given they use it "three or four or five times a week," Andrew says.
"I have three kids that play sports, and we do carpools to everything," he says. "And I pick up a carpool at night for my son playing soccer, and I'm taking three of his friends."