Cars.com Announces Best Bets for 2012 Models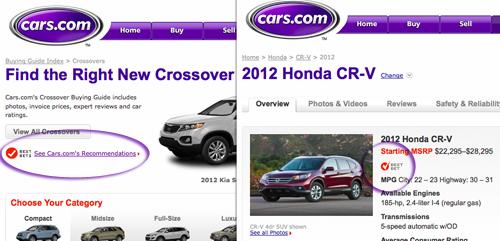 As we've done for a long time, we're rolling out our Best Bets for the 2012 model year. We know that many consumers are looking for guidance when it comes time to choose a new car, and Best Bets were designed to help with that process.
Unlike our awards, which call out the absolute top models, Best Bets include any vehicle you can be confident in buying. We have four criteria in determining which cars to recommend:
The car must get average or better fuel economy for its segment
The car must have average or better reliability
The car must get average or better scores in crash tests (although we do have some exceptions for low-volume models that are not crash-tested)
And Cars.com's editors must endorse the car as well.
In years past, we've rolled these out mostly in one shot, but this year we're trying something new. As more 2012 models are tested and rated, we'll keep adding to the list when new information warrants it, so check back on KickingTires to see which models have gained our recommendations.
Compact SUVs and Crossovers
Midsize SUVs and Crossovers
Full-Size SUVs and Crossovers
Luxury SUVs and Crossovers
Hybrid and Diesel SUVs and Crossovers
Compact Sedans
Compact Hatchbacks
Midsize Sedans
Midsize Coupes
Full-Size Sedans
Luxury Cars
Luxury Coupes
Luxury Hatchbacks and Wagons
Sports Cars
Convertibles
Compact/Midsize Pickup Trucks
Full-Size Pickup Trucks