2013 Subaru Outback and Legacy: Up Close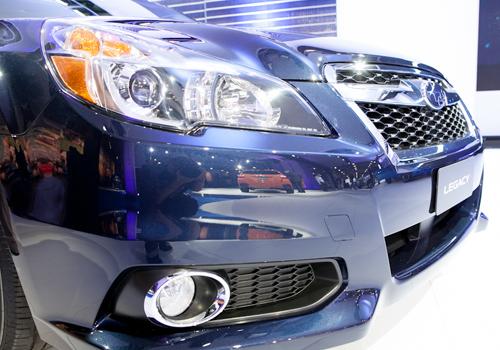 It takes a close inspection to sniff out the styling changes to Subaru's popular midsize cars, the Legacy sedan and Outback wagon. Subaru's winged grille bars jog up at the center, and both cars get larger optional fog lights.
More 2012 New York Auto Show Coverage
The Outback's rear crossbars now have two mounting points 10 inches apart, allowing them to accommodate bikes or longer canoes better than last year's narrower mounting points.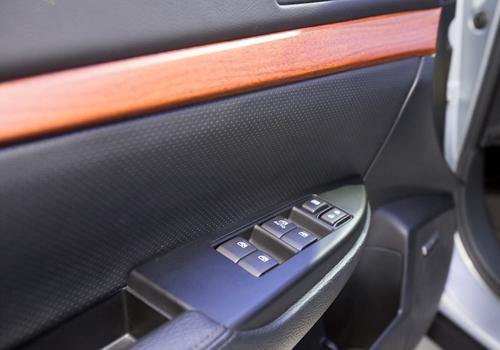 Interior changes amount to new faux-wood trim that beats the heck out of the prior
plasticky faux wood trim
. Like before, both cars have roomy confines but short seating cushions. Subaru's EyeSight system — which packages adaptive cruise control, collision braking, lane departure and more — uses two cameras in the headliner on either side of the rearview mirror. Spokesman Dominick Infante said Subaru plans to offer the EyeSight system on the Outback and Legacy Limited before expanding it across the lineup. In traffic-choked Japan, EyeSight's take rate is 90%, but it's been available in some form for several years.
Subaru bumped up highway mileage with the engine rather than any aerodynamic tweaks, Infante says. It's the same four-cylinder from the Forester, which is easier to build and cleaner, Infante said. The vast majority of Outback and Legacy shoppers buy the four-cylinder now; less than 20% opt for the 3.6-liter six-cylinder. It's a shame Subaru dropped the turbo 2.5-liter four-cylinder, which came with a six-speed manual in the athletic Legacy 2.5GT.
"No one was buying it," Infante said. "The numbers were just too low."
Another year, another stick-shift bites the dust.