Which Three-Row SUVs Offer Second-Row Captain's Chairs?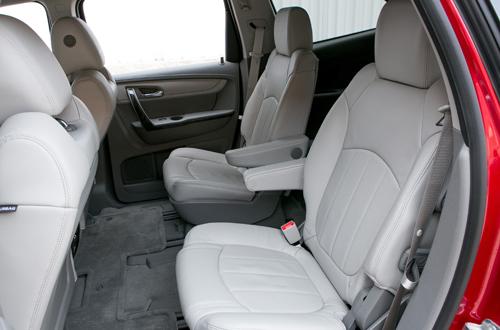 Most three-row SUVs and crossovers are adept at hauling passengers, child-safety seats and all the baggage families carry, but when two car seats are installed in the second row, accessing the third row becomes an acrobatic feat. If you've ever had to catapult over a second-row bench to get there, you know that captain's chairs are handy to have.
Yes, the captain's chairs mean seating capacity declines by one, but they make the third row more easily accessible with a path between the two seats — and when Mom's happy, everyone's happy.
Some automakers have gotten clever with how to maneuver around a second-row bench once child seats are installed. The "smart" bench seat in the Nissan Pathfinder and Infiniti JX35 is impressive, but nothing's easier than a clear pathway between the seats to the third row.
The latest automaker to make captain's chairs available on a three-row crossover is Hyundai with its 2013 Santa Fe. Spokesman Miles Johnson told Cars.com that the crossover's predecessor, the Veracruz, only came with a second-row bench. The "Santa Fe Limited has the captain's chairs for a more premium experience," he said.
Here is our list of three-row SUVs and crossovers with available second-row captain's chairs:
Editor's note: This post was updated on Aug. 30th.
Related
Third-Row Access: Captain's Chairs Save the Day
Bench Seats Versus Captain's Chairs
Infiniti JX's Smart Second Row Means No More Squeeze Play