Cars.com's Issues With MyFord Touch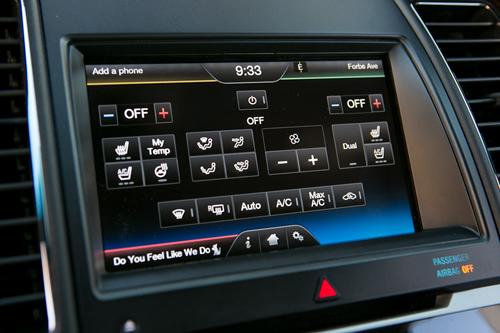 The news today that Ford is rethinking its capacitive touch-heavy MyFord Touch multimedia system isn't a shock to our team of editors. Since we first tested it in a 2011 Ford Edge there has been a nearly unanimous cascade of criticism from our team.
Ford to Add More Physical Buttons to MyFord Touch
"While there's plenty to like about the 2011 Ford Edge, its electronics remind me of my not-so-smart phone: bedazzling in theory, befuddling in practice," editor Kelsey Mays said in that first review. "A number of editors got behind the wheel, and the verdict among them was unanimous: MyFord Touch needs a lot of work, and it's worth sticking to an SE or lightly equipped SEL trim to avoid it."
That was in January 2011, a year after Ford introduced MyFord Touch to raves prior to the North American International Auto Show in Detroit.
Our disdain has carried on to the most recently upgraded system found in the redesigned Ford Fusion. "The Sony system is busier with many more capacitive buttons — none of which feature an audible click or send a pulse of feedback through the panel to confirm you've actually achieved the desired result of your finger pressing," said Managing Editor David Thomas in his review.
Editor-in-Chief Patrick Olsen detailed a cross-country road trip in a 2013 Ford Flex that saw the system completely fail and require a reboot while the car was traveling at speed.
We also reviewed the system in Ford's latest C-Max, Escape, Explorer, Edge, Taurus and Focus with the most positive statement found in Thomas' Escape review. "Perhaps familiarity breeds some sort of satisfaction ... I found using the Home button on the steering wheel to be an aggravation saver, bringing up the familiar screen with four quadrants of info in much larger type than in past versions."
Perhaps the most telling test we've done is one of a Ford model without MyFord Touch. In our recent $26,000 Midsize Sedan Showdown, the Ford Fusion came in a close second to Honda's redesigned Accord in one of the most competitive segments in the industry. That highly regarded test car did not feature MyFord Touch.
Related
Ford to Add More Physical Buttons to MyFord Touch
More Car Gadget News
Research Ford Vehicles