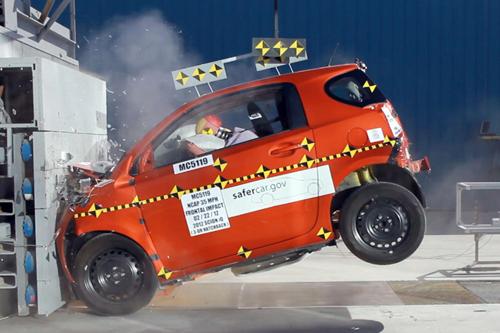 Vehicle safety has come a long way since Volvo first introduced the three-point seatbelt in cars way back in 1959. Recently, we've all come to rely on safety features like antilock brakes, traction and stability control, and six airbags as standard equipment in most of our cars. The year 2014 will usher in a whole new era in vehicle safety with a whopping 10 or more standard airbags popping up in many vehicles.
We're all familiar with driver and passenger front airbags, driver and passenger torso airbags, and curtain side airbags. However, new innovations in airbags demonstrate car manufacturers' focus on safety as crash tests get ever harder. Here's an overview of some of the newest "extracurricular" airbags you'll find in many new cars today: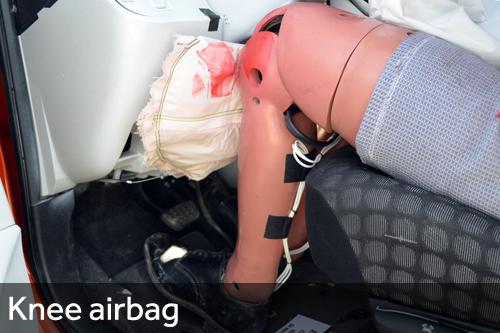 Knee Airbags: Affordable cars like the Dodge Dart, Jeep Grand Cherokee, Buick Verano and a whole slew of Chevrolets (like the Spark, Sonic, Impala, Malibu and Cruze) are offering 10 standard airbags, including driver and passenger knee airbags. These airbags inflate from under the dash to help prevent common lower-leg injuries in crashes. Larry Kwiecinski, engineering group manager for the GM Global Safety Center, noted, "In our vehicles without knee airbags, the vehicle structure, the seatbelts and the instrument panel are all designed to help absorb crash energy and reduce lower-leg injuries as well. Knee airbags are just another tool in our toolbox."
Center Airbags: GM developed the first center airbag after monitoring common side crash injuries. These airbags inflate from the inboard side of driver's seat, between the driver and passenger. They provide restraint and support to both the driver and passenger in a side crash, as well as cushioning any potential impact between the driver and passenger. These are standard on all 2013 Buick Enclaves, as well as GMC Acadias and Chevrolet Traverses outfitted with a power driver's seat. These airbags are particularly worth noting since, "The front center airbag ... has real potential to save lives in side crashes," according to Russ Rader, spokesman for the Insurance Institute for Highway Safety. GM is working to reduce the amount of packaging space needed for center airbags in order to increase the number of cars that they'll appear in.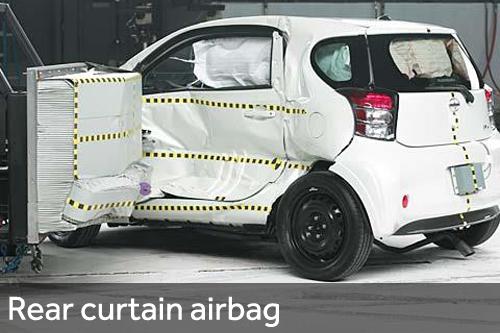 Rear Curtain Airbags: In 2012, Scion launched the industry's first rear curtain airbag on its tiny Scion iQ. In the event of a crash, these airbags inflate between the glass of the rear window and the rear passenger's head restraints, protecting rear passengers from breaking glass and other debris.
Seat Cushion Airbags: With that same 2012 Scion iQ, along with the 2012 Toyota Yaris, we saw the industry's first seat cushion airbags. These inflate from the seat cushion, underneath the driver's and front passenger's knees, to help prevent the occupant from submarining underneath the lap portion of the seatbelt.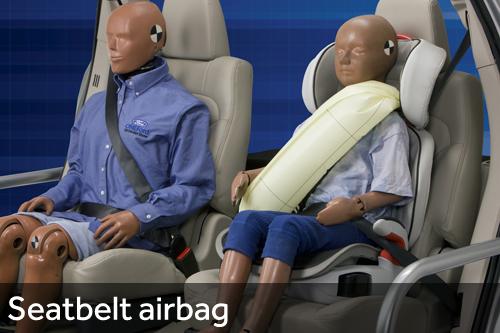 Seatbelt Airbags: Ford debuted inflatable airbags installed directly in seatbelts on its 2011 Ford Explorer. These seatbelts help reduce the severity of a crash for rear passengers by distributing the force of the impact over a wider area of the airbag versus a traditional belt. It's a $595 option on most Explorer models and is also available on Ford's Flex and Lincoln MKT.
Photos courtesy of Safercar.gov, IIHS, GM and Ford
Related
Safety Agency Agrees: GM's Front-Center Airbag Has Real Benefits
Ford Introduces Inflatable Seatbelts
More Safety News