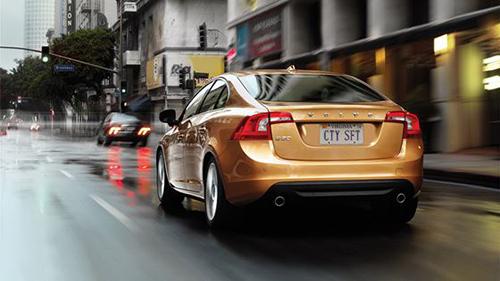 The Insurance Institute for Highway Safety is well-known for its crash-test ratings and its Top Safety Pick and Top Safety Pick Plus awards. Now the institute wants to know how good vehicles are at avoiding those crashes altogether. IIHS today released the results of its new ratings for frontal-crash prevention, assigning a rank of superior, advanced or basic to models with optional or standard crash-prevention systems, depending on whether they offer autonomous braking (or autobrake) and how effective it is in tests at 12 and 25 mph.
To be rated superior, vehicles must have autobrake and be capable of avoiding a collision, or substantially reducing speed, in the two tests. Advanced-rated vehicles must have autobrake and avoid a crash or reduce speed by at least 5 mph in one of the two tests. A basic rating goes to vehicles equipped with a forward collision warning system that meets the National Highway Traffic Safety Administration's performance criteria; for a NHTSA endorsement, a system must issue a warning before a specified time in five of seven trials in a trio of scenarios.
Both moderately priced and luxury vehicles comprised the maiden test group. Of 74 model-year 2013 and 2014 vehicles, seven earned the superior rating, six earned advanced, 25 earned basic and 36 either do not offer crash prevention or have a system that doesn't meet test criteria. The Cadillac ATS sedan and SRX SUV, Mercedes-Benz C-Class sedan, Subaru Legacy sedan and Outback wagon, Volvo S60 sedan and XC60 SUV all earned the top rating when equipped with optional autobrake and forward collision warning systems. The Acura MDX SUV, Audi A4 sedan and Q5 SUV, Jeep Grand Cherokee SUV, Lexus ES sedan and the Mazda6 sedan scored an advanced rating when equipped with autobrake and forward collision warning. Some models, including the Volvo S60 and XC60, Acura MDX, and Cadillac ATS and SRX, also earned a lower rank when not equipped with certain safety features.
IIHS implemented the new program to help consumers decide which safety features to consider and to encourage automakers to accelerate adoption of such technologies, the institute said in a statement. The rating system is based on research by the Highway Loss Data Institute indicating that forward collision warning and automatic braking help drivers avoid front-end crashes.
"Front crash prevention systems can add a thousand dollars or more to the cost of a new car," David Zuby, IIHS chief research officer, said in a statement. "Our new ratings let consumers know which systems offer the most promise for the extra expense."
Click the chart below to enlarge.
Related

NTSB: Make Collision Avoidance Systems Standard

2013 IIHS Top Safety Picks

More Safety News on Cars.com