2014 Dodge Dart GT Misses the Mark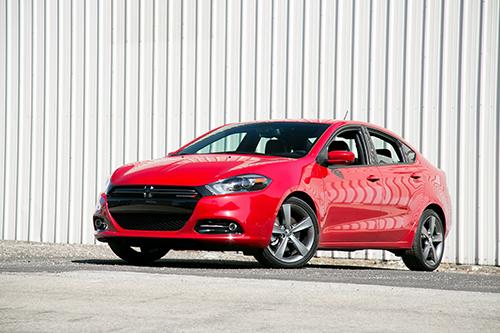 Dodge introduced the Dart GT sport trim level to round out the compact car's lineup with a performance suspension, improved steering and a more powerful non-turbocharged 184-horsepower, 2.4-liter four-cylinder, which pairs with a six-speed manual transmission or conventional six-speed automatic.
The engine and automatic transmission were previously a unique offering when the GT debuted as a 2013, but are now more widely available for 2014. The combination offers a less finicky experience compared to the Dart's laggy 160-hp, turbocharged 1.4-liter and clunky dual-clutch automatic transmission.
So far so good, but it's the GT-specific suspension takes away all the good that the engine and transmission improve upon. I'm not convinced there's an upside to the Dart GT's harsh ride after spending time recently testing one.
The stiff and loud ride grew tiresome after only a few miles on familiar roads as the tires hammered the pavement and emitted an unpleasant thwack over each road imperfection. Even after whipping the Dart GT around a racetrack last year, a Ford Fiesta ST I drove the same day proved a much more capable cheap speed package at the Autobahn Country Club in Joliet, Ill. The experience left me wanting a Dart GT with a stickier tire, more horsepower or less weight. Dodge recently announced a higher-performance Dart SRT will arrive late in 2016; we'll be anxiously awaiting its debut.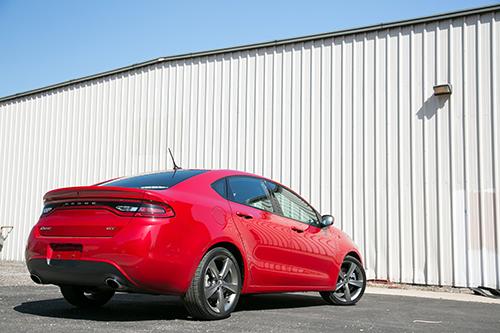 Fast-forward to my recent time on the street: I couldn't decipher much gain in the fun factor compared to the regular Dart. Previous Darts I've tested have always offered plenty of driving enjoyment with a taut ride and agile dynamics compared to compact competitors. Other editors didn't feel as strongly as I did about the GT's harsh suspension, though many agree the non-GT is plenty fun already.
This Dart GT rung up a bill of $25,125 with destination, which is a considerable amount of money when a Honda Civic Si sedan is $23,780 with destination, Fiesta ST is $22,225 and the Ford Focus ST is $24,450. Our tester came with the $1,250 automatic transmission, $995 Technology Group with rear park assist, blind spot monitor, high-intensity discharge lights and automatic wipers, plus the $495 navigation option and $395 hyper black wheels.
2014 Dodge Dart: What's Changed
That conventional six-speed automatic isn't without its quirks even though it's a more consistent experience compared to the dual-clutch. The GT's transmission has extremely punchy upshifts as well as mushy downshifts. The available six-speed manual transmission would eliminate that concern and save $1,250. Fuel economy isn't much to brag about with the automatic's ratings of 22/31/26 mpg city/highway/combined, and the manual isn't much better at 23/33/27 mpg.
For 2014, the more refined but less fuel-efficient 2.4-liter engine is standard equipment on the SXT and Limited as it replaces those trim levels' standard turbocharged 1.4-liter engine, which is now only offered in the Aero trim along with the dual-clutch automatic or manual transmissions. A sophisticated ride and fun factor are already a big part of the Dart, so the GT's rough ride isn't worth the pain now that the more powerful 2.4-liter is the upgraded engine in the SXT and Limited, and with a better fuel economy than the GT. An automatic SXT and Limited gain 1 mpg in combined ratings with a boost of 1 mpg in the city and 4 mpg on the highway.
Cars.com photos by Evan Sears