2016 GMC Sierra: Car Seat Check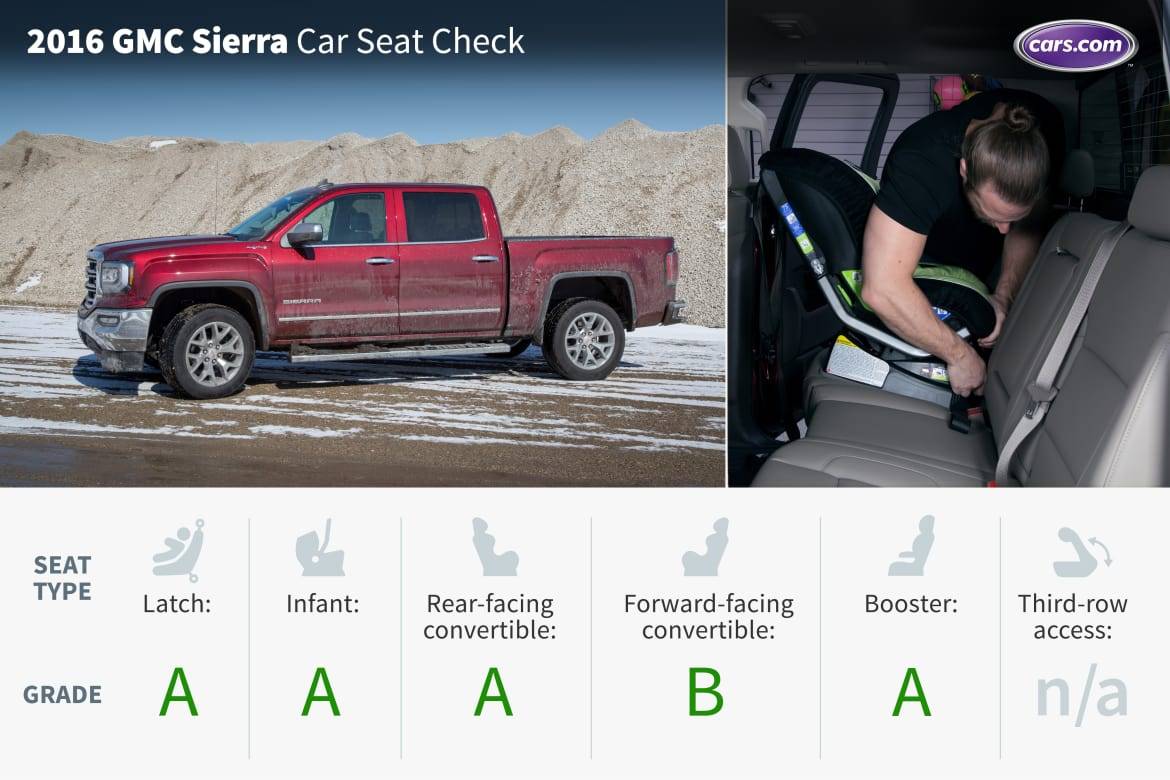 CARS.COM — For 2016, the GMC Sierra SLT Crew Cab gets refreshed front-end styling, Android Auto and Apple CarPlay, and a mild hybrid powertrain option that rolls out this summer. However, it's likely the Sierra's towing capacity that most pickup truck shoppers will latch onto. But in addition to the payload you're hauling, the Sierra is also pretty great for carrying your precious cargo.
Although we encountered a bit of trouble accessing the Latch anchors with one of our car seats, the Sierra scored well overall and joined our list of vehicles that fit three car seats across.
How many car seats fit in the second row? Three
What We Like
There are two sets of lower Latch anchors in the outboard seats, all of which are relatively easy to access with both hooklike and rigid Latch connectors, though we did encounter a bit of resistance from the firm leather seat cushions.
Our infant seat installed with ease; we did not need to move the front passenger seat forward to fit it.
In the rear-facing position, our convertible seat also fit well and had enough room.
Our booster seat installed easily, and the truck's adjustable head restraints did not interfere with the booster's position. Stable seat belt buckles should make it easier for kids to buckle up independently.
What We Don't Like
The top tether loops work as intended, but they are trickier to use than traditional tether anchors. Caregivers should check the owner's manual to make sure they're using them correctly. 
In forward-facing mode, the large seat bolsters caused the convertible to sit at an angle, requiring extra maneuvering of the car seat to find the sweet spot that would keep the entire base on the seat cushion.
We also had difficulty securing the rigid Latch connectors to the anchor because of the car seat's large base.
Grading Scale
A: Plenty of room for the car seat and the child; doesn't impact driver or front-passenger legroom. Easy to find and connect to Latch and tether anchors. No fit issues involving head restraint or seat contouring. Easy access to the third row. 
B: Plenty of room. One fit or connection issue. Some problems accessing third row when available.
C: Marginal room. Two fit or connection issues. Difficult to access third row when available.
D: Insufficient room. Two or more fit or connection issues.
F: Does not fit or is unsafe.
About Cars.com's Car Seat Checks
Editors Jennifer Geiger, Jennifer Newman and Matt Schmitz are certified child safety seat installation technicians.
For the Car Seat Check, we use a Graco SnugRide Classic Connect 30 infant-safety seat, a Britax Marathon convertible seat and Graco TurboBooster seat. The front seats are adjusted for a 6-foot driver and a shorter passenger. The three child seats are installed in the second row. The booster seat sits behind the driver's seat, and the infant and convertible seats are installed behind the front passenger seat.
We also install the forward-facing convertible in the second row's middle seat with the booster and infant seat in the outboard seats to see if three car seats will fit; a child sitting in the booster seat must be able to reach the seat belt buckle. If there's a third row, we install the booster seat and a forward-facing convertible. To learn more about how we conduct our Car Seat Checks, go here.
Parents should also remember that they can use the Latch system or a seat belt to install a car seat, and that Latch anchors have a weight limit of 65 pounds, including the weight of the child and the weight of the seat itself.