2017 Smart ForTwo Electric Drive Preview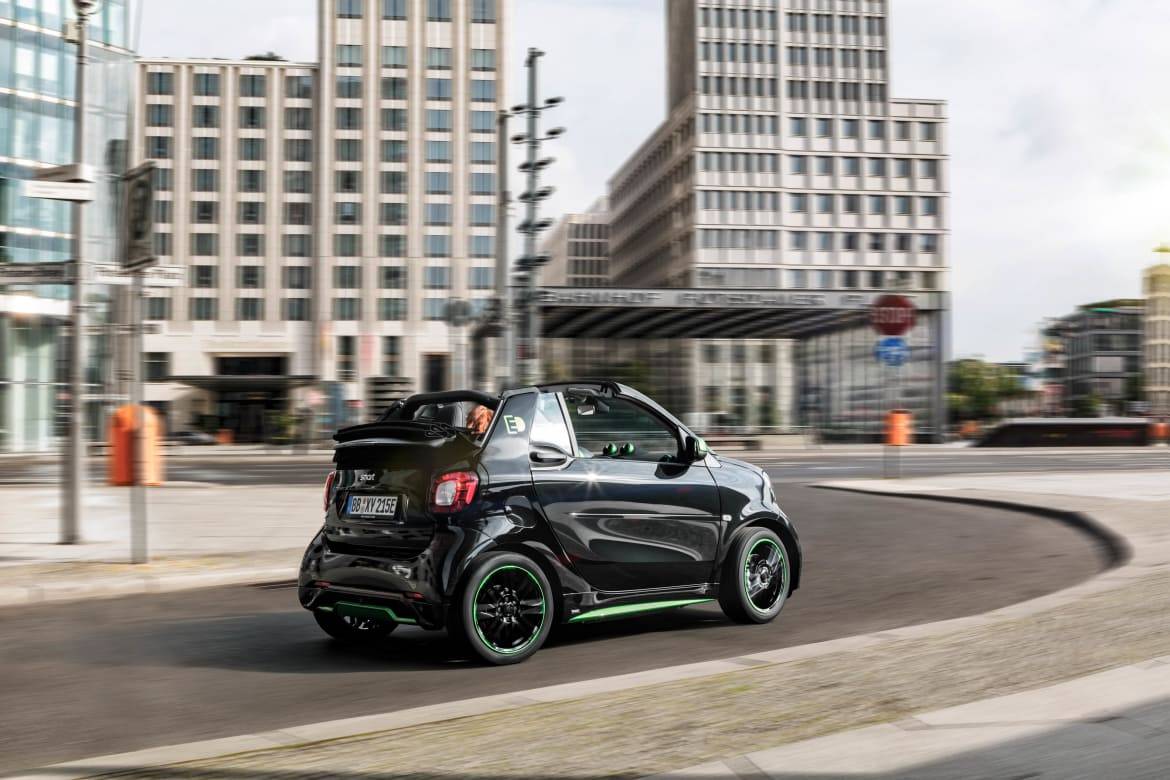 Competes with: Nissan Leaf, Chevrolet Bolt EV
Looks like: The redesigned Smart ForTwo, but with optional green paint
Drivetrains: 80-horsepower electric motor, single-stage direct drive, 17.2-kilowatt-hour lithium-ion battery, rear-wheel drive
Hits dealerships: The coupe goes on sale in spring 2017, the cabriolet in summer
Related: 2016 Smart ForTwo Review
CARS.COM — Quick quiz: What's the only electric convertible you can buy in the U.S.? The answer: Smart's tiny shopping-cart-on-steroids, the ForTwo Electric Drive cabriolet, making its debut at the 2016 Paris Motor Show. If convertibles aren't your thing, the Smart ED is also available in coupe form, but frankly the novelty of driving an open-top electric vehicle that isn't a golf cart is too great to ignore.
Exterior

Outside, the Smart ED looks like the other ForTwos in the lineup with the same super-small city car dimensions, a high hood for pedestrian impact protection and the "tridion" safety cage design that protects the car's occupants surprisingly well. The cage is available in one of three metallic colors including an exclusive Electric Green, with seven available body panel colors and two convertible top colors. The convertible roof does feature a structural bar that stretches between the two sides of the body to maintain the vehicle's rigidity and safety cage continuity, but aside from some colors and an "ED" logo sticker, not much sets the electric version apart from the conventional one.
Interior

Inside it's much the same story, with an upright two-person cockpit done up in a surprisingly somber gray. Colorful trim rings for interior bits can be specified, but the models displayed by Smart for this introduction aren't the perky, cheerful hues we've come to expect from the brand. A special dashboard-mounted battery charge meter gauge is included, as is a 3.5-inch color display in the instrument cluster. Options include a premium audio system, an ambient lighting package and a panoramic moonroof for the coupe.
Under the Hood

The Smart ForTwo ED's electric drive system has been updated for 2017 with a more powerful motor. An electric motor drives the rear wheels directly, making 80 horsepower and 118 pounds-feet of torque. This is nearly 19 percent more torque than the outgoing car, so it should be pretty zippy around town.
Electricity is stored in a 17.2-kilowatt-hour lithium-ion battery, but the new ED features a more powerful onboard charger for shorter charge times. Filling up from a standard 120-volt household outlet will take 22 hours, but it only takes about 2.5 hours with a 240-volt system. Two modes are employed for the system, normal and Eco, with Eco softening the driver inputs to maximize range. Speed is limited to 81 mph for either coupe or convertible, and range is roughly 99 miles according to Smart.
Both models of the new Smart ForTwo Electric Drive will be on sale in 2017 — spring for the coupe and summer for the droptop.