2018 Dodge Durango SRT: First Drive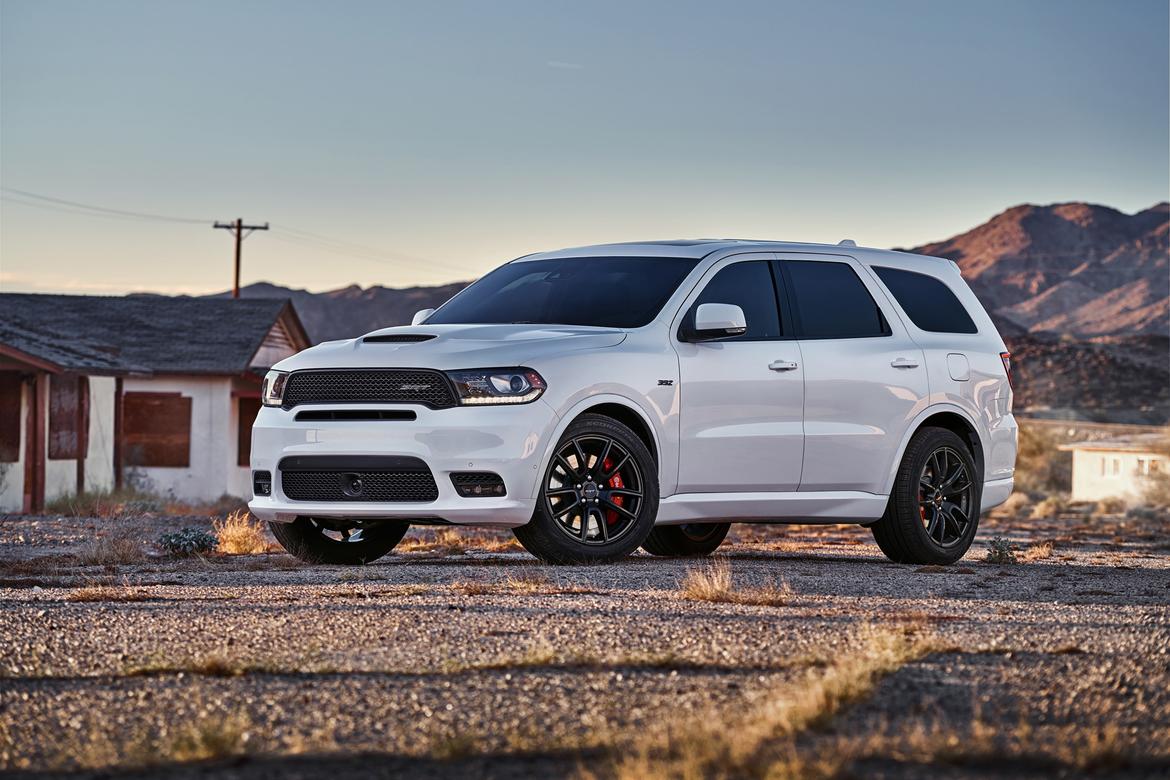 CARS.COM — In the week I spent driving the new 2018 Dodge Durango SRT around the wilds of suburban Detroit, I kept getting the same question over and over about the new super SUV from Fiat Chrysler Automobiles: Why would the company build something like this? The answer is simple: Because FCA doesn't build very good small cars.
Related: 2018 Dodge Durango SRT Preview
FCA hasn't done very well with compact and mid-size sedans, and even canceled the only two they sold in the USA (the Dodge Dart and Chrysler 200). This has left them able to focus money and effort on the things they do very well: large cars, pickup trucks and SUVs. High-performance versions they do even better, so why not focus on that? Gas is cheap and there's plenty of it, so let's make some crazy V-8-powered SUVs, am I right?
Can You Spot the SRT?
Outside, the styling changes are very subtle, but to enthusiasts along Detroit's Woodward Avenue for the annual Woodward Dream Cruise, they're sufficient to set the SRT version apart from lesser Durangos. Smoked headlights, a functionally bescooped hood, new foglights with cold-air inlets, subtle SRT badging on the wheels and liftgate, and a simple "392" badge on each fender are the only clues that this isn't an R/T trim — and now you can get all those styling bits on the R/T trim, so you don't even have that exclusivity anymore. As styling goes, it could use a little more pizzazz. The powertrain and suspension have been cranked up to 11, so why hasn't the styling?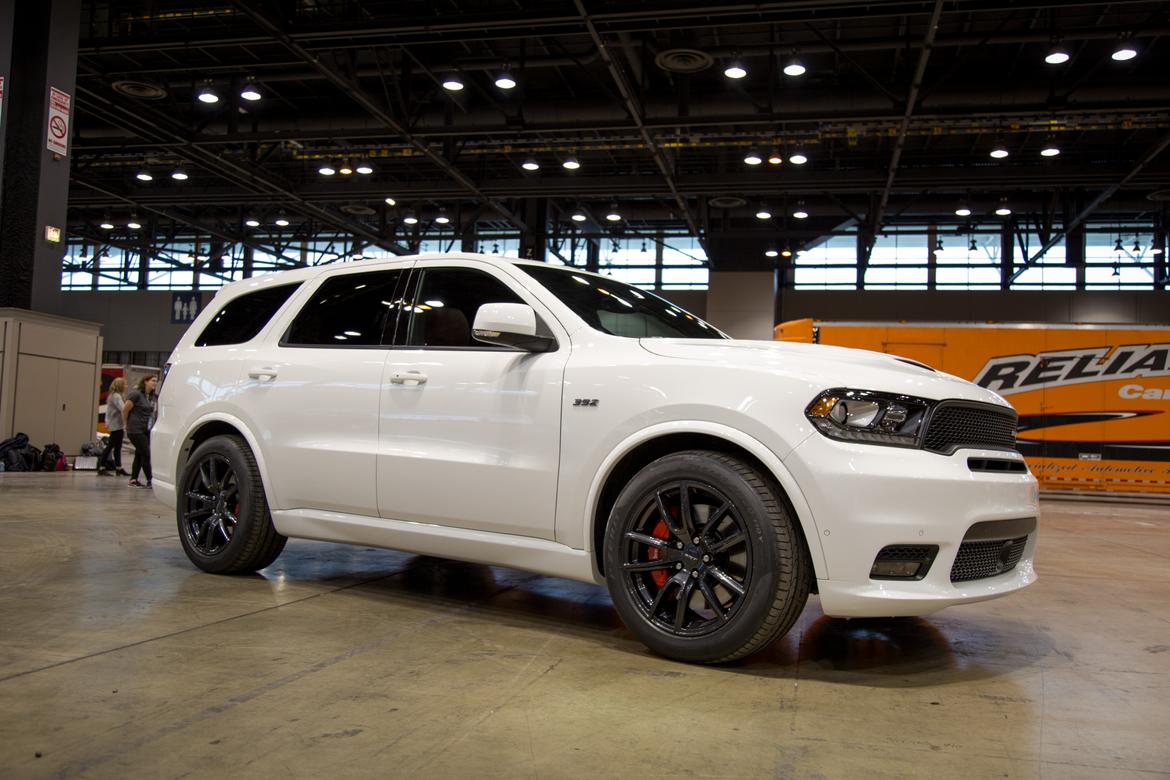 Swanky and Comfy Inside
The changes have been a bit more aggressive inside. Leather now swaddles the dash and doors, and heavily bolstered sport seats form both the first and second rows. The third row is still there, collapsible into the rear cargo area, for a maximum of six occupants since the second row comes as two captain's chairs only. It's very comfortable, with supportive seats that grip you firmly in their Alcantara faux-suede embrace. Visibility is also excellent thanks to the high seating position and reasonably tall windows. The multimedia system is FCA's excellent 8.3-inch Uconnect touchscreen, updated with some faster operation and new graphics to make it look even more slick. Apple CarPlay and Android Auto are also present for your smartphone of choice. All of the things that make the basic Durango so appealing and functional (a V-6 version finished a solid second in our 2014 $40,000 3-Row SUV Challenge) remain in the SRT version — it's spacious, useful, flexible, comfortable and appealing as a family SUV.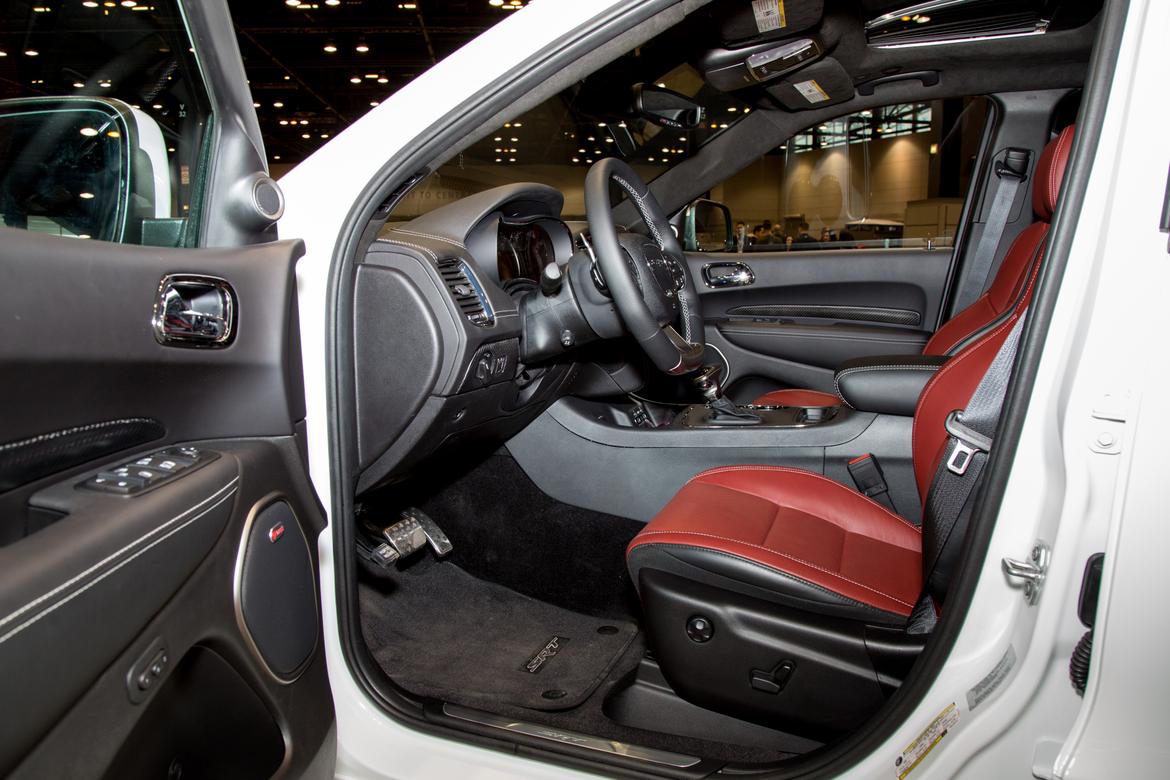 Make Sure the Kids Are Strapped in Tight
It's also an absolute beast when you fire it up. Under the hood throbs a 6.4-liter Hemi V-8 engine that's been breathed on by the folks at SRT, the company's performance group (think BMW's M division or Mercedes' AMG). As in the Charger and Challenger SRT models, it makes 475 horsepower and 470 pounds-feet of torque — good for a zero-to-60-mph time of 4.4 seconds, according to Dodge, making it the quickest six-seat SUV on the market.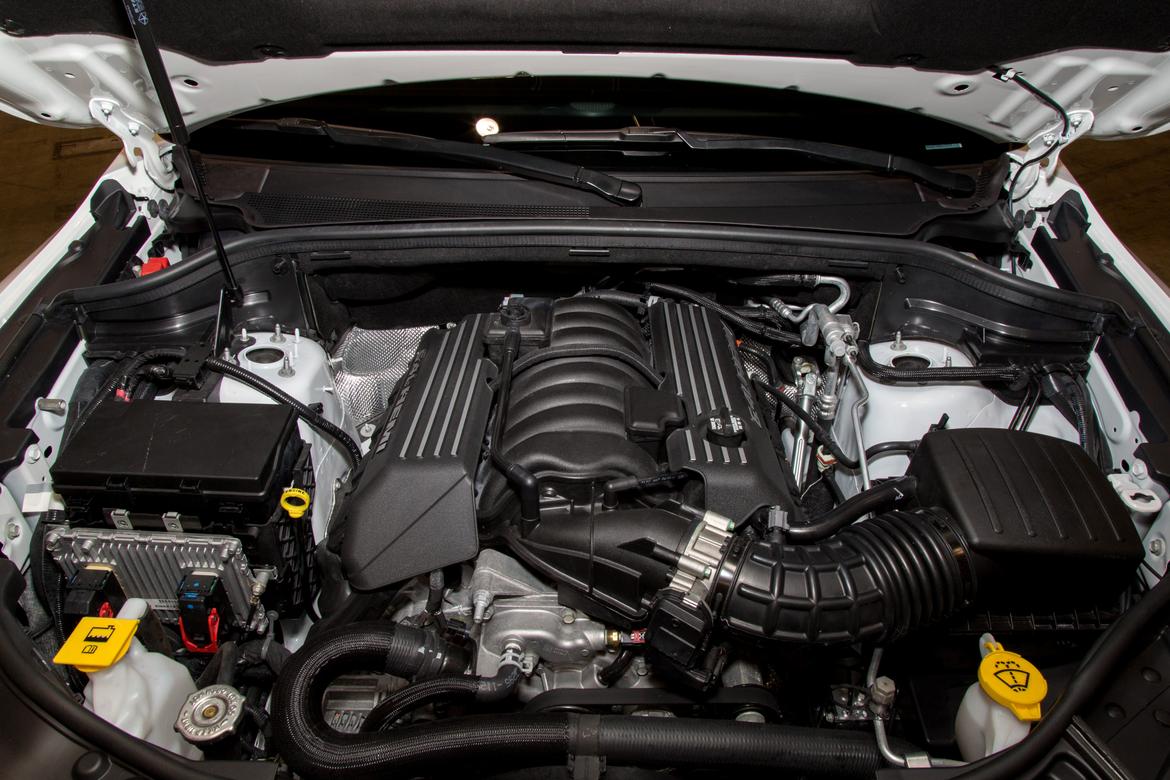 The monster motor is mated to a standard TorqueFlite eight-speed automatic transmission that's received some special calibration for shift-point optimization. And unlike the Charger or Challenger SRTs, the Durango SRT features standard all-wheel drive, with several different drive modes that allow for variable torque splits front to rear depending on what activity you're doing. Sport mode will deliver up to 65 percent of the torque to the rear wheels, while Track mode ups that to 70 percent.
The suspension also features stiffer springs front and rear and a stiffer rear sway bar, along with electronically adjustable shock absorbers that can set suspension stiffness anywhere between track-oriented super-firm and highway-oriented cushy. There are seven different drive modes, including a custom mode that allows you to adjust vehicle parameters including steering effort, suspension firmness, transmission behavior, traction control and even the all-wheel-drive torque split.
The Family Street Machine
What this all amounts to is the equivalent of a Dodge Charger SRT that sits higher and has more cargo room. Acceleration is fierce in the Durango SRT, accompanied by a bellowing roar that actually could be louder for my tastes — it's throaty on startup, but cruising through town, it's much too muted for my extroverted sensibilities. I'd be first in line for electric cutouts in the exhaust, something to open up its voice a bit more. Maybe I'm just too used to hearing Hellcats and their unholy growl.
Out on the street, the Durango SRT is decidedly firmer than its more pedestrian lesser trims. There's always an immediacy to the throttle, to the enormous upgraded Brembo brakes, to the tighter steering that makes it an entertaining drive to the store or a blast down the highway. It's hard to get used to such a big machine being so incredibly fast — and I do mean fast. It's still a lumbering beast of a thing, but you'll gain speed well past the legal limit before you realize what's happening. It's smooth, stable and addictive.
Best Kept on the Street
Out on the track, it's another story. It's possible to drive the Durango SRT on a racetrack and do some amazing things, but the level of enjoyment is questionable. My colleague Joe Bruzek took one out onto a course and found it to be a less-than-satisfying experience. The biggest issue is the Durango SRT's weight — it's more than 5,500 pounds and has a high center of gravity, two characteristics that make track driving a chore. "It takes a delicate balance to keep the front tires from plowing through a corner, and you can't get too heavy on the throttle coming out of a corner because the AWD isn't that smart; it just overpowers the front tires even in Track mode when 70 percent of the torque goes to the rear wheels," Bruzek stated. "It never feels like the AWD is helping the car turn through a corner like an intelligent torque-vectoring system."
While turning corners may not be its strongest suit, blasting down straightaways is, with the pipes opening up and noise reverberating off grandstands — or in my experience, highway overpasses as you thunder through them. And when you're ready to haul it down again, the massive six-piston front calipers grab 15-inch rotors, and four-piston rears grip 13.8-inch rotors with exceptional confidence.
You Could Spend More, But Why?
While the Durango SRT has the systems that let you take it on a track and drive it in ways that you'd never pilot, say, a Cadillac Escalade or even a Mercedes-Benz GLE, it really is best left to street driving, where its presence, speed and agility improvements make it entertaining and most enjoyable. It will stand toe-to-toe with the much more expensive (and more powerful) BMW X5 M or Mercedes-AMG GLS63, but it has more seats (six) than the BMW, a Land Rover Range Rover or the Mercedes-AMG GLE63.
It undercuts all of them on price, too, starting at $64,090 including destination fee. You can option it up with some fun items, though, like a red leather interior, a premium audio system, all kinds of state-of-the-art safety features like adaptive cruise control, lane keep assist, blind spot warning and automatic emergency braking, as well. The grand total on my almost-loaded Durango SRT came to $74,950.
For a performance SUV that can do what this one does and doesn't compromise any of the utility or ability that the regular Durango brings to the party, that's really not a bad price. Dodge is good at making muscular, attainable street machines, and they've made another desirable one here.
Cars.com photos by Angela Conners