2019 Bentley Continental GT Preview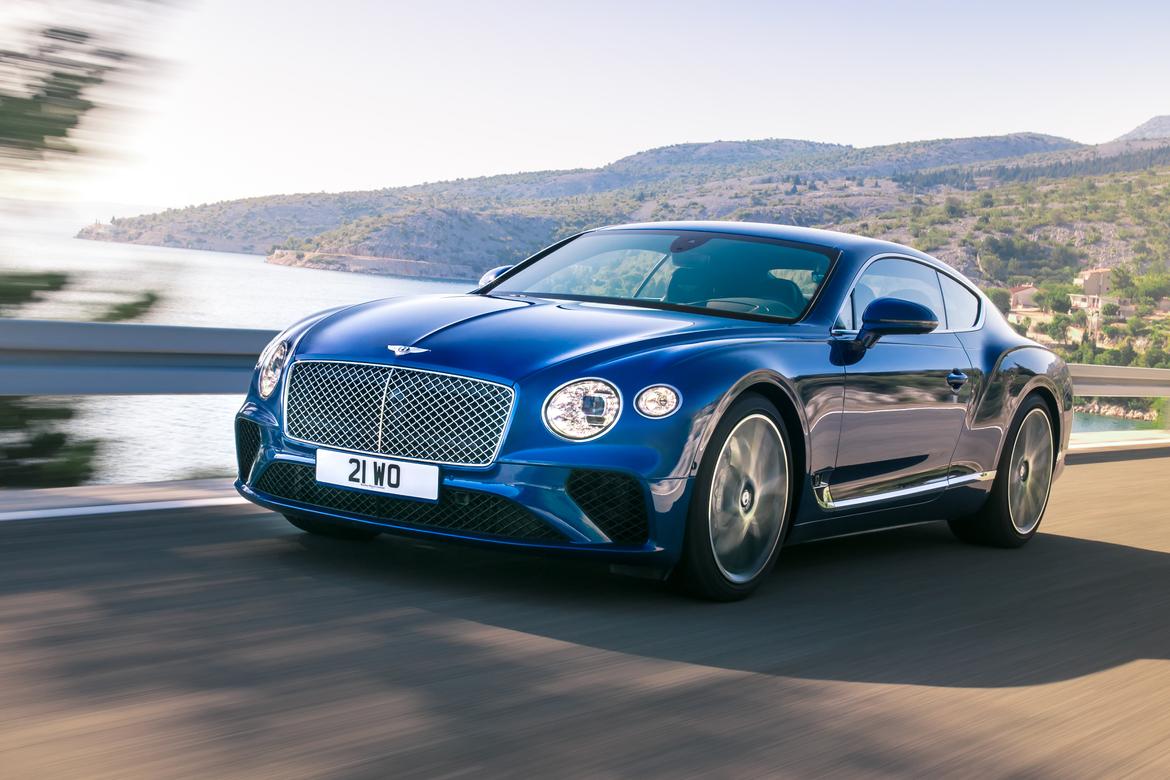 CARS.COM
Competes with: Bentley would say it's in a class by itself. But shoppers (connoisseurs?) might also look at the likes of a Rolls-Royce Wraith, Aston Martin DB11, Mercedes-AMG S65 coupe and the coming BMW M8 coupe.
Looks like: The last-generation Conti spent some time in the gym working on a sharper, more sculpted muscle tone
Drivetrain: 626-horsepower, twin-turbocharged 6.0-liter W-12 engine mated to a new dual-clutch eight-speed automatic transmission
Hits dealerships: Fall 2018
Bentley's third-generation Continental GT brings a more muscular design evolution that's still quintessentially Continental and adds new tech while offering numerous options for pampering and bespoke personalization because, well, who wants to spend $200,000-plus and have a Bentley just like your neighbor's?
Related: 2018 Rolls-Royce Phantom: What, Your Car Isn't Also an Art Gallery?
The new Bentley, while still very British in concept, rides a Porsche-influenced platform that's reported to be a cousin of a Panamera — but then, Queen Elizabeth has a lot of German cousins, too. The new Continental GT four-seat coupe will have its world debut at the International Motor Show Germany in Frankfurt Sept. 12. It's a key update for the Volkswagen Group-owned super-luxury brand, which has produced more than 66,000 Continental GTs at its factory in Crewe, England, since 2003.
The updated exterior styling keeps the overall lines, including the front-to-rear "power line" and beefy haunches, but adds sharper creases and deeper sculpting for a sportier and more athletic look. It also gets a deeper grille, new-design "cut crystal" LED headlights, and elliptical taillights and exhaust tips.
If the look seems familiar, it bears more than a passing resemblance to the EXP 10 Speed 6 concept from the 2015 Geneva auto show. Under the long hood is a 626-horsepower update of the venerable VW twin-turbocharged W-12 (essentially a pair of V-6 engines joined at the crankshaft). It has start-stop technology and other tweaks that improve mileage to an estimated 23.2 mpg combined figure from the last generation's 19.9 mpg. The transmission is a new dual-clutch eight-speed automatic, and the car includes launch control, which will motor it to 60 mph in 3.6 seconds, Bentley says. All-wheel drive is standard, as is an adaptive suspension.
But you can get numbers like those in much more proletarian rides. The numbers that may be more important to the new Continental GT competing in its rarefied territory include:
Nearly 108 square feet of wood veneers in the interior. Eight woods are offered, along with four new dual-veneer options.
A palette of 17 colors of paint for the aluminum bodywork, with 70 hues in an extended range of options and custom color matching available to, say, complement your drapes.
Twenty-way adjustable seats with heating, cooling and massage functions. The seats and other leather panels can be had in a new "diamond in diamond" quilt pattern that has 712 stitches in each diamond shape.
Leather in 15 choices, and as many carpet choices.
A standard 650-watt audio system with 10 speakers, an optional 1,500-watt Bang & Olufsen system with 16 speakers and illuminated speaker grilles (like a Kia Soul?), and, for the owner who wants to wake the neighborhood, a top-shelf 2,200-watt Naim system with 18 speakers — and Active Bass Transducers (aka "butt shakers") built into the front seats. Laminated acoustic glass keeps your sound in and the world's sound out.
Among other over-the-top features: A 12.3-inch custom configurable center touchscreen mounted in a three-sided rotating feature has the screen on one side, but it can flip to show three old-school analog dials for outside temperature, compass and clock. The third side simply extends the dashboard veneer and trim in uncluttered simplicity. The driver's instruments also are a configurable display screen.
You also can specify a new three-dimensional machined finish for the console, with a linear pattern etched into aluminum said to be inspired by the surfacing of Swiss watches, known as Cotes de Geneve.
Two tech packages are offered, a City Specification that includes hands-free trunk opening, a 360-degree camera and automatic emergency braking, pedestrian warning and traffic sign recognition, and a Touring Specification that includes full-speed adaptive cruise control, a head-up display and night vision with an infrared camera.
Pricing and on-sale date still are to be announced, but Bentley said the 2019 Continental GT would arrive about a year from now.

2019 Bentley Continental GT; Manufacturer images