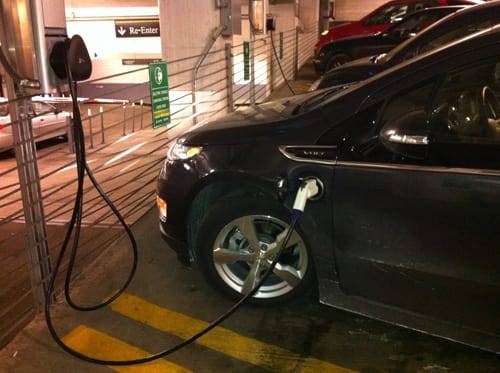 Rodents are known to climb into the engine compartments of conventional cars when it's frigid outside, so it made sense. The Volt maintains a minimum battery temperature when it's plugged in, even once fully charged. I named the rat "Chilly" and joked that maybe he was a saboteur….
When I arrived Friday morning, I returned the power connector to the charging station, which reset it, then reattached it to the Volt, which began charging again. No problem. But when I departed Friday night, I got warning lights: ABS, "Service Brake Assist" and "Service Stabilitrak." I drove it home anyway, hoping to get it serviced. The next day, I noticed the bottom rear window pane wasn't defogging, though the main window was.
This morning, Grossinger City Chevy of Chicago confirmed that Chilly the rat had indeed gnawed through a wiring harness in the engine compartment, causing, at minimum, the warning lights and rear defogger failure.
This won't be covered under warranty. It was, in the truest sense, an act of nature.
Chilly could learn a thing or two from the beaver in Bridgestone's Super Bowl commercial. That little guy prevented a Buick from plunging into a raging river.  Chilly warmed his rodent ass, ate a snack and cost us about $600. An attempt to repair the harness should save us "thousands," according to the dealer, but the labor involved in extricating the harness from behind the headlight is extensive. Is Chilly a prankster? A disgruntled former bond-holder in "old GM?" Did Nissan send him?
There's good news and bad: The good news is our Volt, on its own merits, has been trouble-free for more than a month and 3,000 miles. The bad news is this could happen again. Presumably, an electric car with a thermally managed battery will be a tempting nest long after an internal-combustion engine has cooled off. If anyone has a home remedy for deterring pests, we're all ears. We'll be asking the same of Chevy, for sure.