Car-Sharing Showdown: GM's Maven Vs. Zipcar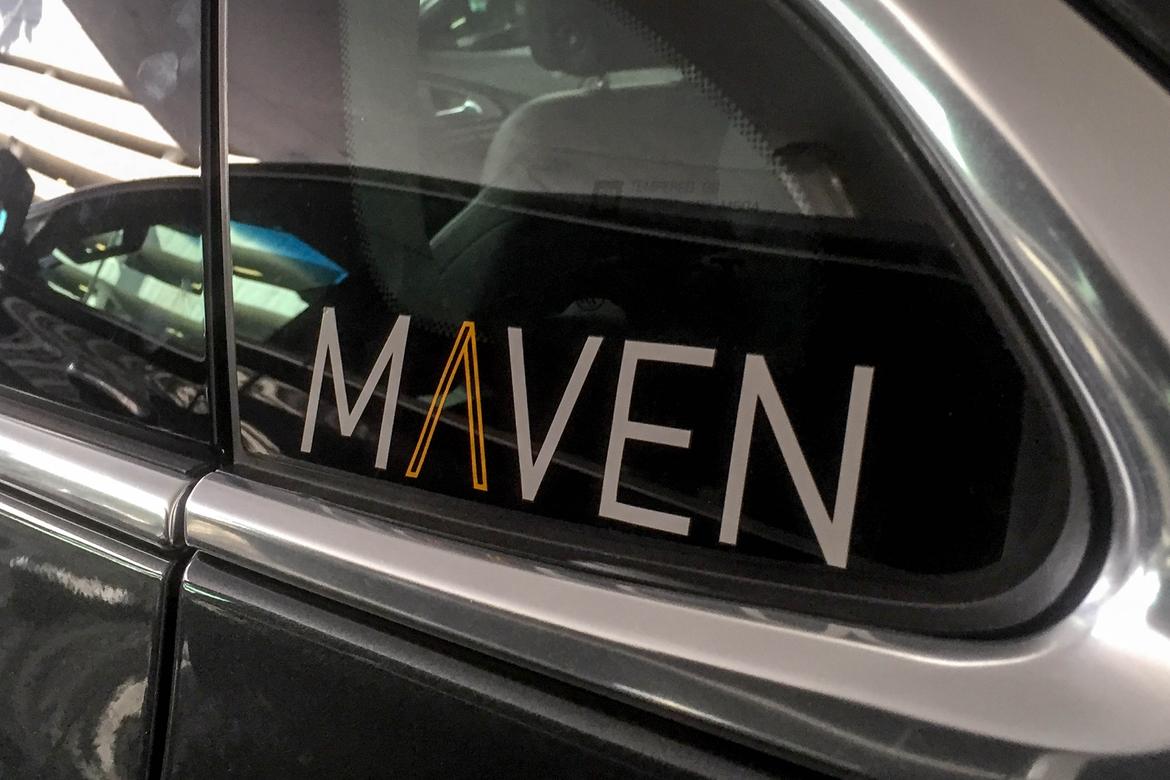 Car-sharing membership has grown in North America from 200,000 members in 2006 to 1.6 million in 2014, and car companies are taking note. While Zipcar leads the market with locations in 348 cities worldwide, services like car2go and Enterprise CarShare are popular car rental services. Automakers such as GM have ventured into the car-sharing market, too. But is there room for GM's Maven program, and what does it offer that Zipcar doesn't?
Related: GM's Car-Sharing Service Hits Million-Mile Milestone
GM announced the launch of its car-sharing program back in January, beginning with 21 parking spots in Ann Arbor, Mich. It has since expanded to other cities including Boston, Washington, D.C., and Chicago. Maven aims to provide its customers with "highly personalized, on-demand mobility services," GM said in a statement. I've been using Zipcar for almost a year. But how does Maven stack up?
Signing Up
Signing up for Maven was quick and painless. I signed up online rather than through the smartphone app, available as an Android and iPhone app. I filled in my personal and driver's license information, set my "preferred market" as Chicago, and I provided my credit card information. Maven waived the $35 annual membership fee at the time because of a public promotion, so it charged my card only $1 to verify that it was a valid payment method.
I received a confirmation email within minutes, and was told that Maven would approve or deny my membership application within two business days. I was approved only a few hours later, which was convenient. The quick approval also made me wonder how thoroughly it checked my information.
Making the Reservation
To make a reservation, I had to download the Maven app, which made me miss the convenience of reserving a car from a website or using an automated phone system. Most rental companies allow drivers to do both; Zipcar does, too. Once I was in Maven's app, though, I liked the app's interface; you can see nearby Maven car locations, as well as the number and types of vehicles there.
I didn't like that the app listed all of my personal information. Anyone who opened it could see my name, home address and driver's license information (including expiration date and home state). There is no option to set a passcode lock, so if someone got into my iPhone, they could easily find all that personal information.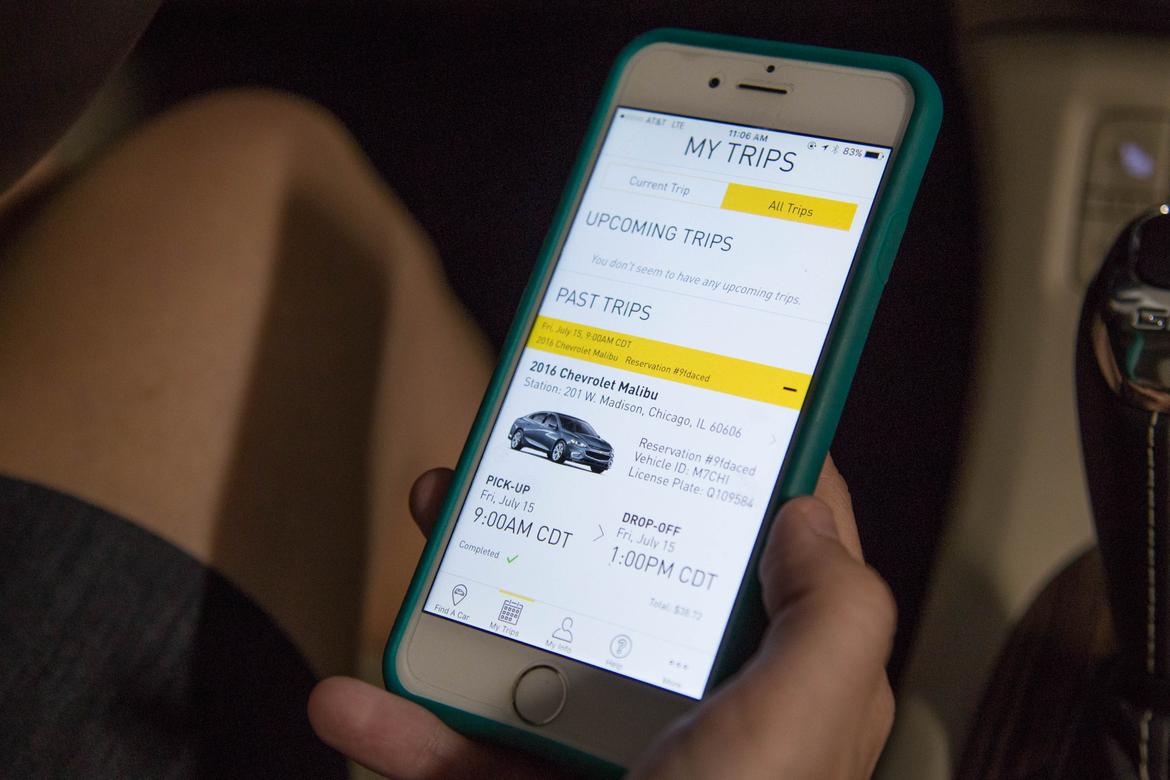 I set my desired date and time filters and chose to reserve a 2016 Chevrolet Malibu midsize sedan in a parking garage a few blocks from the Cars.com office. There were 21 other Maven locations in Chicago.
Renting the Malibu for a few hours won't cost you an arm and a leg — which is a nice consolation, living in costly Chicago. The hourly rate for the Malibu was $8 per hour before taxes (the lowest rate available), but rates can be as high as $14 per hour for larger vehicles, like SUVs. Gas does not cost extra, and drivers are insured up to the minimum state-required levels. The car also included a transponder for the parking garage and another one for the tollways in the Chicago area.
Driving the Car
The hardest part of the day was finding the car I'd reserved. On the app, I had the address and the parking garage level where the car was parked, but no further details. Zipcar, on the other hand, provides walking directions to its cars and details on how best to return them. GM communications manager Annalisa Bluhm said that this problem is on the company's radar and it is always working on improvements to the service.
I found the garage and parking level easily enough, but there were no signs pointing me to the Maven cars. Bluhm said this issue is also on the company's radar. I tried to use the app to honk the horn or start the car, but neither feature seemed to work. I walked around the parking garage for a few minutes before finding the Malibu. Bluhm explained that this was a technology glitch, but that remote start and the ability to honk the horn should both work on Maven vehicles.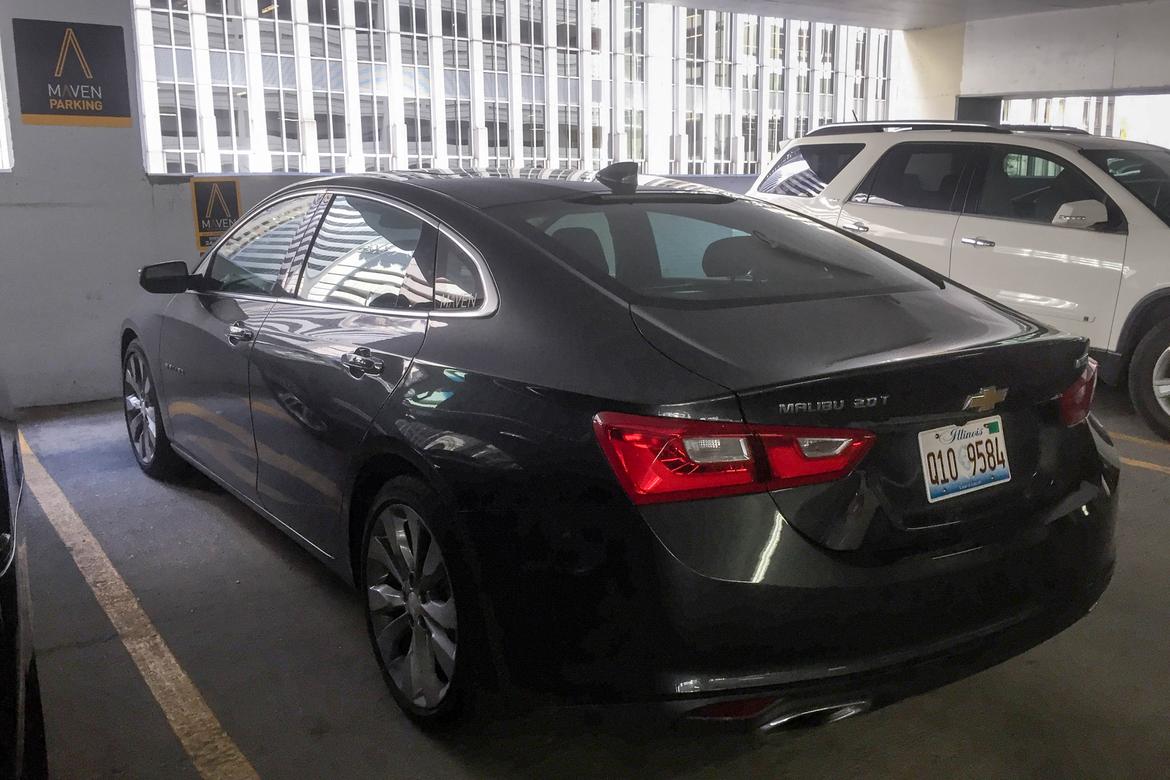 Luckily, the unlock and lock functions on the app worked, especially since Maven is a key-free car-sharing service — you must have the phone you made the reservation with inside the vehicle in order to start it. However, there was a significant delay between tapping the icon and the car actually unlocking — almost 30 seconds each time. As a woman in a big city, waiting that long at night for the car to unlock would make me nervous.
Driving the Malibu went smoothly, but I had to put up with the stench of smoke from a previous user. I emailed Maven customer service through the app to let them know about this unfortunate scent, and they quickly replied to let me know I wouldn't be held accountable for it.
I parked the Malibu on the street twice to run a few errands, and except for the annoyingly long time it took to lock and unlock the car, I had only one other issue. Tapping the unlock button on the app unlocked only the driver-side door, so I didn't have the option to stand curbside and put my purse in the passenger seat before getting in. It was a minor inconvenience, but something I've never had to put up with in a Zipcar.
Returning the Car
Like Zipcar, Maven provides a gas card and requires that drivers ensure the tank is at least one-quarter full before returning the car. This cost is accounted for in the reservation fee. About 30 minutes before the end of my reservation I stopped to try out the gas card.
Filling the tank was more confusing than finding the car. Users have to remember to check the odometer reading before turning off the vehicle, but there is no reminder — either on the card or in the app — so I had to get back in the car and start it to see the reading after I had already swiped the gas card.
The gas pump also wanted my "Driver ID," which the Maven FAQs said could be found in the app. I couldn't find it, however, and I'm a tech-savvy millennial. I ended up guessing, using a six-digit number from the gas card, and that worked. I've never had this kind of problem with Zipcar, as it puts the directions on the gas card and tells the user where to look for the gas ID.
When I got back to the parking garage, I gathered all of my belongings, made sure I hadn't left trash behind, got out of the car and tapped the lock button. Maven requires users to hit an "End Reservation" button rather than just locking the car and calling it a day. Zipcar, by comparison, recognizes when the car is parked in its home space and ends the reservation. With Maven, if you don't remember to lock the car and hit "End Reservation," you could be charged late fees — even if you weren't late. Bluhm said that Maven uses the button to optimize the vehicle: When someone returns a car and hits "End Reservation," the car immediately becomes available for another user. This helps keep vehicle availability as high as possible.
The Verdict
GM's Maven – Zipcar's main competitor, it seems – has its quirks, but nothing I wouldn't expect from a young company. My biggest critiques are the lack of adequate directions to the car and the difficulty using the gas card. On the pro side, it has a lot of potential, and I appreciate that Maven provides access to different types of GM vehicles. Maven is looking to grow very quickly in the coming months and expand to more cities, according to Bluhm, and I hope Maven is able to streamline some of its processes to make the service more user-friendly.
Cars.com's Editorial department is your source for automotive news and reviews. In line with Cars.com's long-standing ethics policy, editors and reviewers don't accept gifts or free trips from automakers. The Editorial department is independent of Cars.com's advertising, sales and sponsored content departments.