Ecoboost On Its Way; Debuts Summer 2009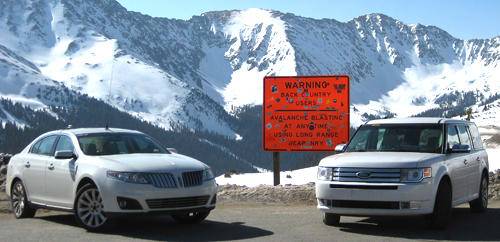 Ford is banking on a new lineup of turbocharged engines to fuel its resurgence and tackle tough new mileage guidelines. The Ecoboost engine line was shown off at a Lincoln press conference at Ford's Chicago manufacturing plant. We were able to get a glimpse at Ford's plans and lay them out for you below.
Ecoboost uses turbocharging and direct fuel injection to improve fuel efficiency and decrease emissions. 
Lincoln will be the first brand under Ford's umbrella to offer the Ecoboost engine, starting as an optional engine in the 2010 Lincoln MKS that is scheduled to begin production at the Chicago plant in summer 2009.
The Ecoboost-outfitted Lincoln MKS will feature a twin-turbocharged 3.5-liter V-6 making an estimated 340 horsepower and 340 pounds-feet of torque. The engine will be marketed as a premium offering to compete with other luxury makes' optional V-8 power. As an alternative to V-8 power, the Ecoboost 3.5-liter can improve fuel efficiency by 10%-15% compared to Ford's 4.6-liter V-8 in the same application, according to Ford. 
The Ecoboost engine will only be available on all-wheel-drive versions of the MKS, which currently start at $39,555. Ecoboost pricing hasn't been announced, but Lincoln spokesman Mark Shirmer says that it will be competitively priced with other V-8 option packages on the market. Competition includes the Cadillac STS and Infiniti M series. On the 2009 STS with all-wheel drive, V-8 power is a $9,150 upgrade; making a similar jump from the V-6 Infiniti M35 with all-wheel drive to the V-8 powered M45 with all-wheel drive is an extra $7,100. 
Estimated fuel economy for the MKS with an Ecoboost engine is 25 mpg on the highway. This is only 2 mpg better than the current 3.7-liter V-6 with all-wheel drive, but there is also an extra 67 horsepower under the hood. An all-wheel drive STS with a V-8 is rated at 22 mpg on the highway, and the all-wheel drive Infiniti M45 is rated at 20 mpg.   
One month after the engine's debut in the MKS, Ford's three-row Flex crossover SUV will receive the Ecoboost engine. For the 2011 model year there will be a version available in the F-150. 
This will be a be a high-volume effort. Ford expects Ecoboost production to be available in 90% of its lineup as standard or optional equipment by 2013, and is using the technology as a way to help meet impending CAFE regulations and decrease emissions. 
Ecoboost technology will eventually be used in smaller and more fuel efficient four-cylinder applications starting in 2010, but in which models and what size are still unannounced. 
Brett Hinds, advanced engine design and development manager for Ford, says that a four-cylinder Ecoboost engine could also be used in hybrid, bio-fuel or even hydrogen applications.