Parking Mate: Up-Close Mobile App Inspection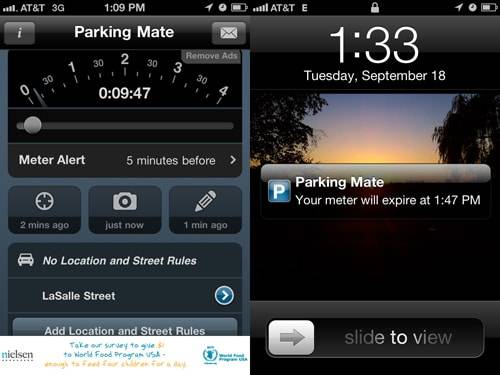 &&&&&EMBEDDED_ELEMENT_START&&&&& {"id":1420668702555,"originalName":"2015_03_04_17_06_59_862_http___blogs_cars_com__a_6a00d83451b3c669e2017ee3ea32dd970d_800wi","name":"MMS ID 56133 (created by CM Utility)","URI":"/61/-52173825-1425510420061.","createDate":"2015-03-04 05:07:00″,"metadata":{"AUTHOR":"automatic-content-migration","KEYWORDS":""},"href":"https://www.cstatic-images.com/stock/1170×1170/61/-52173825-1425510420061.","description":"Came from https://www.cars.com/.a/6a00d83451b3c669e2017ee3ea32dd970d-800wi","externalid":"56133″,"updatedby":"cmuadmin","updateddate":1425511630616,"associations":{}} &&&&&EMBEDDED_ELEMENT_END&&&&&

What is it? Allows you to keep track of meters, find your car using GPS tracking, take photos of your vehicle and input notes regarding certain parking restrictions.

Price: Free or $1.99 for the ad-free version
Platforms: iOS 3.0 or higher
Info: Click here
Trying to find a parking spot can be a hassle. When the meter runs out, or when you can't find your car among the maze of city streets, it gets more frustrating. Parking Mate works to eliminate the annoyances of street parking.
What you need to know: I tested the current version of Parking Mate, version 1.0.8 on my Apple iPhone 4 with iOS 5.1.1, while driving around in Scion's sporty new FR-S. I found a downtown Chicago parking spot to test the app.
What works: The app loads quickly, allowing you to easily input basic data if you're in a hurry to get to a meeting or grab a cup of coffee. Drag the small dot left or right, and watch the time meter move. Set alerts for your phone to notify you when the meter's time is up. When it's time to deposit more change into the meter, a reminder will pop up across your iPhone's lock screen. If you're already on your phone, it will vibrate twice and display a warning.
The fact that you can take a photo of your car when inputting basic data is a great idea. This could help you find your car or prove to a cop that a meter was broken.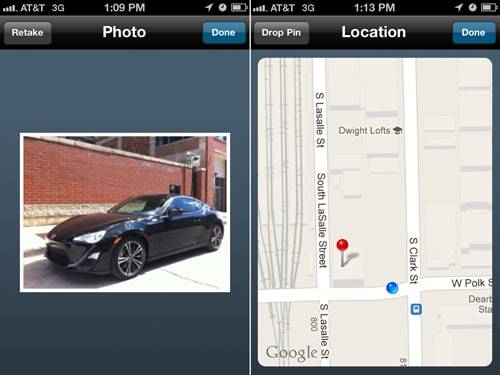 Parking Mate also uses your iPhone's GPS to help find a misplaced car. Drop a pin on the map provided and walk away. When it's time to return, just open the app and follow the map to where the pin is.
You can even add notes about where you parked, like "on the corner across from the Metra station" or "pick up dinner on the way home."
Once this is all done, you can email the information to yourself, or to someone picking up the car.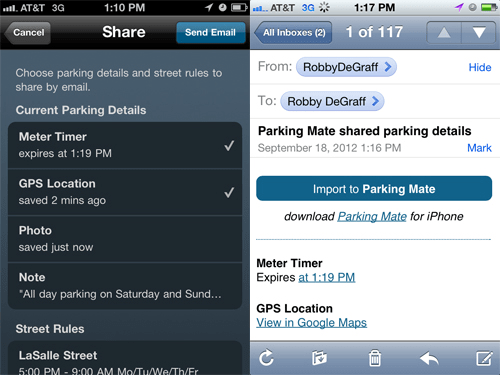 What doesn't: While the meter slider is quick and straightforward, I had trouble setting the exact time I wanted it to count down from. Swipe the circle to five minutes, and it automatically goes to 10. Swipe it to 15 minutes, and you'll end up at 10 minutes. It's pretty sensitive.On two occasions, the Parking Mate app didn't notify me that my paid meter was about to expire. It did on the third test, though. This unreliability could create costly dilemmas if you're not watching the clock.Spending $2 to the ad-free version might sound tempting, as the banner ads at the bottom of the screen covered essential parts of the app.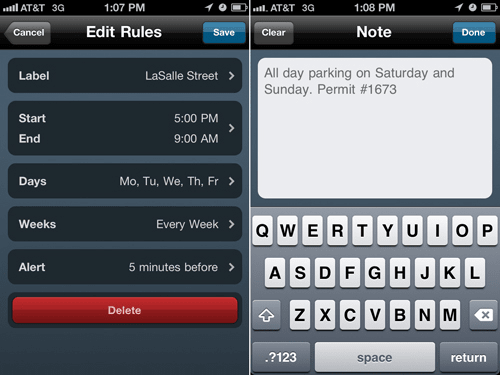 Bottom line: Despite the few negative points, I'm not deleting this app off my phone. The backbone idea and structure make it a stress-free tool for street parking. Gone are the days of darting out of lunch dates because you can't remember how many minutes are left on the meter.
If the developers fixed a few of the minor glitches and keep the app free, it could be a hit. Want to avoid those evil, unreasonable parking checkers and scary-looking tow trucks? Get this app.
Related
More Car Gadget News
More Mobile App Reviews
More Car News