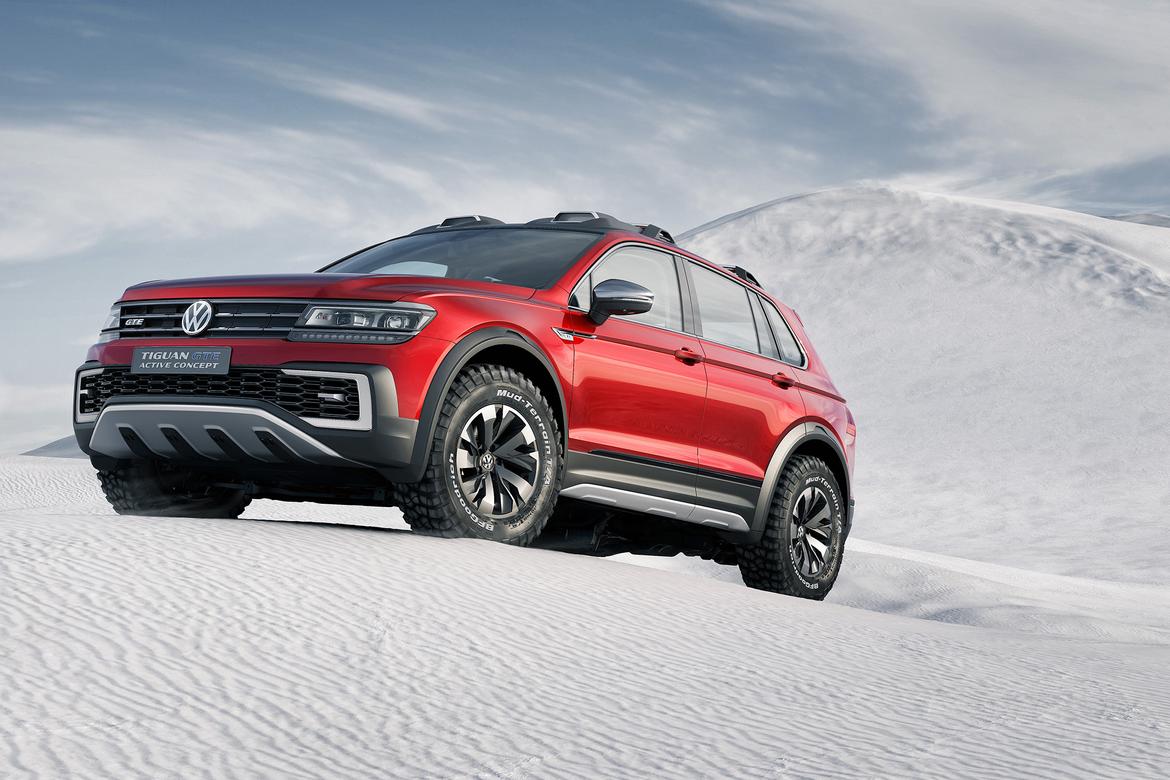 CARS.COM
Looks like: VW wants to follow Jeep up the Rubicon Trail
Defining characteristics: Plug-in hybrid drivetrain, off-road styling cues, multimedia system with gesture recognition
Ridiculous features: Mud-bogging tires, touch-sensitive slider controls
Chance of being mass-produced: Underneath the tough-SUV design cues is the next-generation Tiguan, which is scheduled to arrive in 2017
The Volkswagen Tiguan GTE Active Concept is an off-road-oriented version of the second-generation Tiguan SUV, which is scheduled to arrive at U.S. dealerships in 2017. The concept has big knobby tires, aggressive exterior accents and a plug-in hybrid drivetrain -- features that may not make it to the production model, at least initially -- but other aspects, especially the interior, look production-ready.
Related: More 2016 Detroit Auto Show Coverage
The Tiguan GTE Active Concept is a few inches longer, wider and taller than the current Tiguan SUV, and its wheelbase is about 3 inches longer. Though the concept has seating for five like the current Tiguan, Volkswagen says the second-generation Tiguan will offer a third row. Off-road cues include aluminum front and rear skid plates, tow hooks, two roof-mounted LED spotlights and 16-inch BFGoodrich Mud-Terrain T/A tires.
The concept's cabin styling is a modern take on VW's current interior design. The leather upholstery's pattern is the most daring aspect of the design, and tech features include a digital instrument panel, touch-sensitive slider controls and a 9.2-inch touch-screen multimedia system with gesture recognition.
Volkswagen says the plug-in hybrid drivetrain gives the Tiguan GTE Active Concept up to 20 miles of all-electric range and a total range of 580 miles. The system consists of a turbocharged gas engine, a front electric motor that's in the six-speed dual-clutch transmission's housing and an electric motor for the rear wheels. The front, rear or all four wheels can drive the SUV, and total system output is 221 horsepower.
The concept has 4Motion Active Control all-wheel drive, which is operated by a knob on the center console. It's similar to Land Rover's Terrain Response controller in that it includes on- and off-road driving modes, but it also has a mode to charge the plug-in hybrid system's lithium-ion battery pack while driving and a Battery Hold mode designed to preserve the battery's charge state.
Besides all-electric operation, the concept includes a GTE mode that harnesses the components of the plug-in hybrid drivetrain for maximum performance; in this case, that's zero to 60 mph in 6.4 seconds and a top speed of 120 mph, according to Volkswagen. The concept's all-electric top speed is 70 mph.
Volkswagen Tiguan GTE Active Concept; Manufacturer images