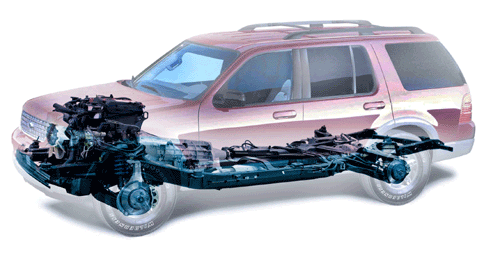 As automakers put the kibosh on all things truck-based – witness the demise of the Chevrolet TrailBlazer and GMC Envoy – and trade them for car-based successors, you might be wondering what all that means.
Not to worry, we'll explain: A truck-based model has body-on-frame construction, with a steel ladder-like frame underpinning the chassis. Imagine a wide, rigid ladder under the cabin floor with suspension and engine components bolted onto it. The rear suspension is typically non-independent, and the whole package is usually better suited for off-roading and heavy load-bearing. Examples include most pickup trucks as well as larger SUVs like the Chevrolet Tahoe and Toyota Sequoia.
Car-based models are built on unibody construction, which use the vehicle's metal underside as the basis for all mounted parts – not a separate ladder frame. Unibody cars are generally lighter and handle better because of their lower center of gravity and four-wheel-independent suspensions. But they often can't sustain the heavy loads that truck-based models can. Examples include virtually all cars, as well as many SUVs, including the Honda Pilot and Ford Escape.
One usual result of changing frame styles is increased gas mileage, though it's less dramatic for some models. Check out some numbers for four-wheel-drive or all-wheel-drive body-on-frame SUVs and their car-based alternatives. Ratings are based on an even mix of city/highway driving, and italicized figures represent estimated fuel savings over 60,000 miles at $2.85 per gallon.
*Based on Ford-estimated mid-20s highway gas mileage
**Manufacturer-estimated figures