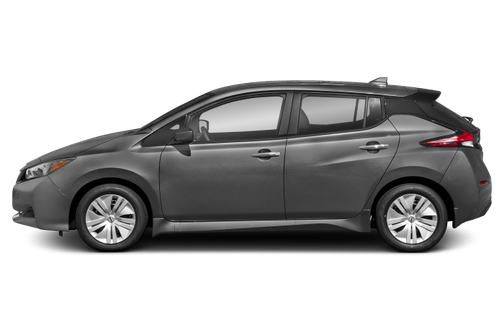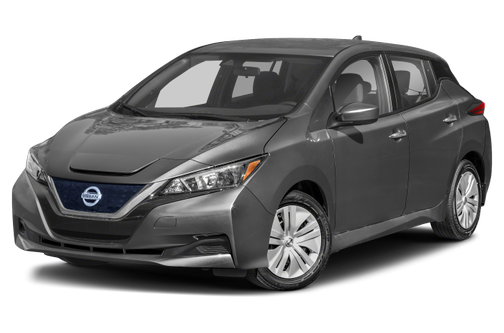 Key specs
Base trim shown
111

Combined MPGe

Combined MPGe

Miles per gallon-equivalent is how the EPA provides efficiency ratings for battery-electric vehicles in a way that can be used in comparison with gasoline-powered vehicles. Actual mileage will vary depending on driving conditions, driving habits, elevation changes, weather, accessory usage (lights, climate control), vehicle condition and other factors.

Related: Top 10 Most Efficient Electric Cars

150

mi.

EPA-est. range

EPA-est. range

EPA-estimated range is the distance, or predicted distance, a new plug-in vehicle will travel on electric power before its battery charge is exhausted. Actual range will vary depending on driving conditions, driving habits, elevation changes, weather, accessory usage (lights, climate control), vehicle condition and other factors.

Related: Electric Cars With The Longest Range

8

hrs.

Level 2 charging

Level 2 charging

Charge time estimates are based on using a 240-volt charging circuit charging from empty to 100% battery capacity. Level 2 is the fastest way to charge at home, though charging times can vary and are dependent on factors such as the capabilities of the charging circuit, charging equipment and the vehicle's onboard charger.

45

mins.

DC fast charging

DC fast charging

DC fast charging is the fastest way to charge and only available at pay-for-use public charging stations, though some EVs come with complimentary charging for a limited time. Real-world DC fast charging times can vary greatly, even on the same vehicle, because of this type of charging's sensitivities to ambient and battery conditions.

40

kWh

Battery capacity

Battery capacity

Battery capacity is measured in kilowatt-hours, which is a measure of how much energy is used over time. A 70-kWh battery has more energy capacity than a 50-kWh battery and would result in a longer driving range if all other factors were equal. But more battery capacity doesn't always mean longer range because of differences in energy consumption from vehicle to vehicle.

176.4" x 61.4"

Dimensions

Front-wheel drive

Drivetrain
View all 2021 Nissan Leaf specs .
Overview
The good:
Driving range in Leaf Plus
Leaf Plus acceleration
Brake pedal feel
Useful e-Pedal system
Effective ProPilot Assist technology
Manufacturer incentives keeping price competitive
The bad:
Cheap interior quality
Inconsistent range estimates
Ride harshness
Questionable value (at sticker price)
Backseat comfort for adults
Huge ledge where cargo floor and folded backseat meet
5 trims
Starting msrp listed lowest to highest price
Notable features
All-electric, five-seat compact hatchback
Standard EPA-estimated 149-mile driving range
Plus version with up to 226-mile range
Apple CarPlay, Android Auto standard
ProPilot Assist driver-assist safety system available
Nissan Safety Shield 360 standard
2021 Nissan Leaf review: Our expert's take
The verdict: The Nissan Leaf is a vestige of early mass-market EVs in the U.S., from when EV powertrains were crammed into small compact cars — hard to reconcile with a $40,000-plus sticker price for some versions.  
Versus the competition: The Leaf Plus has range and efficiency similar to other non-Tesla EVs, but it takes large factory discounts to feel good about the rest of the car. 
Cars.com bought a Nissan Leaf electric car in 2011, its debut year, and owned it for 19 months and 11,000 miles. Not many of those miles were mine; as an apartment-dweller without home charging, I questioned whether its EPA-estimated 73 miles of range and sketchy range predictions would be sufficient for my 70-mile round-trip commute.
A lot has changed in the past 10 years. Most notably, the Leaf's range has increased: The 2021 Nissan Leaf Plus is now EPA-rated to have a range as high as 226 miles, while the standard 2021 Leaf is rated at 149 miles. When equipped with a larger battery pack, the feature-leaden Leaf Plus SV and SL trim levels are rated 11 miles lower than the base Leaf Plus, at 215 miles.
Related: Which Electric Cars Are Still Eligible for the $7,500 Federal Tax Credit?
After spending a few weeks in a 2021 Nissan Leaf Plus, it's clear some things haven't changed — like the Leaf's wonky range predictions. That, however, is less of a concern now that the car has more buffer room, with an almost 200% range increase over the first Leaf. More of an issue is that there are many more EVs available now than there were in 2011, making the Nissan Leaf look less appealing than it once did.
Driving the Nissan Leaf Plus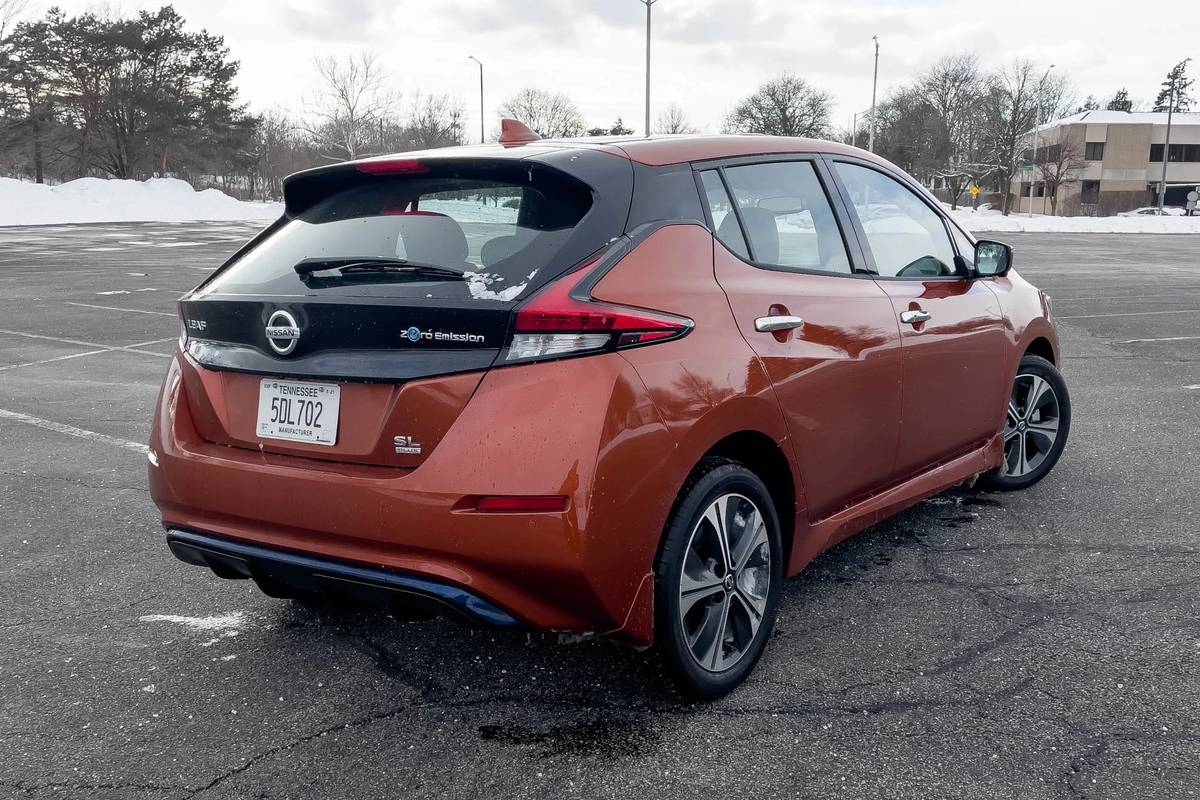 In addition to more range, the Leaf Plus brings a healthy dose of driving fun, as its larger battery pairs with a more powerful motor and quicker acceleration to make the Leaf Plus SL an entertaining car to drive. Like most EVs, there's no step-gear transmission, meaning there's no lag or waiting for downshifts. An electric motor provides high torque at very low rpm, so acceleration is applied quickly and ferociously. During my drive, the blast of torque overpowered the front tires up to 45 mph on the dry — but cold and salty — roads on which I drove, which eventually became annoying, since all I wanted to do was cleanly accelerate away.
The Leaf's ride is punishingly rough, with harsh, sharp impacts over bumps. The car shimmies and shakes over rough roads and railroad tracks, driving more like a sub-$20,000 subcompact car than something with an as-tested price of $45,630 (prices include destination). Coincidentally, I took a quick spin in a 2021 Volkswagen ID.4 EV SUV ($45,190 as tested) back-to-back with the Leaf on the same roads, which left no question that the ID.4 has more premium, higher-quality ride quality and refinement to go along with its superior range estimate of 250 miles. My Leaf test car cost a couple hundred dollars more than the ID.4, as well.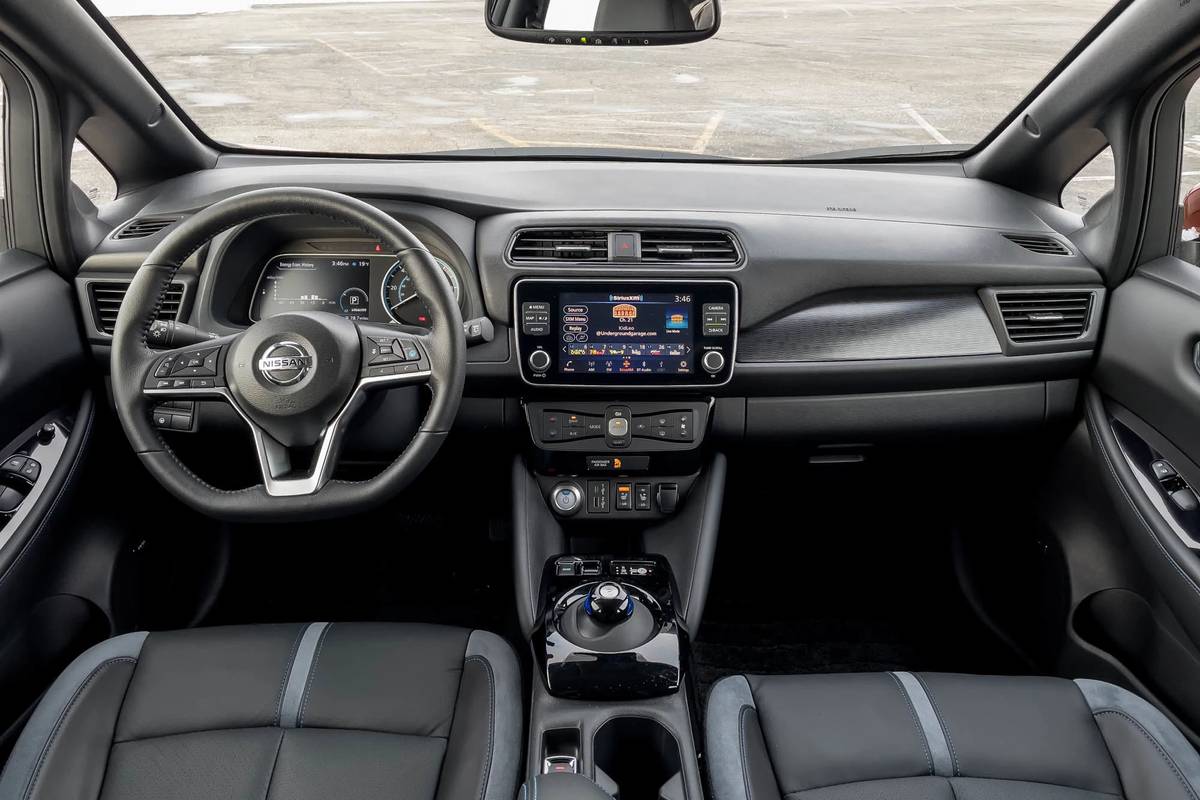 The Leaf also comes up short versus the ID.4 and other EVs when it comes to interior quality and space. It's the equivalent of a compact car — from five-plus years ago. More recent redesigns from Nissan, like the Sentra, are a step up in quality; they're actually quite nice. The Leaf is also one of just a few hatchbacks this size in which I can't sit in the backseat without ducking to avoid hitting the top of the cabin (I'm 6 feet tall). The Chevrolet Bolt EV, to name one, has a far more spacious and comfortable backseat.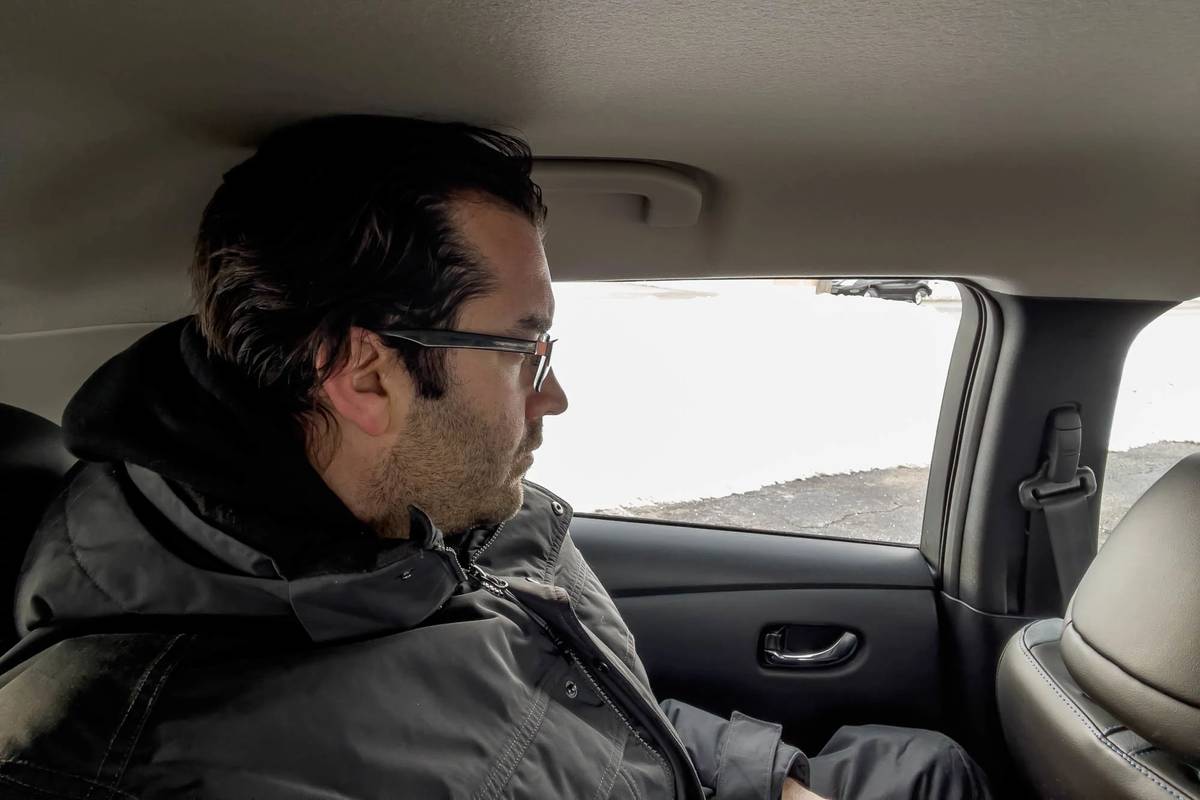 My Leaf Plus SL's nearly $46,000 as-tested price was a giant head-scratcher; how can it be this expensive and also this subpar? At least it has Nissan ProPilot Assist, a comprehensive suite of driver assist features that give it semi-autonomous driving capabilities, like adaptive cruise control and lane centering. They do a good job keeping the car centered in its lane and smoothly accelerating and braking with traffic.
Range: Driving the Nissan Leaf Plus Efficiently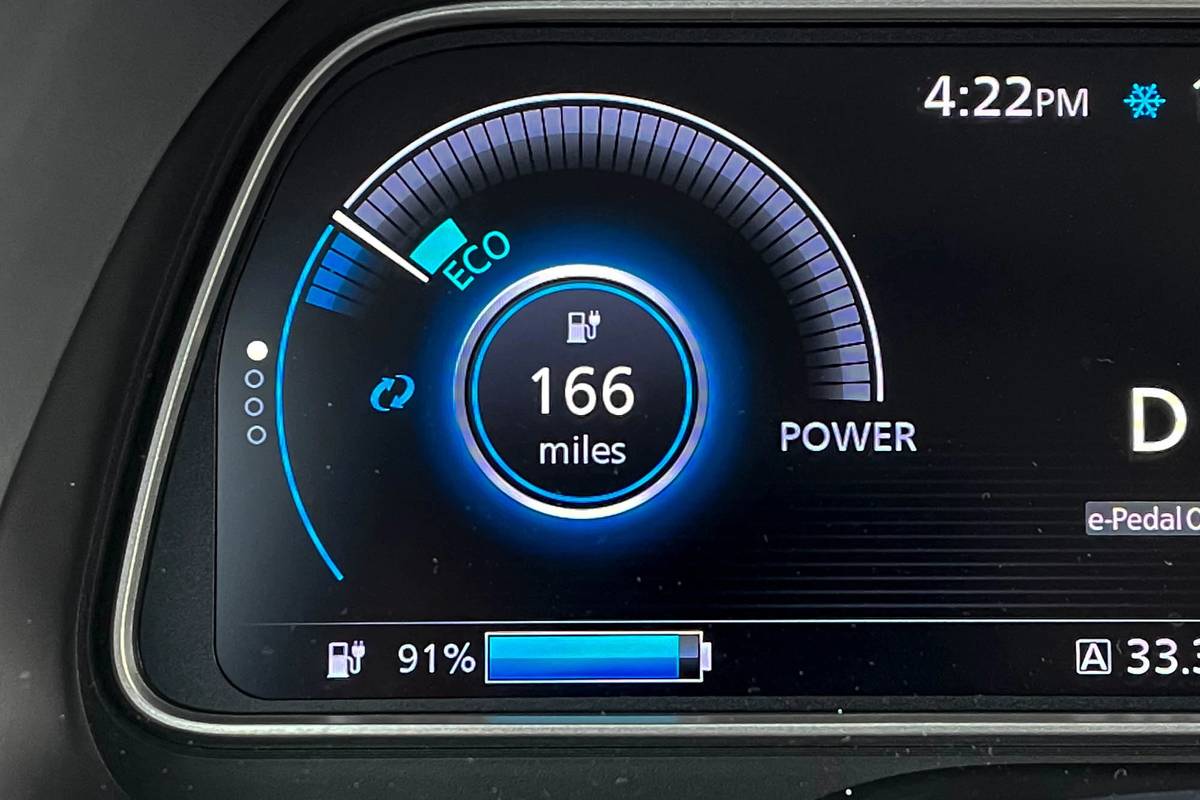 Cold weather kills range in any EV, so I wasn't surprised that subfreezing temperatures resulted in a lower actual range than the EPA's estimate of 215 miles. At 100% charged, the Leaf's onboard computer predicted a range of 187 miles with the climate control on and in normal driving mode, or 203 miles with the climate control off. Changing any number of settings can affect the range: At one point, the Leaf showed an estimated 166 miles of range at 91% battery charge with climate control on and in normal driving mode. Putting it in Eco driving mode increased it to 175 miles, and turning off the climate controls then boosted it to 195 miles. After noting that number, I of course quickly turned climate back on given it was about 15 degrees outside.    
The lower overall range I saw was expected given the weather, but the Leaf's trip-to-trip range estimates proved to be equally curious (aka bad) as in our 2011 Leaf. Perhaps it was the cold weather — or my frequent highway driving, which is less efficient than city driving in an EV (the opposite of a gas car) — but there was a large disparity between the estimated range displayed before a trip and the leftover range when the trip was complete. And the disparity was never to my advantage. 
For example, after a 43.5-mile trip, the Leaf's projected range suggested I had driven 65 miles. I didn't think I'd thrown any curveballs at the range estimator; I drove in normal mode across Midwestern flatlands and temperatures remained consistent from day to day. 
To be fair, about 60% of that trip was at 65-70 mph, but other EVs predict range more accurately or give actionable information to help me drive more efficiently. The Bolt EV (259 miles of estimated range, $37,495 starting price) has an estimator that gives both a projected range as well as high and low extremes to account for differences in driving style and conditions. It also supplies real-time information showing how your driving style trends toward the predicted ranges. The Tesla Model 3 and Model X I tested in warmer months had eerily accurate predictions even when I ignored the suggested driving route. Maybe the Leaf just isn't that great at predicting range in the cold and on the highway.
Charging the Leaf Plus
When it's time to charge, the Leaf has three options, from slowest to fastest. There's Level 1 120-volt charging, which uses an ordinary household outlet; Level 2 240-volt charging, which is the most common for home charging EVs; and Level 3 DC fast charging, which is often found at public or commercial establishments on the road. Of the three, I struck out on testing the two quicker ways to charge; charging availability (home or public) varies wildly from state to state and home to home, and that was my experience in my suburban Chicago home.  
My test car came with an optional Nissan portable charging cable ($1,548.85), a Level 1 and 2 solution that includes a 240-volt four-prong plug that can connect to a compatible appliance outlet (the kind you'd see for a household clothes dryer), as well as an adapter that turns it into a standard three-prong 120-volt plug. Nissan says this could eliminate the need for installation of a wall-mounted Level 2 charger in your home. Sounds good, right? It can be, but — and we can't say this enough — it may not be that simple for you, as capabilities will vary from house to house. 
For example, my washer-dryer room is right off the garage, but my dryer outlet accepts a three-prong National Electrical Manufacturers Association 10-30 plug, not the four-pronged NEMA 14-50 plug on the Leaf's charging cable. And even if the plug had worked, my 30-amp outlet was below the 50 amps that Nissan recommends: The Leaf charges at a maximum of 30 amps, so there would be no ceiling if I were to simply swap the outlet. That's a no-go because a circuit and breaker must always be rated higher than the current you expect to draw (in amps), whether you're plugging in an electric car or something else. Some electric cars and Level 2 charging hardware let you choose a lower charging amperage to accommodate different circuits, but neither the Leaf nor Nissan's portable cable do. Level 2 is the way to go for home charging, so for me, I'd have to get a dedicated 50-amp circuit installed in order to charge the Leaf at its maximum Level 2 speed. Or, to get by with the circuit I have, I'd need a Level 2 system that limits itself to 24 amps at 240 volts — which would be more than four times faster than what I actually did …
That's a lot of words to say I resorted to trickle charging on a regular 120-volt outlet. It took 33 continuous hours to charge the Leaf from 28% to 100% at 1.4 kilowatts (kW represents the speed of charging regardless of the charging system). Those 33 hours took the range from 54 miles to 187 miles, or an agonizing 4 miles of range per hour. At the faster 6.6-kW maximum charge speed unlocked by Level 2, I estimate this e-fill-up would have taken only seven hours, charging closer to 19 miles of range per hour. Even at that, the Leaf's 6.6-kW charge speed is on the pokier side for modern EVs — the 2020 Bolt EV can charge as fast as 7.2 kW, the ID.4 can do 11 kW and a Tesla Model 3 charges at a max 11.5 kW.
The fastest option for on-the-road-charging in the Leaf is the DC quick charger, which can charge at speeds up to 100 kW on the Leaf Plus, getting the battery to 80% in a claimed 45 minutes. A Nissan Leaf with the fast-charge option uses a Charge de Move charging connector versus the combined charging system standard that's been more widely accepted in late-model EVs (to which Nissan will switch with the Nissan Ariya SUV). I attempted to fast-charge the Leaf, but my local Nissan dealer's unit had a frosted-over screen that displayed an error message when I tried to use it. I found an Electrify America CHAdeMO charger down the road, but it was also out of service. According to the PlugShare app (which includes all charging networks), there are only nine CHAdeMO chargers in the whole Chicago area. Again, some regions have better charging provisions than ours, but hanging on to the less popular connector format — even if it was the original format — proves especially limiting for the Leaf.
How Low Can You Go (Pricing)?
The Leaf remains one of the most economical ways to enter the EV space, and it makes the most sense if your sole reason for switching is to ditch gas-powered cars. The 2021 Leaf's starting price is $32,620 for a base S trim with the regular battery, or $39,220 for an entry-level Leaf Plus S. My test car was a loaded $45,630 SL trim with leather, 360-degree camera system, navigation, semi-autonomous driver assist features, a heated steering wheel and more — but there are large manufacturer cash incentives available for the Leaf. At the time of writing, the 2020 Leaf had $7,000 cash back available on some trims, and there's a $3,000 incentive on 2021 models. (The 2021 is a carryover model with no changes.) That's in addition to a federal $7,500 tax credit that's still available to qualifying owners, and additional incentives might be available in your state, as well. 
Factor in your potential overall savings, and 215 miles of range in a Leaf Plus for around $30,000 feels fairly appropriate. At full retail price, however, the Leaf Plus' value is hard to justify versus similarly priced EVs with similar ranges that are more versatile and nicer to drive. Those include cars like the Bolt EV, the ID.4 and even the standard Tesla Model 3, which has an estimated 263 miles of range for $38,690. The Model Y, a hatchback like the Leaf, Bolt EV and ID.4, costs $50,000. The Leaf is just too basic to command premium prices, and the more expensive version — with more range and performance — is unfortunately the most compelling one.
Cars.com's Editorial department is your source for automotive news and reviews. In line with Cars.com's long-standing ethics policy, editors and reviewers don't accept gifts or free trips from automakers. The Editorial department is independent of Cars.com's advertising, sales and sponsored content departments.
New car program benefits
Bumper-to-bumper

36 months/36,000 miles

Corrosion

60 months/unlimited distance

Powertrain

60 months/60,000 miles

Hybrid electric

60 months/60,000 miles

Roadside assistance

36 months/36,000 miles
Certified Pre-Owned program benefits
Maximum age/mileage

Nissan and non-Nissan vehicles less than 10 years old and less than 100,000 miles. (Nissan vehicles less than 6 years from original new car in-service date must have more than 60,000 to qualify for Certified Select.)

Powertrain

6 months/6,000 miles from date of sale

Dealer certification required

Roadside assistance

Yes
View all cpo program details

Have questions about warranties or CPO programs?
All model years for the Nissan Leaf