Ford's New Sync Wins Over Jaded Car Critic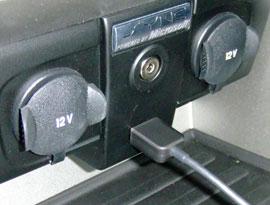 Do this job long enough and you'll get jaded. It's almost unavoidable. After driving the latest and greatest offerings from automakers from around the world, little is likely to really impress you. After taking the Ford Focus for a quick test a few weeks back, I wasn't impressed with the car itself. Now that it's in the fleet for a full review I've had some time to test both the car and Ford's new Sync system. I'm still not sure how I feel about the Focus, but the Sync is a masterpiece in user-friendliness that should be adopted by every car company out there.
Now, I didn't get to hook my Bluetooth phone up to the Sync, I just tested the music aspects. Most automakers have voice-activated Bluetooth systems as options. What they don't have is a voice-activated music system. Plug in your iPod — or in my case a 30GB Zune — and you've got your own request line, open for call-ins with the touch of a button on the steering wheel.
Before I started my commute in to the office — about 60-80 minutes each way — I plugged in my Zune's USB cable. The system took a minute to sync up, then the Zune's display went to the same screen it has when you plug it into a computer. It also started charging via the USB cable – nice. Now I had everything working, I just needed to get the thing to play.
Hit the little button with a talking face icon and say "play all" and you get a shuffle of all your songs. I wasn't starting that easy. As I hit the roads leading to the freeway, I started playing a little game I made up called "Stump Sync," which included picking artist names it couldn't possibly figure out. Queens of the Stone Age? Not a problem. Pretty Girls Make Graves? Right away. Dozer? Yessirree. Dinosaur Jr? I'm not sure if it knew the abbreviation, but it came up. The only two artists — out of a few dozen I tried — it got tripped up on were Enon and Fugazi. When I said "play Enon" — pronounced ee-nuhn — it couldn't find it. But it then said, "Say 1 after the beep if you mean: Fugazi. Say 2 after the beep if you mean Enon" but it pronounced it een-an. This thing is pretty slick.
My only problem was remembering album and song titles. When a song is playing, it's easy to say, "Oh, I love this song." When you have to think of the song beforehand by proper name, it's not so easy. Same with album titles. So I stuck to artists and eventually just resorted to how I normally listen to my Zune: Shuffle all.
The shuffle works like you'd expect, but the display shows the artist and song title promptly so you can skip away and see what song is next before it even has the chance to start playing. Plus, the eye-level display is terrific for a hands-free/steering-wheel controlled system like this. I can only imagine how great this would be for road trips with buddies in the car to shout out song titles they want to hear.
Another non-Sync surprise was how good the Focus' stereo sounded. I was very impressed with the clarity and power. I'm sure I looked funny on the Eisenhower Expressway singing proudly (and badly) to my shuffled songs in a little black Focus coupe. But isn't that what they built this system for?
At $395, the Sync is a steal. If you're a talker, having the Bluetooth is an added bonus. While I'm not sure if the Focus is a great car or not, the Sync will probably get checked on the option sheet for a lot of popular Fords, like the Edge, Escape, Mustang and Fusion.