Mileage Challenge 5.4: The Results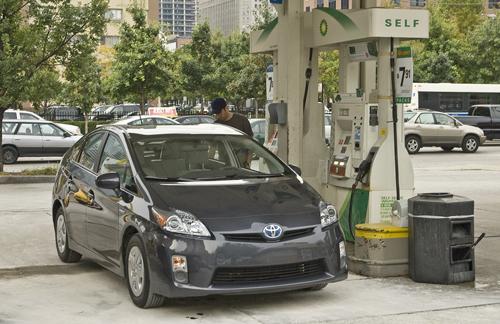 Our latest mileage challenge had editors logging more than 300 miles each in three hybrids and a diesel: the 2010 Honda Insight, 2010 Mercury Milan Hybrid, 2010 Toyota Prius and 2009 Volkswagen Jetta TDI. We tallied up all the numbers and corrected for a brief photography stint between Legs 2 and 3. (Angling cars around for the camera — complete with rapid stops, starts and idling — has a way of dinging your mileage, and it's not representative of real-world driving.)
The results were striking.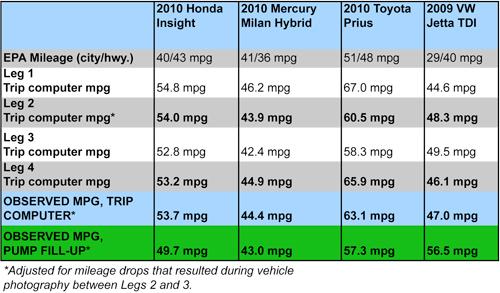 In stark contrast to MotorWeek's observed numbers — they got 36.2 mpg in a stick-shift tester — our Jetta TDI reported a most impressive 47.0 mpg in trip-computer mileage. That's far better than even the car's 40-mpg highway rating, and we didn't drive any differently than we normally do.
Then came the fill-up. We thought there might be something wrong with the TDI's pump when it clicked off at 5.60 gallons. After all, the Insight had taken 6.31 gallons, and its trip computer reported 53.7 mpg. Data editor Matt Raskin clicked the diesel pump off twice. No dice — the TDI was full.
The pump calculations worked out to an even more astonishing 56.5 mpg – just 1 mpg short of the 50-mpg-rated Prius, and nearly 10 mpg better than the TDI's trip computer reported.
Why the wide discrepancy? In past mileage challenges
we've considered the reasons
trip computers don't always compare with at-the-pump calculations. Experts have cited a number of factors that can skew the amount of gas a pump doles out, but they generally agree that when you're only filling up with a few gallons — as we ended up doing — trip-computer readouts are a more reliable assessment of gas mileage.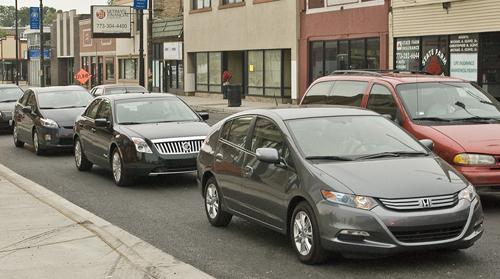 Either way, it's safe to say our foursome proved thrifty beyond expectation. Our route netted an average 44 mph — a speed that favors most cars' highway ratings. Compare our results to those ratings, and the Prius was thriftiest overall. Observed mileage came in 31 percent better than the car's 48-mpg EPA highway figure. In respective order, the Insight, Milan Hybrid and Jetta TDI fared 25 percent, 23 percent and 18 percent better than the government's highway mileage rating.
Compare the results against combined EPA city/highway ratings, and the Jetta TDI runs away with it. Our observed mileage was 42 percent better than the car's 33-mpg combined rating. In descending order, the Insight, Prius and Milan Hybrid follow.
Go figure — and go VW. We've heard of similar outsized results from TDI owners, but now we have some of our own. Color us impressed.
Route Notes
Leg 1: 69˚ F, partly cloudy
Traffic: Medium (5/10)
Heading: NNW, no wind
Average distance: 83 miles
Average speed: 32.25 mph
Leg 2: 70˚ F, partly cloudy
Traffic: Light (2/10)
Heading: NNW, 4 mph tailwind (from S)
Average distance: 71.5 miles
Average speed: 58.75 mph
Leg 3: 70˚ F, partly cloudy
Traffic: Light (2/10)
Heading: SSE, no wind
Average distance: 74.5 miles
Average speed: 56.5 mph
Leg 4: 73˚ F, partly cloudy
Traffic: Medium (5/10)
Heading: SSE, 3 mph crosswind (from ENE)
Average distance: 84 miles
Average speed: 43.75 mph
Previously
Mileage Challenge 5.3: Dizzying Displays
Mileage Challenger 5.2: Avenues and Interstates
Mileage Drive 5.1: Hybrids vs. Diesel