2013 Buick Encore: First Drive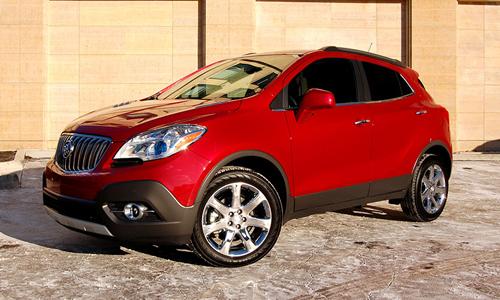 Americans have traditionally had a unique perspective on small cars: They were cheap and economical, and Americans drove them because they had to, not because they wanted to. The Mini brand largely began to change that kind of thinking in the U.S., suddenly proving that small did not necessarily mean cheap, and Americans bought into it.
Now that small no longer equals cheap in the U.S., more high-end brands are adding compact offerings. Mini now sells a four-door Countryman compact crossover; Fiat's bringing the new 500L stateside later this year, and BMW's X1 is finding buyers as well. Now Buick comes in with this, the new 2013 Encore.
It's a small crossover, based loosely on the subcompact Chevrolet Sonic, but with some beefier components and an available all-wheel-drive system thrown in. The result is a tall subcompact crossover rather unlike anything on the market today, in the U.S. at least.
Peppy Pocket Crossover
One of the components shared with the Sonic is the Encore's powertrain — GM's turbocharged 1.4-liter Ecotec four-cylinder. It makes 138 horsepower here and it's enough to move the Encore through urban settings with decent pep, with a torque curve that favors low-speed, stop-and-go driving. There's enough power for highway speeds and on-ramp merging, but you'll need to plan ahead if you're overtaking a semitrailer on a two-lane highway.
Noise under full throttle is well-managed with Buick's first use of active noise cancellation specifically to mitigate undesirable engine sounds. The Encore is no pocket rocket, but it doesn't feel underpowered thanks to a well-tuned standard six-speed automatic transmission that never has to hunt for the right gear.
That little four-cylinder enables the front-wheel-drive version to achieve the best fuel economy of any domestic compact crossover, according to Buick, with an EPA-rated 25/33 mpg city/highway, 28 mpg combined. Of course, there is one Japanese competitors that does best it in efficiency, the Nissan Juke rated at 27/32 mpg city highway and 29 mpg combined. The all-wheel-drive Encore's fuel economy drops to 23/30 mpg, which is less respectable in these days of 40 mpg subcompact cars.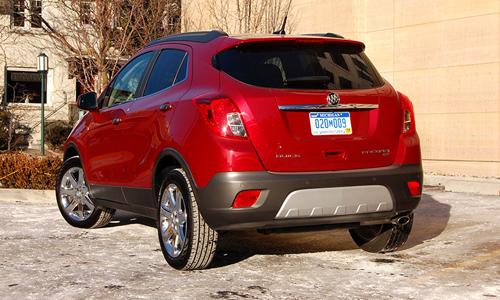 Agile, But No Athlete
Buick engineers frankly have created a surprisingly comfortable little trucklet; bumps and broken Detroit pavement barely upset the Encore. There also isn't any bucking or bobbing common in cars with short wheelbases. Instead, it's smooth, well-controlled and quiet. That ride quality is all the more impressive given the Encore's standard 18-inch alloy wheels.
Handling is light, with electric power steering providing fairly decent feel through the massive dinner plate-sized steering wheel, but body roll is fairly prominent in fast, sweeping twisties. This is not an athletically inclined crossover — it's more at home buzzing around town than blasting through canyons. Straight line stability on the highway is fine, with enough on-center feel in the electronically boosted steering to keep you planted in your lane, not pogoing back and forth like previous generations of GM electric power steering.
The only real weak link in the vehicle dynamics department is the brakes. They're soft and spongy, with a fairly long pedal travel before they get some grip. They inspire absolutely no confidence in stopping the Encore, even at around-town speeds and certainly aren't as well-executed as the rest of the Encore.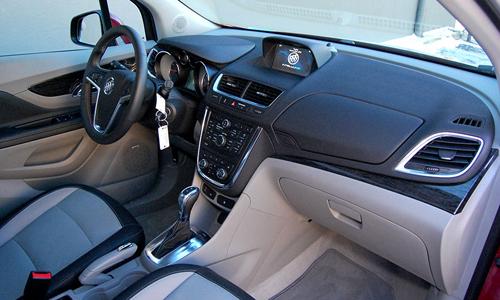 Buick, Inside and Out
The Encore's styling elicits a love-it-or-hate-it response from passers-by. The short overall length sometimes limits what designers can do aesthetically, but Buick has managed to pack a lot of styling into a small footprint. The face is unmistakably Buick; the signature waterfall grille and blue-ringed headlamps link it to every other Buick in the stable. Details in the side profile resemble the much larger Enclave, and the black body inserts appear to extend the size of the rear window, adding some distinctiveness. The Encore looks better in person than it does in pictures, where it comes off as a little awkward and ungainly.
Inside, material and assembly quality is high, and buyers should have no remorse for spending at least $25,000 on the entry-level Encore. Optional leather of good quality covers the small but comfortable seats and doors, with premium plastics on the instrument panel and real metal trim on many bits that the driver touches, such as the shift lever. Buick's signature ice-blue ambient lighting has been designed into the instrument panel, lending it a high-tech "Tron" look when it lights up at night. A touch-screen is mounted high in the instrument panel so the driver spends less time taking their eyes off the road. Buick's IntelliLink system is standard, one of the better functioning multimedia systems on the market today, offering a full range of connectivity apps, streaming music, satellite radio, Bluetooth phone and audio, and more. Navigation is optional.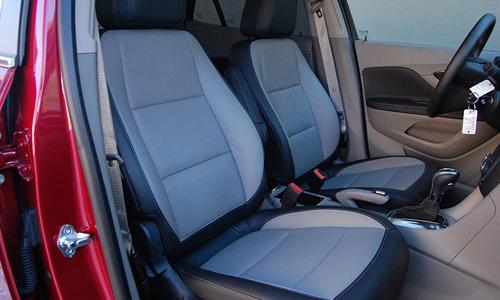 One major downside to the interior is the cluttered center stack; it features no fewer than 35 buttons, four rotary knobs and a four-way selector, all in matte black. Better organization would help drivers find necessary buttons more easily and quickly.
The rear seats fold nearly flat, offering up a good amount of cargo room. Long items can also be accommodated when the front passenger seatback folds flat. With the rear seats up, the Encore technically offers seating for five, but more accurately offers seat belts for five.
Safety
Small cars often bring questions about safety, but Buick tries to address the issue with 10 standard airbags. There are front knee bags as well as front and rear side-impact and side curtain airbags. The Encore has a standard backup camera, the requisite antilock brakes and electronic stability control, and an optional forward collision alert and lane departure warning system using an advanced radar and camera system. That's fairly unusual for a car in this price class and may signal the start of that feature filtering down to less-expensive models. What it does not have is a blind spot warning system.

Appealing to a New Audience
The Encore will come quite well-equipped as a base model with options mostly arranged into packages, with a few standalone features that can be added across the various trim levels. The base front-wheel- drive Encore comes with most of the aforementioned safety equipment, plus cloth seats with leatherette trim, power driver's seat, 7-inch touch-screen with USB port and Bluetooth connectivity, a leather-wrapped steering wheel and 18-inch wheels. It starts at $24,950, including a $750 destination charge. All-wheel drive is an additional $1,500. Click here for a full trim level and pricing breakdown.
With that starting price of $24,950, the Encore starts a full $2,250 higher than a base Mini Countryman. However, it does have more equipment at that price. Adding 18-inch wheels, an automatic transmission and satellite radio (all standard on the Encore) brings the price of the Countryman up to $24,950, but it still lacks the Encore's standard features such as a backup camera, three additional airbags and a more powerful four-cylinder engine. The upper end of the spectrum would encompass the BMW X1, but starting as it does at $31,695 including an $895 destination charge, the X1 seemingly only competes with the upper end of the Encore range. Given that the X1 has a considerably more powerful turbocharged 2.0-liter engine making 240 hp, it is hard to lump it into the Encore's competitor set.
Which brings us to the big question for Encore: Who is going to buy this thing? Buick says that it is targeting two groups: young professionals looking to upgrade from their first car and empty-nesters looking to downsize but still maintain a certain level of luxury. The introduction of the Buick Verano compact has done amazing things for Buick, both in growing the brand's conquest sales and dropping the average age of its buyers by nearly seven years. Truth is, despite market research and focus groups, Buick is just as curious as the rest of us as to who will pony up for a new Encore. It truly is an experiment, a car largely designed for foreign markets, dropped into the U.S. market in a segment that doesn't exist just yet. To its credit, there's a lot to like about the Encore, and it will be interesting to see just who ends up taking one home.
Related
2013 Buick Encore at the 2012 Detroit Auto Show
2013 Buick Encore to Start at $24,950
More Buick News on Cars.com