Does Engine Coolant Go Bad?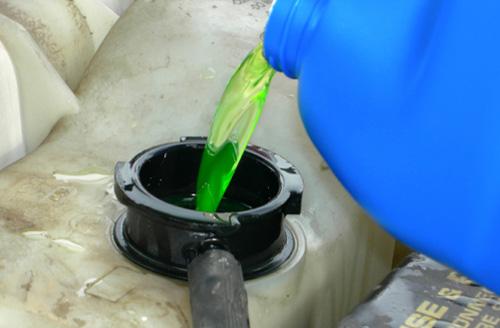 CARS.COM — A common question beyond the walls of Cars HQ is whether or not the engine coolant of your car goes bad. The short answer: Yes, engine coolant does deteriorate over time. But unless something unusual occurs, you probably won't need to change the coolant in most late-model vehicles until 100,000 miles. Older cars probably require more frequent coolant replacement, so always check your owner's manual to be sure of the best maintenance schedule to prevent leaks, corrosion and unnecessary repairs.
Related: More Maintenance Coverage
Most manufacturers now use extended-life coolant with a recommended change interval of 100,000 miles. That varies based on maintenance schedules for each manufacturer and individual models, however. Some Subarus, for example, estimate a coolant life of 13 years or 132,500 miles. Many Ford engines say to replace the coolant after the first 100,000 miles and after each 50,000-mile interval thereafter, though heavy-duty applications (such as frequent towing, which puts extra strain on the engine and increases its temperature) should have it done more often.
No matter what the maintenance schedule is for your vehicle, after a few years of ownership, it's a good idea to have the coolant checked by a professional periodically for acid buildup, rust and other contaminants, and for its resistance to freezing and boiling to ensure protection for your vehicle. If you have added water (particularly tap water) to top off the cooling system, you may have introduced contaminants or diluted the antifreeze/water mix (generally 50/50) and altered the freezing and boiling points.
If your engine temperature is running hotter than normal, deteriorated coolant could be a possible cause. Most manufacturers and service shops recommend that you drain the cooling system of your car at the same time the old coolant is replaced to flush out any deposits that accumulated over the years.
Manufacturers specify certain types of antifreeze for your car. Some may be red, others pink or green, but don't go to an auto parts store looking for the right color. You need to ask for the right type of antifreeze for your vehicle whether you're adding the fluid yourself or having it replaced by a pro.
Cars.com's Editorial department is your source for automotive news and reviews. In line with Cars.com's long-standing ethics policy, editors and reviewers don't accept gifts or free trips from automakers. The Editorial department is independent of Cars.com's advertising, sales and sponsored content departments.
Quality Service Starts Here
Related Topics