Know Your Limits: Minimum Auto Coverage Varies by State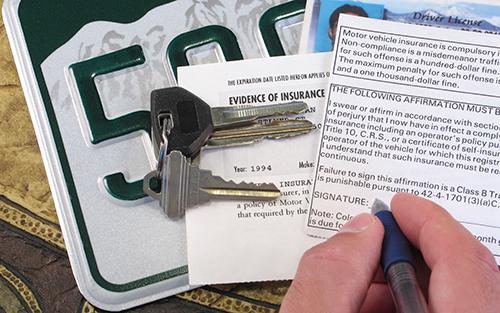 Some people seem able to traipse through life doing only the bare minimum. But while aspiring only to the mediocre may allow you to enjoy, say, "The Hangover Part III," it could cause more than a bad headache when it comes to state-mandated auto-insurance coverage. Do you carry more than the minimum required by the state you live in?
When Ohio earlier this year hiked its state-mandated minimum for auto-insurance coverage by as much as triple after nearly a half-century at the same level, it wasn't as big a deal as it sounds. At that time only a small fraction of legally insured Ohioans carried the minimum of $12,500 for bodily injury of one person hurt in an accident, $25,000 for all other injuries and $7,500 for property damage — commonly denoted as 12.5/25/7.5.
Those sums went a lot further in covering drivers, passengers and cars back in 1969 when they were enacted, but chances of replacing a new vehicle for $7,500 today aren't great. Ohio's new minimum, which took effect in March with a nine-month grace period, according to the Cleveland Plain Dealer, increased coverage to 25/50/25. Similarly, legislators in Illinois last month passed a bill that, if signed by Gov. Pat Quinn, will raise its coverage minimums for the first time in two-dozen years to 25/50/20 starting in 2015 (up from 20/40/15), according to the Chicago Tribune.
While those figures measure up more favorably in 2013 dollars, they're still well-below insurance-industry recommendations. According to the Insurance Information Institute, drivers should carry at least $100,000 in bodily injury protection and $300,000 per accident. However, consumer advocates in both states have argued that resulting increases in drivers' insurance premiums — expected to be at least 25% in Ohio and about $75 a year in Illinois — will cause people already having trouble making ends meet to drop insurance altogether and drive illegally, as a reported 11% of Ohio drivers already do.
The new standards take both Ohio and Illinois from the bottom half among U.S. states to the top half, all of which have a mandated minimum of more than $30,000 per coverage type when the three types (one person/multiple people/property) are averaged. Thirteen states currently require an average of roughly $33,000 for each, the largest single group, while 11 more require about $28,000. To find out your state's minimum mandated coverage, click here.
Here are some other fun facts about state-minimum auto insurance:
States with the most expensive minimums on average are Alaska and Maine, both requiring an average of more than $58,000 per coverage type, followed by North Carolina and Texas (more than $38,000) and Maryland and Utah ($35,000).
States with the most modest minimums on average are California, Florida, New Jersey and Pennsylvania (all less than $17,000), followed by Arizona and Delaware (just more than $18,000) and Massachusetts (less than $22,000).
In terms of specific coverage types, the highest required minimums for single-person injury coverage are found in to Alaska and Maine, both of which mandate $50,000; the lowest ($10,000) can be found in Florida.
Alaska and Maine also have the most expensive mandated coverage for multiple-person bodily injury, at $100,000, while Florida again has the lowest ($20,000).
Seventeen states require $25,000 property coverage (the highest among the states) while four – California, Massachusetts, New Jersey and Pennsylvania — require only $5,000, the lowest.
If you hold the minimum insurance required in your state and are involved in an accident in a different state that happens to require higher minimum coverage, your policy automatically bumps up to meet that state's requirements, according to Insure.com.
If you live in one of a dozen "no-fault" states, the law requires that each driver's insurance pays their own bodily injury damage claims no matter who's at fault, and therefore you generally can't sue for "pain and suffering." This is to reduce insurance fraud, though residents of no-fault states can still sue drivers from other states.

Related
Illinois poised to raise minimum required auto insurance
(Chicago Trubune)
Would You Trade Your Privacy for Discounted Auto Insurance?
What State Has the Highest Car Insurance?