2014 Mercedes-Benz S-Class: First Drive
Certain cars around the world are iconic; they define the category in which they operate by their sheer legacy. Ford Mustang. Mazda MX-5 Miata. BMW 3 Series. The flagship luxury sedan standard-bearer is the Mercedes-Benz S-Class. New versions do not come along very often, so when Mercedes-Benz rolls out a new S-Class, it is a newsworthy event.
The 2014 version of the icon is everything you'd expect: leg-stretching comfort, jaw-dropping technology and eye-popping prices.
One does not drive the new S-Class as much as "operate" it.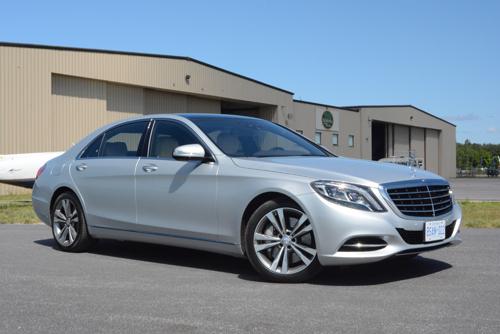 The level of technical sophistication and electronic wizardry in the new flagship is nothing short of astonishing. As one Mercedes-Benz official put it, "We want to get back to people being surprised at the S-Class. We want them to say, 'They put what in it?' " You'd expect a brand known for cramming every possible safety and technology gadget into its cars to go all-out for its new top model, and you'd be right. There's so much jammed into the S-Class that it's hard to know where to start when listing it all.
How about with the optional Magic Body Control system that uses a stereoscopic camera mounted behind the rearview mirror to read the road ahead and adjust the suspension in a fraction of a second to upcoming road hazards? This enabled me to drive over a speed bump at 30 mph as if it wasn't even there, with the car staying perfectly level and flat.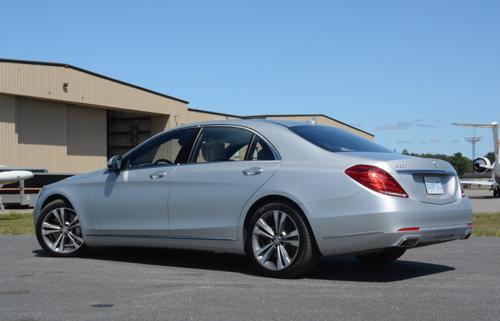 Or perhaps the lane keeping technology that keeps you centered in the lane at speeds up to 124 mph, or in stop-and-go highway traffic can accelerate, brake and even steer the car autonomously up to 37 mph? The new night vision system displays an infrared image of what's in front of the car on the electronic screens that have replaced the traditional gauges, and it can differentiate and identify people versus animals. When it identifies people, it uses a special spotlight function in the LED headlamps to light up and flash just that person to alert them there's a car approaching. It won't flash the headlights at animals so as not to frighten them and possibly make them jump in front of the car.
That's not all the LED headlamps can do. They also can selectively block out something in front of the car at night, such as an oncoming vehicle or one that's on the side of the road, and track it as it moves. This enables you to drive with the high-beams on and not blind anyone in front of you. A new pedestrian safety system identifies people in the car's vicinity and when necessary, brakes to prevent impact.
The list of whiz-bang equipment is practically endless and a little nuts. A new smartphone app allows you to control all aspects of the car's multimedia system. A new fragrance feature gives you four selectable scents to choose from to waft gently from the air-conditioning vents. All four seats have an optional massage feature that now includes a heated "hot-stone" function. An Executive Rear Seat Package allows for the right rear seat to recline, combine with the front right seat and form a kind of super-plush chaise lounge. The list goes on, but you get the idea. This may be the most technologically advanced vehicle ever built. Mercedes-Benz says the only things keeping it from being capable of driving itself are legal restrictions and road conditions; the car itself could do it, as-is.
But should you want to drive the car yourself, this is still allowed (for now, at least). And it drives quite well. The electronic safety systems are mostly unobtrusive (the lane keeping system that rumbles the steering wheel if you stray too close to a painted line can get annoying), and the experience is serene and peaceful. Seats are minutely adjustable, comfortable and add to the premium experience. My test drive was in a European-spec S500 that was powered by a twin-turbocharged 4.7-liter V-8 engine making 455 horsepower. It'll be known as the S550 when it goes on sale in the U.S. later this year in rear- and all-wheel-drive versions. The transmission is a new seven-speed automatic for both versions.
The big Benz is powerful when called upon, delivering a massive rush of speed that can push the car to 60 mph in a Mercedes-rated 4.8 seconds. Brakes are strong and firm, slowing things down equally impressively. Handling is light, but switching to Sport mode increases effort slightly. This is not a performance car, but it will hustle along when called upon to do so, like when a bodyguard needs to get his chauffeured passenger out of danger in a hurry.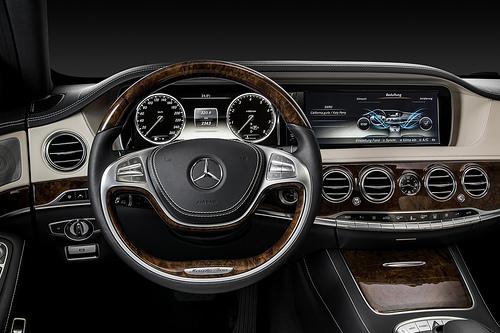 From a styling standpoint, the S-Class has always been and remains conservative and understated. Elements from the swoopier CLS are present, and the new corporate face recalls the new entry-level CLA. It's attractive and immediately identifiable as a Mercedes-Benz, as it should be. The surprise, however, is in the aerodynamic efficiency of the new shape: The S-Class is now the most aerodynamic sedan in the world, slipping through the air with a cD of just 0.23. What that means is there's no wind noise at highway speed in the new S-Class, a feat achieved without adding huge amounts of heavy sound-deadening materials. There is some tire noise inside and some muted engine rumble, but wind noise is impressively absent.
This is an ostentatious luxury car, with 12 interior color combinations, two 12.3-inch LCD screens side-by-side in the dashboard instead of gauges and a Burmeister premium sound system that will burst your eardrums before it bursts any speakers. Anything that can be made automatic, including the door closers, has been. Pricing has not been announced for the S-Class yet, but expect it to start at least where the current one resides, in the low $90,000 range, stretching well into six-figure territory when optioned with all the goodies.
Related
2014 Mercedes-Benz S-Class: First Look
Research the 2013 Mercedes-Benz S-Class
Latest News on Mercedes-Benz