Sounding Off on Our 2013 Honda Civic's Stereo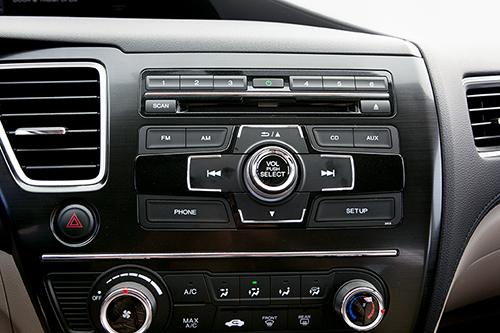 Logic says a cheap car should have a cheap stereo. Cars.com's 2013 Honda Civic in base LX trim isn't exactly inexpensive at $19,775, including an automatic transmission and destination charge, but the stereo has a laundry list of features most wouldn't expect at its price.
In the six-plus months we've owned the Civic, we've hooked up numerous phones and music players to the standard USB port and streaming Bluetooth. Our editors also have spent hours commuting, where the right stereo can make a difference between starting the day right or wrong. The Civic's stereo was a huge hit when first purchased, but what about 12,000 miles later?
The 2013 Civic's bevy of entertainment features remains competitive and ahead of the curve even as 2014 competitors roll out with new changes and redesigns.
"It really provides a lot of different ways to bring mobile media into the car," says Cars.com editor Mike Hanley.
All Civics come with a standard USB input for music players and USB flash drives, Bluetooth streaming audio, Pandora integration (iPhone only) and an MP3 jack as well as a CD player and AM/FM radio. An intelligent Multi-Information Display shows each source's artist, song and album information, as well as a music player's music library.
Despite the long list of features, Cars.com editor Joe Bruzek notes there's one feature he'd like to see added. "One omission I'd like to see added is satellite radio," he says. "Satellite radio offers a much-appreciated variety of talk radio, music and sports listening entertainment when commuting up to three hours a day."
Satellite radio is reserved for the navigation-equipped Civic EX and EX-L only — it's not even an option on lower trim levels or EX models without navigation. The exclusion isn't the norm for the segment; volume sellers like the Chevrolet Cruze and Hyundai Elantra include satellite radio as standard.
Even more important than having a massive amount of connectivity features is having features that work well, which the Civic's do seamlessly for navigating a music collection through the i-MID display.
"From a usability standpoint it also rates well," Hanley says. "I like that the volume knob also doubles as a tuner for the radio when you press it. Easy to use."
The volume knob that serves as a tuning knob didn't win everyone over, however, as one editor was annoyed by the shared function.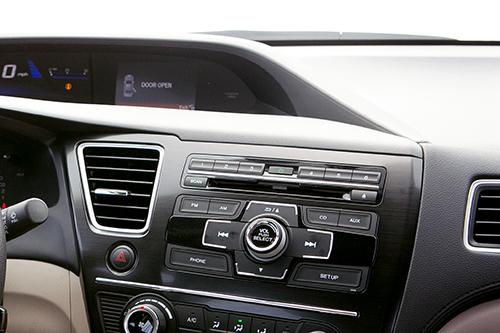 So far, the Civic's stereo has delivered a great amount of features for the money. Sound quality is more difficult to evaluate because of its subjective nature. Even so, there isn't much praise for how well the Civic's base stereo sounds. One editor claims to be so offended he only listens to spoken audio instead of music, while others are lukewarm on the stereo's audio output, which is one of the only areas the Civic's stereo falls flat.
Related
What We Miss in Our 2013 Honda Civic LX
2013 Honda Civic Wallpaper, Not Just for Smartphones
We Bought a 2013 Honda Civic, And It Wasn't Easy