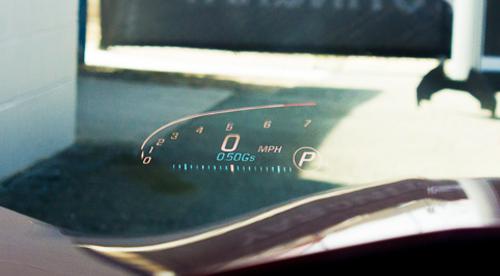 Head-up displays, which project vehicle speed and other information in front of the driver's field of view, have been available since about 1990, but in recent years they have become more widespread as automakers try to reduce driving distractions. More widespread, however, doesn't mean they soon will become nearly universal, like Bluetooth hands-free phone capability. That's because they generally cost a pretty penny, and buyers aren't clamoring for them.
Head-up displays are currently available on several Audi, BMW, Cadillac and Lexus models, the Hyundai Equus and other luxury vehicles, where buyers demand technology and are willing to pay extra for it. In addition, HUDs are offered on the Chevrolet Corvette and Camaro performance cars, the Buick LaCrosse and GMC Acadia, and Toyota makes them available on the Prius' top trims, the Four and Five models.
General Motors was the first to offer a HUD, but Scott Geisler, a staff engineer at GM's Global Safety Center, notes that even after 25 years on the market, HUDs aren't a must-have feature for most drivers. In addition, they still take up a lot of space and add cost for manufacturers.
"It's not a universally sought after and accepted item at the moment," Geisler said in an interview. "I love them. I'd like to see them proliferate across virtually everything, but they do represent a packaging challenge, and they do add mass and cost, and we are very sensitive to all those things."
Driver distraction, however, has become a major issue for automakers, and HUDs are one way to reduce the amount of time that eyes are off the road while hands and minds are busy trying to find a radio station, use a phone or follow directions from a navigation system.
HUDs for cars were adapted from systems used in jet fighter planes, where speeds and combat situations demanded that pilots focus on flying instead of groping for controls. Drivers don't face the same challenges, but the proliferation of infotainment features in cars has created concerns about keeping driver attention focused on the road ahead.

So while they may not become universal in the near future, HUDs are finding their way into more vehicles, including lower-priced ones such as the 2014 Mazda3. A HUD that pops up from the dashboard is standard on the 2014 Mazda3 s Touring and s Grand Touring models with a 2.5-liter engine, which start in the $25,000 range, putting the feature within reach of more buyers.
Mazda engineer Dave Coleman said in an interview that the pop-up HUD, called the Active Driving Display, was introduced in conjunction with the Mazda Connect infotainment system, controlled through a large screen high on the center of the dashboard.
"The more complicated the system you're asking someone to operate, the more distraction there is," Coleman said. "We took a fresh look at what we could do to reduce driver distraction. Our goal was to keep the distraction level where it was while adding a whole bunch more capability."
The pop-up display is ahead of the steering wheel on the dashboard top, but the image it creates is projected out toward the front end of the hood, about five degrees below the average driver's viewing angle.
The display can show vehicle speed, the speed set for the cruise control, a simple version of the next instruction from the nav system and active safety features such as lane departure warning, forward obstruction warning or when the Smart City Brake activates.
"All the information in the display is driving information," Mazda product planner David Matthew said, a key point to the approach engineers took.
"That minimizes the confusion as to where you have to look for information. You're not going to see in the Active Driving Display or on the instrument cluster what your radio station is or that you've got an incoming text message. That stuff's just not going to get mingled in with the information you need to process quickly and drive safely," Matthew said.
Mazda's Active Driving Display is more compact than other HUDs and presumably less expensive based on the Mazda3's price. Coleman said the Mazda3 was the first car to get it because its redesign came in the right sequence with development of the HUD. It will be offered in other Mazda models, but Coleman said it has to be part of the design conception and electrical engineering, so it can't be retrofitted to models already on sale, even newer ones like the larger Mazda6 sedan and CX-5 crossover.
Though Mazda decided to separate driving information from infotainment, other manufacturers mingle the two in their HUD displays. The Lexus system can show fuel economy and radio stations, for example. "It's human nature to look down at a screen when a new song comes on, for example, to see what it is," says Cars.com Managing Editor David Thomas. "That's just one less time you would have to look away from the road."
GM's system, such as the one on the Cadillac ATS, also can display radio stations, but Geisler said drivers can choose from three or four display modes that limit or expand the information that is displayed. One, for instance, shows the posted speed limit.
Cadillac's system — like several others — also displays a prominent red warning when the forward collision alert activates, so even a distracted driver can't help but notice.
"You notice it, but your eyes [continue to] look forward. Even when you observe that warning indicator, you are able to see that looming vehicle that represented the threat. That goes to what the real advantage is of the HUD," Geisler said.
"That virtual image is optically focused to appear to be floating around the front edge of the hood or the bumper, so you don't have to change your eye focus to observe that information.
How much time that saves or how many accidents HUDs can prevent is hard to measure, Geisler said. Most drivers can glance away from the road and refocus on the gauge cluster in less than a quarter of a second — often in hundredths of a second. With a HUD, however, the time it takes to focus on a warning displayed in front of the driver is so brief it is "almost impossible to measure," he said.
Despite being a strong proponent of HUDs, Geisler doesn't see them as the best or only approach to reducing driver distraction.
"It is a great technology and one that has lots of potential benefits. Is it a fundamental, basic technology that we have to rely on to balance a driver's attention to the roadway and the other things they want to do? I don't know if that's a given," he said.
"Our goal is that the distraction levels are managed with the base vehicle content. We don't rely on HUDs now to make sure the distraction level is managed."
Examples of other types of distraction management include putting touch-screens higher on the dashboard and making them larger, placing more controls on the steering wheel where they can be operated with thumbs and managing infotainment systems with voice commands and speech systems that allow the driver to "keep eyes on the road, hands on the wheel."
But in a world where humans are wearing $1,500 Google glasses walking to work, upgrading with an $1,800 option package in your BMW 5 Series to get a HUD doesn't sound like a ridiculous idea.
Related
NHTSA Sees No Decline in Distracted Driving
More Gadget News on Cars.com
More Safety News on Cars.com