2015 Mini Cooper Hardtop 4 Door: First Look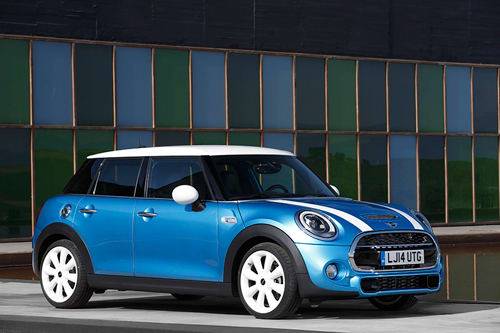 Competes with: VW Golf, Fiat 500L, Nissan Juke
Looks like: A subdued Mini Countryman
Powertrains: 134-hp, 1.5-liter turbocharged three-cylinder engine or 189-hp, 2.0-liter turbocharged four-cylinder with six-speed manual or automatic transmission
Hits dealerships: January 2015
It seems Mini is not satisfied with its recently expanded lineup of vehicles that added roadsters, coupes and even "SUVs" over the past few years. The addition of a four-door variant to the traditional Mini Hardtop makes us think the lineup will be "ever expanding."
2014 Mini Cooper Hardtop Expert Review
Called the Mini Cooper Hardtop 4 Door, this new model is based on the recent redesign of the two-door hatchback, the model that reintroduced the brand to the U.S. around the turn of the millennium. The two options in door-count transform the Mini Hardtop into a true competitor of Volkswagen's Golf, which comes in either two- or four-door hatchback body styles.
The 4 Door is 6.3 inches longer overall than the two-door with the wheelbase stretched a total of 2.9 inches. At 157.4 inches long it is still considerably shorter than a Kia Soul at 163 inches and the new VW Golf four-door at 167.5 inches.
That doesn't mean it's necessarily small though. In our review of the new two-door we found the redesign spacious in terms of interior height and width for the front passengers. The 4 Door adds a third rear seat as well as 1.5 inches of rear legroom. Cargo volume increases slightly to 9.2 cubic feet with the rear seats folding in a 60/40 split.
Obviously the larger variant still looks decidedly Mini. From the front and rear it is almost identical to the two-door version, but as you move around to the profile view those additional doors definitely lead to a double take. The rear windows are remarkably small though, and there is even smaller glass behind them that wraps around to the rear windshield.
Almost everything else about the 4 Door besides the dimensions carries over from the two-door Hardtop.
U.S. shoppers will have two choices of models, a base Cooper model with a 134-horsepower, turbocharged three-cylinder and a Cooper S with a 189-hp, turbocharged four-cylinder. Both will come with a six-speed manual transmission standard and optional six-speed automatic transmission.
Inside the interior and optional navigation system will also be carried over. Both earned high marks in our review of the redesigned two-door.
Mini says pricing of the 4 Door will be $1,000 more than the two-door, which starts at $20,745 including $795 destination. At $21,745 the 4 Door would be $230 more than the least expensive 2015 VW Golf four-door which actually is equipped with an automatic at that price.
We'll have more information on all the Mini Cooper Hardtop 4 Door trim levels, fuel economy and pricing closer to its on-sale date in January 2015.
Click on any photo below for a larger version.
Manufacturer images.