2018 Buick Enclave Review: First Drive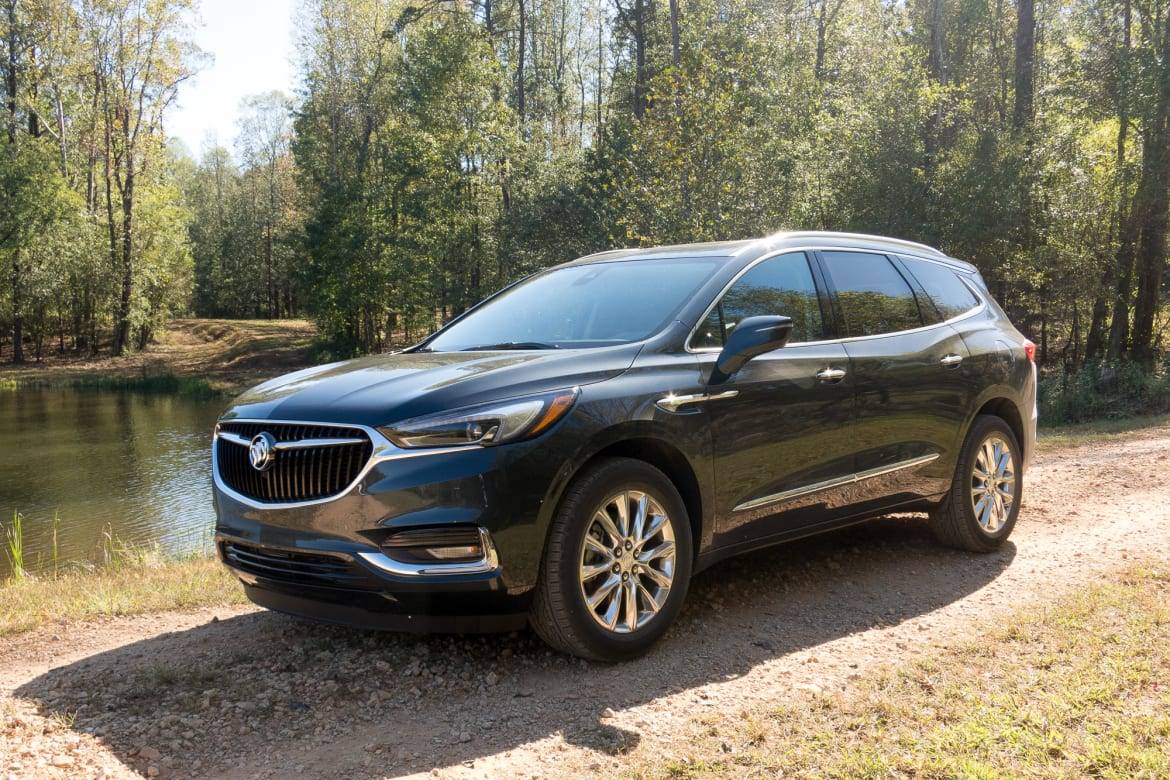 CARS.COM — The latest addition to Buick's lineup is a complete redesign of its oldest SUV, the big Enclave, which seats seven in three rows. It's a family hauler that Buick says is for those with family needs, but with a little more money and a more aspirational outlook.
Related: Buick Lowers Price for Base 2018 Regal
With the 2018 redesign, Buick also is trying to inch a little closer to luxury with the introduction of a new upmarket Avenir version of the Enclave that it hopes can clone the success sister brand GMC has had with more premium Denali versions of its vehicles. (Buick hopes to expand Avenir versions across its lineup.) The Enclave also still comes in its regular base, Essence and Premium trim levels.
We drove the new Enclave on highways and back roads in Georgia and North Carolina (per our ethics policy, Cars.com pays its airfare and lodging expenses for such events). The test vehicle was a well-optioned Premium trim priced at $56,455 including destination, and it proved itself to be just what it was born to be: a comfortable, quiet, smooth-riding family road warrior with a premium feel, good driving dynamics and up-to-date technology.
Size Matters
While Buick continues to call the Enclave mid-size, the new one remains a big SUV, a little bigger than the outgoing model with roughly the footprint of the "full-size" GMC Yukon SUV. It is substantially bigger than the recently downsized GMC Acadia, which rides a shorter-wheelbase version of this new platform and more comfortably wears the mid-size label.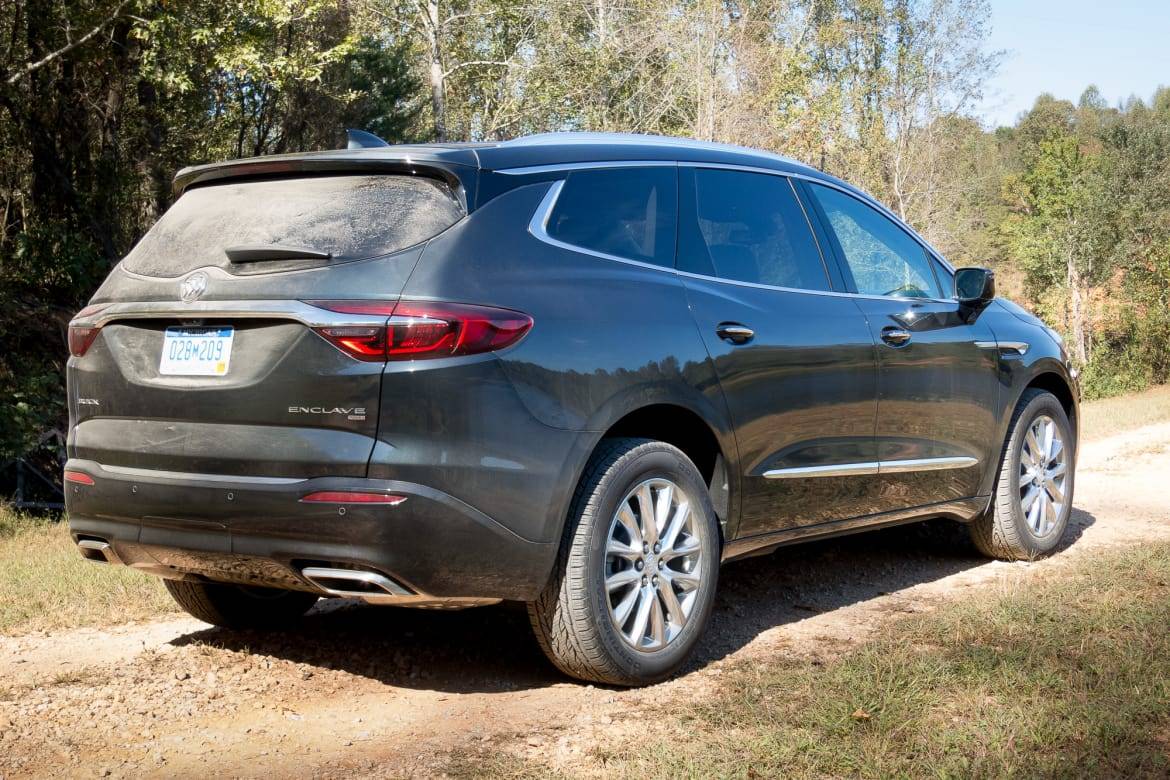 With the exception of the 2018 Chevrolet Traverse, a sibling model that has not been downsized, the 2018 Enclave has interior space unmatched by pretty much anything short of a minivan. The front seats, leather in all but the base Enclave, are big, well-padded and were comfortable even for an all-day drive. The second row features two comfy captain's chairs that are standard on all models.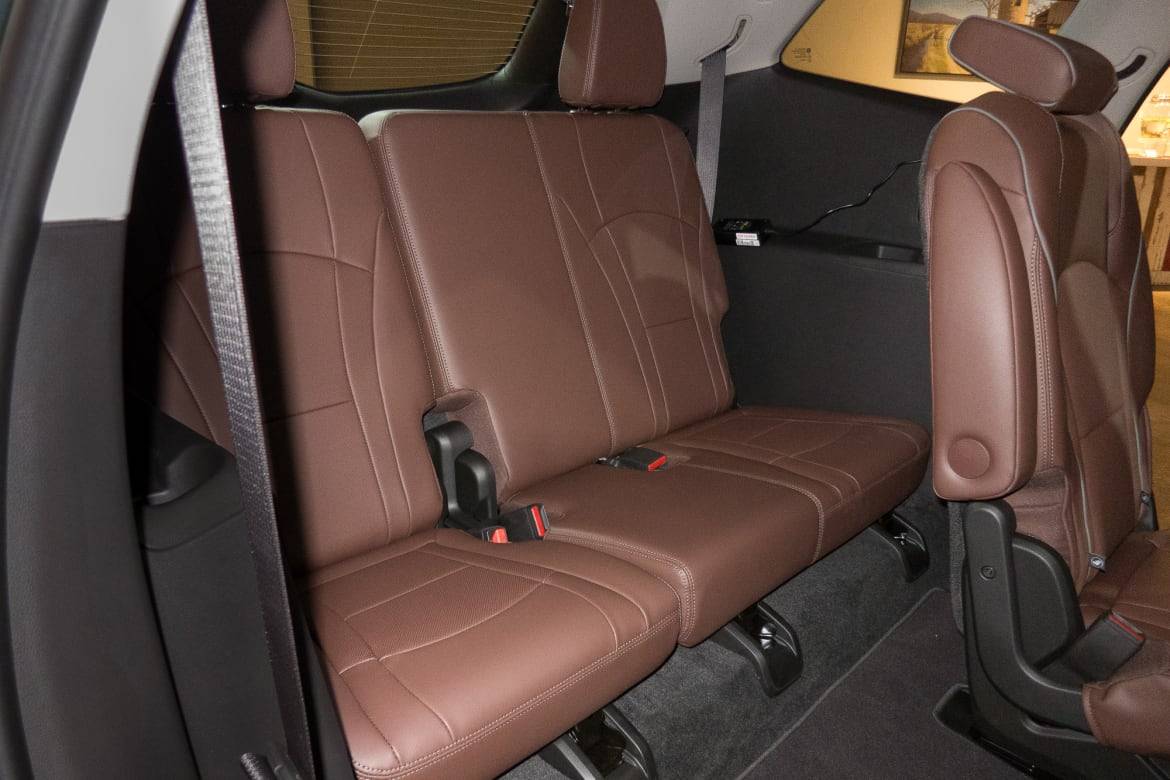 Third-row comfort — important since that's a reason to get a big SUV — is more than acceptable for shuttling adults. Legroom and shoulder room accommodated two 6-foot-plus adults behind adults seated in the second row (there are seat belts for three in the back that could work in a pinch, though with far less comfort). And the tilt-and-slide captain's chair offers a big oprning to get back there, even with a child seat in place. Headroom, however, was limited for us by the downward curve of the roof — not a problem encountered with the more squared roofline of the Traverse.  My head never touched the head restraint but rested against the sloping headliner.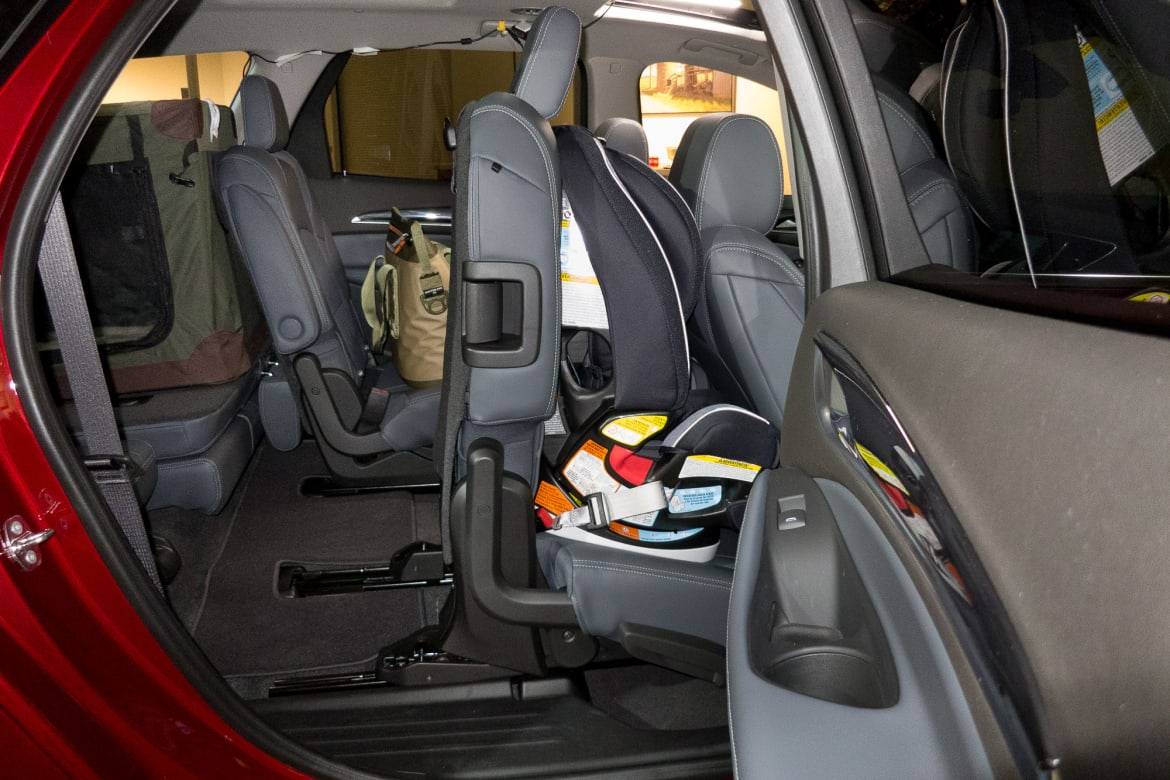 The interior materials are high-quality but still plant the Enclave squarely in the "near-luxury" category. The interior fittings are pleasing to the eye and mostly soft to the touch, but they devolve into more mainstream-brand plastic close to the floor and in the back row, which is the neglected stepchild in most family SUVs — and where you're most likely to find one. There is also prominent use of faux-wood and metal-finish plastic trim; this is not an Audi Q7 luxury hauler, but neither is it priced like one. And the rival near-luxury Acura MDX now looks a little downscale in design and some materials by comparison to the new Enclave.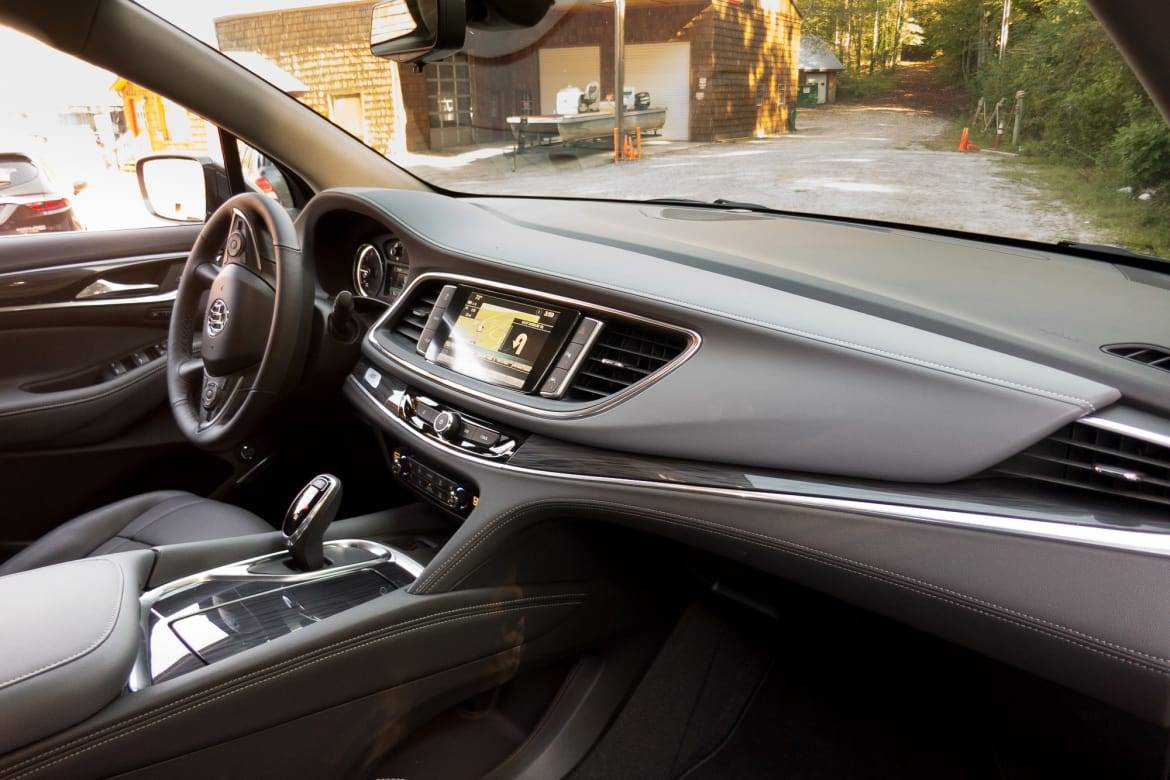 One aspect of the interior that is as luxurious as any German luxury SUV: the hush. Buick's attention to sound insulation and acoustic glass and active noise cancellation do the job.
How It Drives
The 310-horsepower, 3.6-liter V-6 is plenty punchy for the kind of driving a vehicle like this will see. The new nine-speed transmission was mostly smooth and responsive, not being too quick on the upshift in the service of fuel economy and with quick, positive downshifts for passing. The only quarrel I had with it was some hesitation on downshifts at lower speeds, which was out of character with its overall behavior. The transmission includes an "L" position that allows you to limit the range of gears the transmission will use, and steering-wheel paddle shifters let you select gears within the range. It's not a true manual mode, but it still proved useful in up-and-down and winding mountain roads.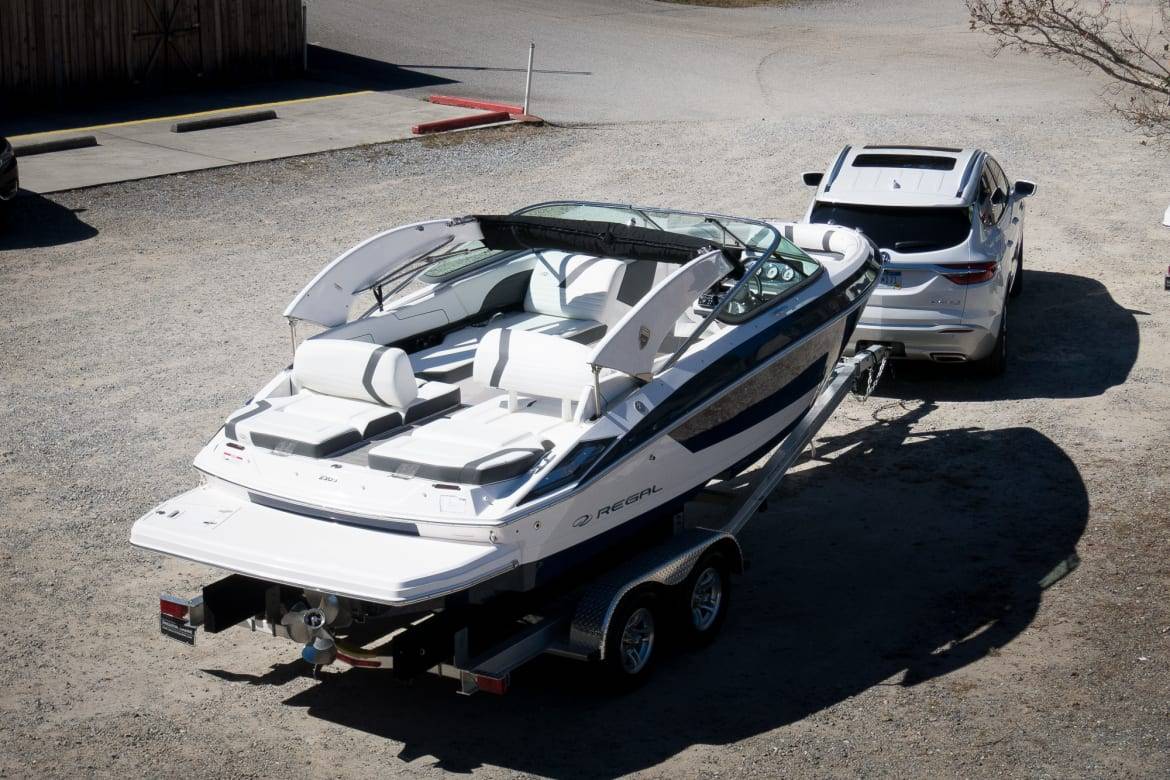 The new powertrain (and shedding more than 350 pounds) also improved the 2018's combined gas mileage by 3 mpg. Compare fuel economy for the 2018 and 2017 here. And the Enclave can tow up to 5,000 pounds.
A more questionable feature was the transmission shifter, an electronic toggle that you can get used to but never will love. It saves enough space, however, to allow purse-size storage under the console.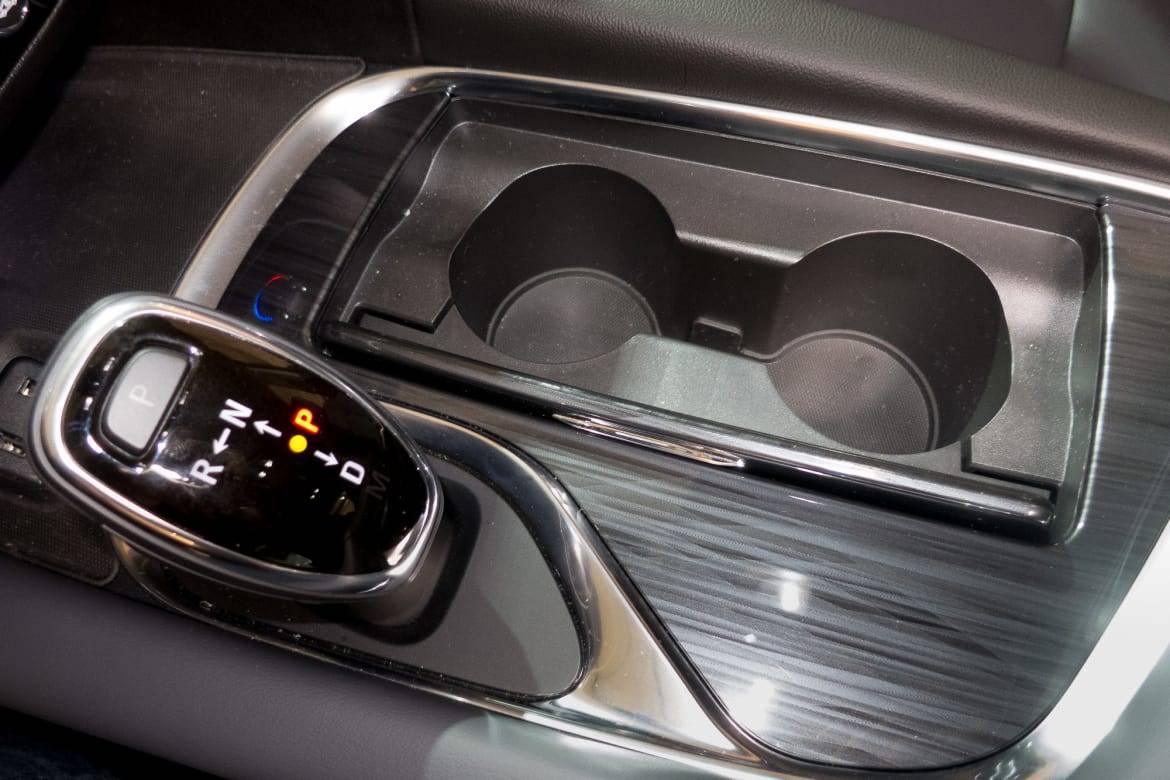 The Enclave offers two all-wheel-drive systems, a simpler system that is optional ($2,000) for the Essence trim and a more sophisticated system for the Premium and Avenir models ($2,300) that adds a twin-clutch rear differential to shift torque between the left and right rear wheels in addition to between the front and rear — up to 40 percent to the rear in most situations — for both better traction and handling. The Premium model I drove had that version, and it proved more than up to dealing with both some loose gravel roads and Georgia clay and providing a handling boost on winding mountain roads. (The base model does not offer either AWD system.)
The Premium tested did not have GM's excellent adaptive suspension system with a Sport setting; that's an option for Avenir only. But the regular suspension still balanced a very comfortable ride with competent handling. There was little lean in the corners for such a tall, heavy vehicle. Steering didn't offer much road feedback, but it was precise and nicely weighted. The Enclave was in its element on the freeway, inviting you to run up the miles, but it did not feel out of place winding around rural mountain roads. And the optional 20-inch wheels ($1,400) did not seem to hurt the ride.
Techno Pop
The Enclave comes loaded with connections for the tech-intensive family, including two USB ports (both for data) in the device bin under the dashboard and a 12-volt outlet below the console, a pair of USB charging ports plus a 12-volt and household outlet for the second row, and even a pair of USBs for the back row, plus 12-volt power in the cargo area.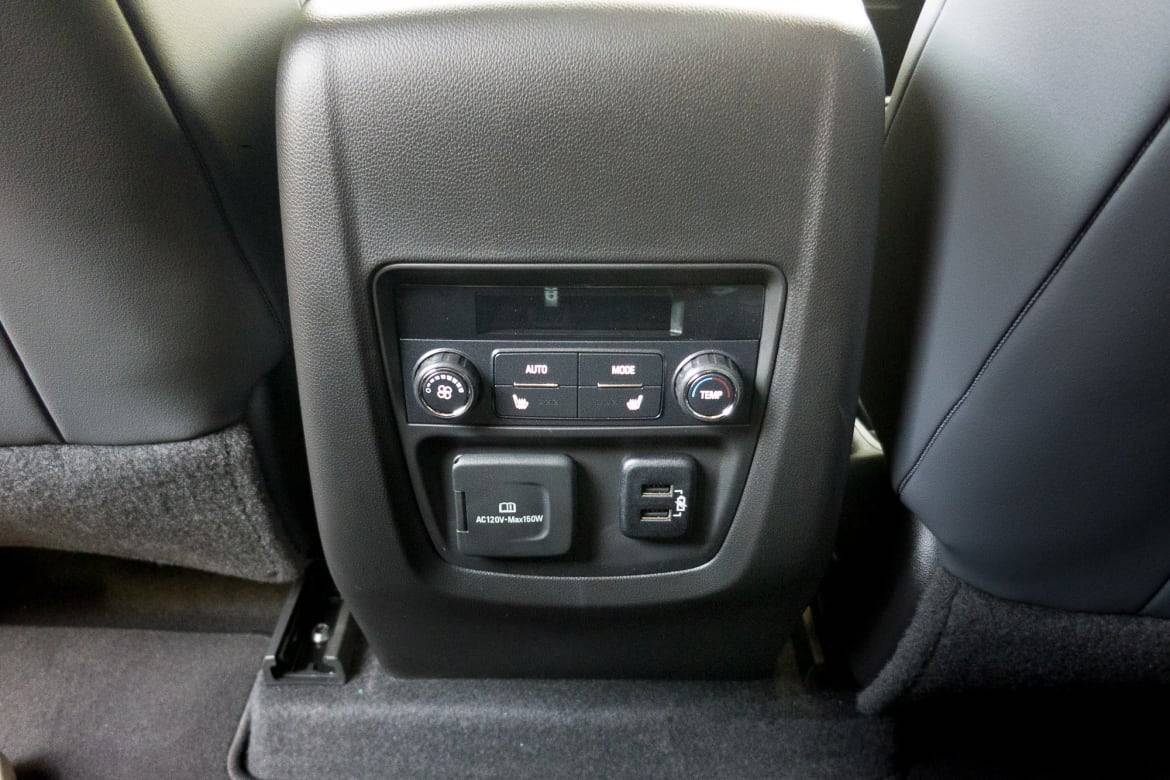 The multimedia system is GM's latest. It continues to be one of the most intuitive, user-friendly systems available, and it includes Apple CarPlay and Android Auto smartphone integration. The 8-inch display is crisp and the system response was fast. OnStar provides emergency communications as well as a subscription-based 4G LTE connection for onboard Wi-Fi. And the Premium test model had the available 360-degree camera display offering surround, front and rear views. That option package ($825 on Essence and Premium, standard on Avenir) also includes GM's rearview mirror video system that offers a wider, unobstructed view of the traffic behind you even when driving forward.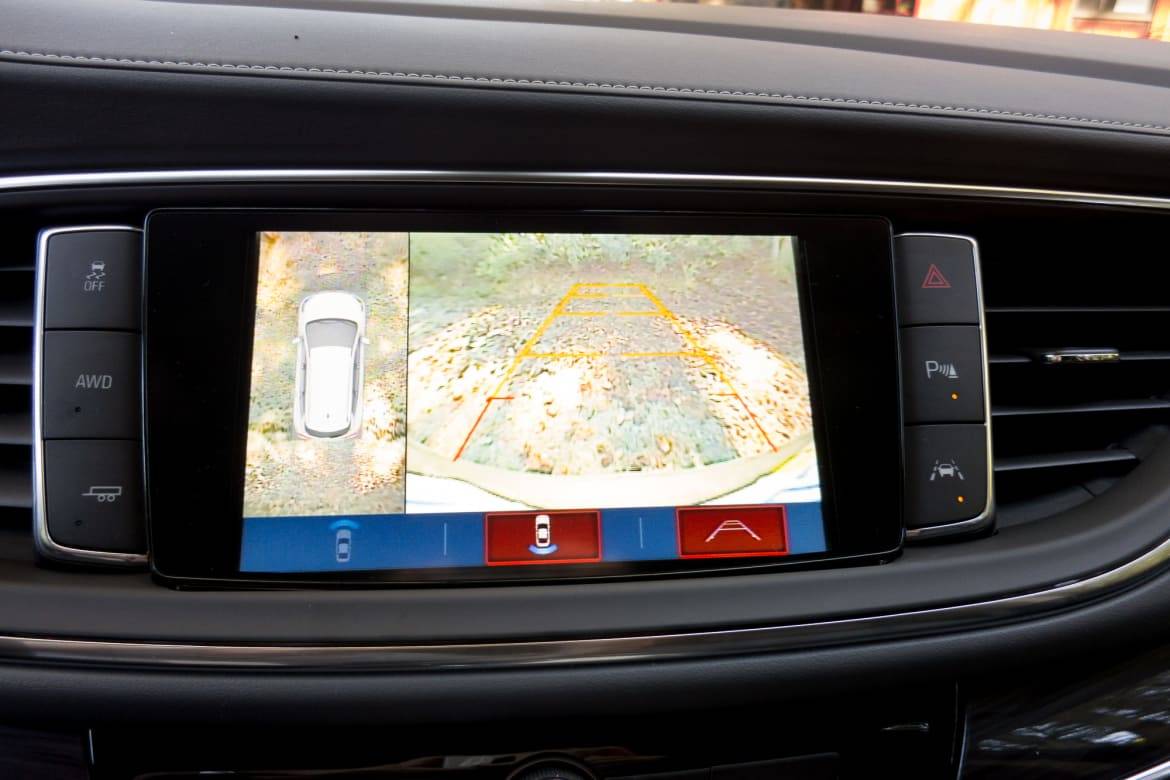 The interior designers have gone for a cleaner and simpler look with the dash, which means fewer buttons and knobs, but thankfully they left a large and easy-to-reach knob for the audio volume.
Exclusive Safety
Unfortunately, the most advanced safety and performance technology is reserved for the high rollers in an option package offered only on the Avenir. It includes a collision warning system with automatic braking that works at all speeds, adaptive cruise control and is packaged with the adaptive suspension. It's logical to try to give the Avenir some exclusivity, but it's annoying that you can get similar advanced safety features standard or as options on much cheaper vehicles, but not on other Enclave trim levels.
Standard on the Premium test car, however, was a low-speed collision warning system with automatic braking and pedestrian detection, as well as lane departure warning and prevention, front and rear parking sensors and blind spot and rear cross-traffic alerts.
Near-Luxury Value
As a near-luxury brand's offering, the Enclave would be for buyers wanting a little more than a mainstream brand without the price or showiness of a luxury vehicle. In that space, the new Enclave should have no trouble competing on value versus Acura's rival MDX and the Infiniti QX60. It's fresher, far more spacious, has more up-to-date and more user-friendly multimedia tech, and is competitively priced; compare the rivals' features here. It's trickier for the Enclave to claim enough additional tangible and intangible value over the also-redone Chevy Traverse. The Enclave has a classier badge and a higher-style look and feel, but it also has a higher price than a Traverse — which in its higher trims veers into the Enclave's lane with quality materials and comparable (even some of the same) premium features.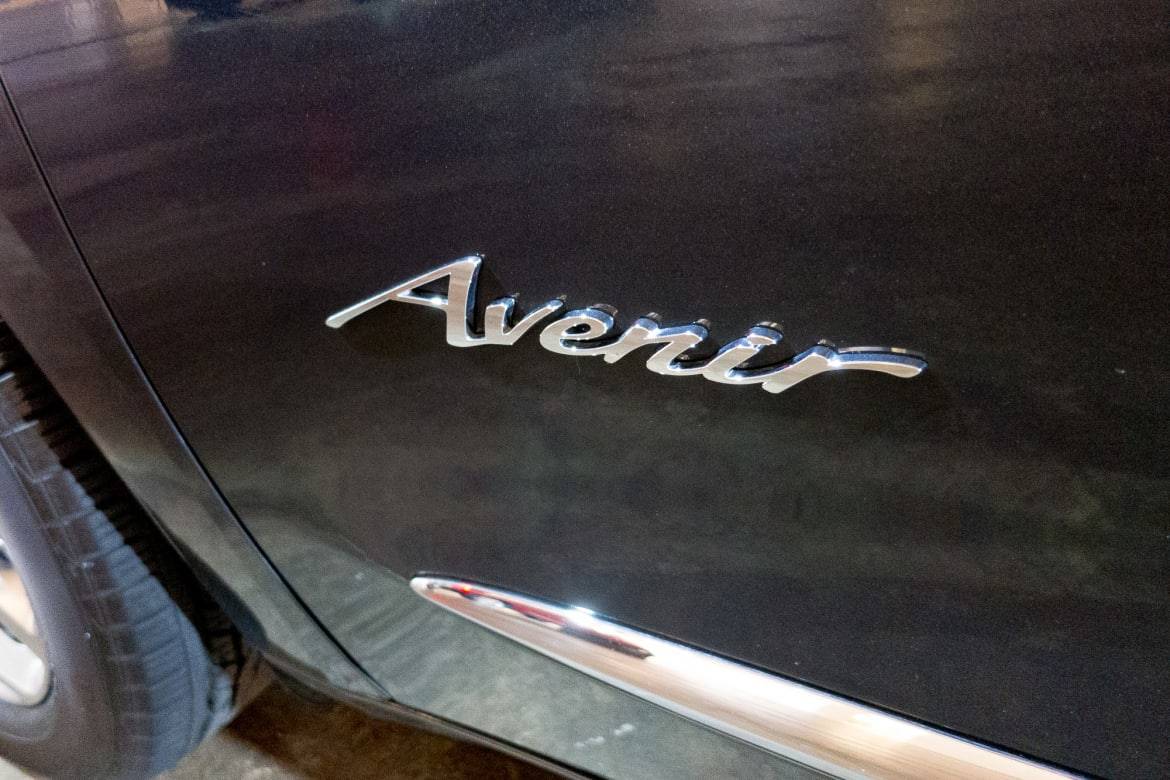 And perhaps the biggest value question concerns the new Avenir version of the Enclave. It offers some nicer interior trim in an exclusive color, its own wheels and grille, more standard features, and offers some safety and performance technology that for now is optional only on the Avenir. The open question is whether Buick has put enough distance between its first Avenir model and the regular trims to get buyers to line up for it as they do for the profitable Denali versions of GMC trucks and SUVs.
The 2018 Enclave is starting to show up at dealers now. Buick officials estimate that a full selection should be on dealer lots by December. Pricing starts at $40,970 (all prices include destination charges) for the base model, but expect to have to order one if you want that bottom price. The Essence starts at $45,190 with front-wheel drive and the Premium at $48,990; all of those prices are up a few hundred dollars from 2107. The new Avenir starts at $54,390.