2019 Fiat 500X Review: New Engine Can't Solve All Problems
The verdict: Even though it just got a slew of changes, the 500X feels like it needs a few more already, including ergonomic improvements and a better transmission.
Versus the competition: The 500X doesn't make a compelling case for itself outside its funky styling — especially for those who need a more spacious backseat.
Related: 2020 Fiat 500X Sport: A Spiffed-Up Subcompact SUV
The 2019 Fiat 500X got a refresh for the new model year, and the biggest change among the requisite styling tweaks and standard-feature additions is a brand-new tiny engine for the tiny SUV.
The new engine is one we're already familiar with. It's the same turbocharged 1.3-liter four-cylinder that was added to the 2019 Jeep Renegade, with which the 500X shares some DNA. The big difference, however, is that the engine is standard on the 500X (it's just an option on the Renegade). And there's more good powertrain news: All-wheel drive is now standard, enhancing the 500X's value a good bit compared with its competition, which includes the Renegade, Honda HR-V and Hyundai Kona.
I tested two 500X trims at opposite ends of the spectrum over the course of a week: a Pop and a Trekking Plus, which bookend the SUV's trim levels (there's also a mid-level Trekking trim). The Pop stickered at $27,070 (as equipped, including destination charges), while the Trekking Plus reached all the way up to $35,075.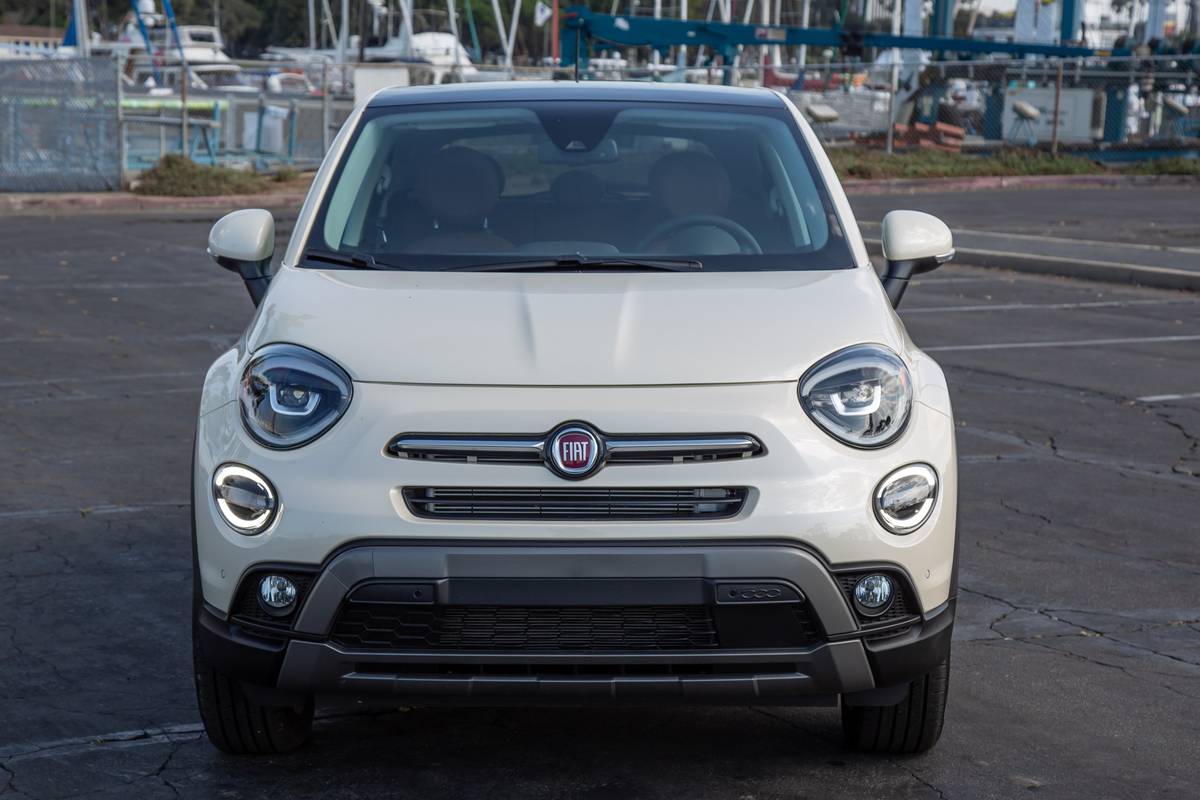 New Powertrain, Old Problem
Underestimate the new engine at your own peril; though it be small, it is fierce. Its horsepower and torque numbers (177 and 210 pounds-feet, respectively) are especially impressive for its tiny size. Get the engine going and it more than capably pulls the 500X forward; I would even go so far as to say that the Fiat feels peppy and offers momentary smiles. I didn't get a chance to test the AWD system off-pavement, but on the road, it's not intrusive and behaves mostly as a front-wheel-drive system. This makes sense given the system employs a disconnecting rear axle, so the drivetrain can operate more efficiently when the rear wheels aren't needed to drive the vehicle.
As good as this engine can be, the rest of the driving experience doesn't live up to it. That's mostly due to acceleration lag, which is especially noticeable from a stop. Once in motion, the nine-speed automatic transmission is the main culprit, meeting accelerator inputs with an inquisitive silence before saying, "Oh right, that's me," at which point you scoot forward. Living in Los Angeles — where unprotected left turns love to hang out — it was frustrating to have to time the vehicle's delayed acceleration with a gap in traffic.
The rest of the driving experience is unremarkable. Handling is mostly competent, though the tires start to protest pretty early and the suspension allows for a fair amount of body roll. That softness doesn't, however, translate to ride quality, so don't get your hopes up. The cabin does have a propensity to get noisy both at highway speeds and when the engine winds up, but it isn't bad enough to make the 500X stand alone in this class.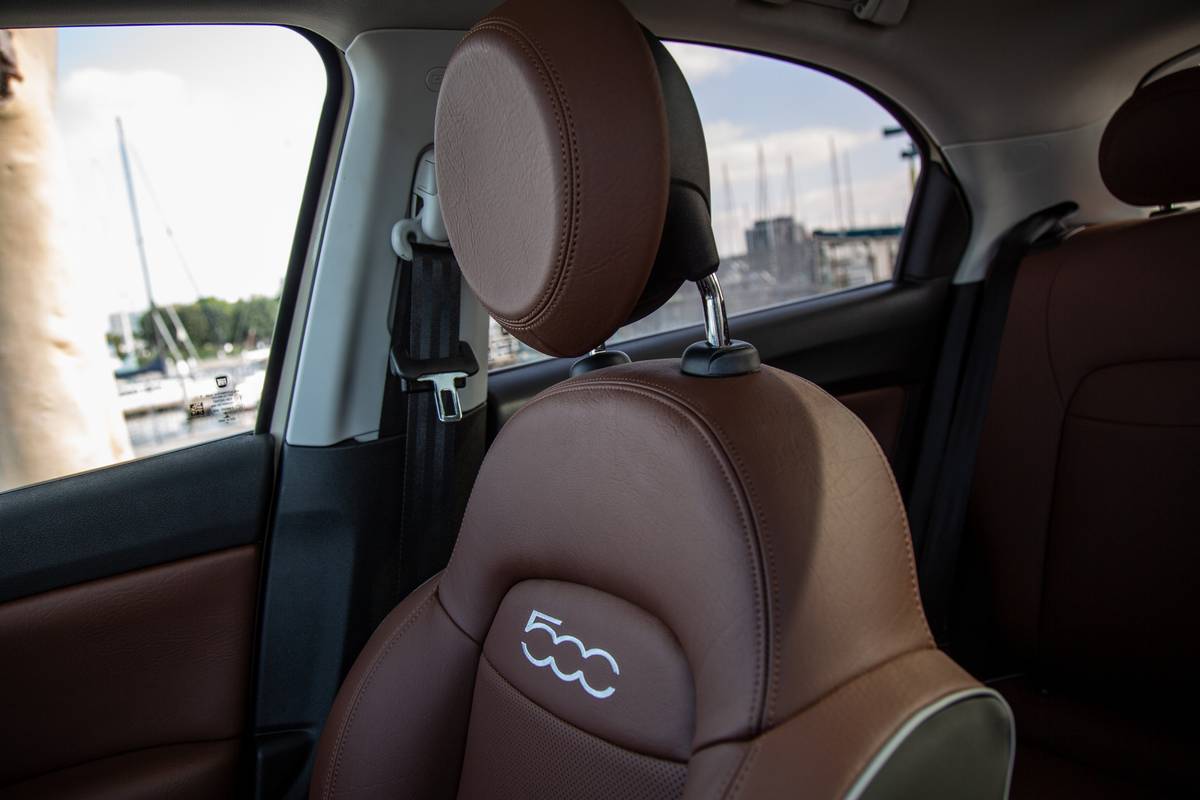 Nowhere to Rest My Head
The interior is fine. As per usual in this class, there's a pretty large gap between the bottom and top trim levels: lots of cloth and hard plastic in the Pop, lots of leather and hard plastic in the Trekking Plus. There's a large body-colored trim piece on the dashboard that will inspire mixed opinions; I liked it on cars with fun exterior colors, but on my white test vehicle, it wasn't as appealing.
I found a lot of interior quirkiness. In typical Italian fashion, choices seem to have been made with aesthetics in mind more than practicality. Take the front-seat head restraints, for example: They're oval — to match the headlights and the 500X's overall bubbly aesthetic — but they're flat, and I've yet to meet a person whose head is perfectly flat in the back, so they end up being the most uncomfortable head restraints I've ever tested. By the end of the week, I was leaning forward a bit to pretend they weren't really there.
It's the same thing for the multimedia screen, which has positives but is awkwardly placed. The standard 7-inch touchscreen has decent resolution, and because it's powered by Uconnect, it's quite intuitive to use and comes with standard Android Auto and Apple CarPlay. But it's angled forward slightly at the top for some reason, which means you can't reach the right side of it without leaning far out of the driver's seat.
Like many other vehicles in this class, the 500X's backseat is a bit short on legroom for adult passengers. With the driver's seat set for me (I'm 5-foot-11), my knees touched the back of the seat. The saving grace is a good amount of headroom and decent visibility, especially with the available dual-pane moonroof.
The 500X's interior feels class-competitive in terms of materials and design, but its ergonomic foibles stick out enough to put a damper on the experience. Controls you can reach and head restraints that don't knock you around would be welcome additions.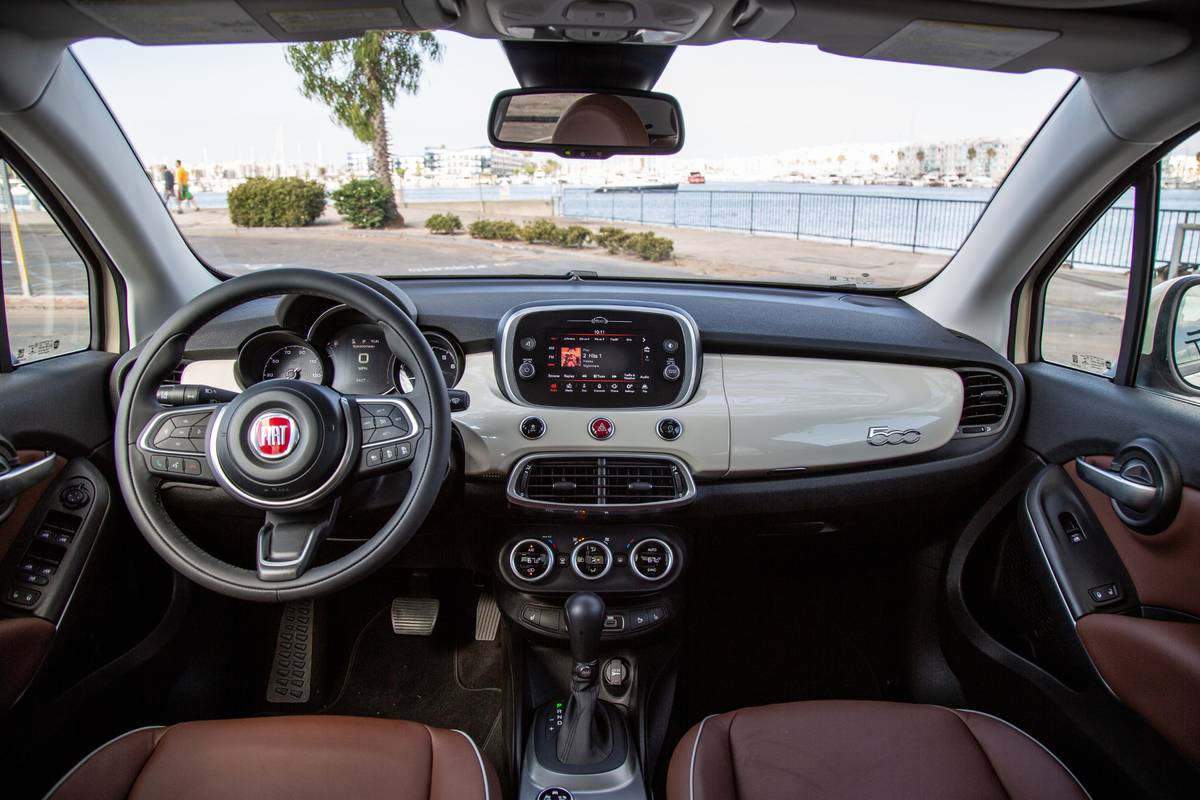 Safety and Value
I tied these two topics together because it's hard to talk about value without talking about the 500X's safety features — or rather, the lack thereof. The only real safety features that are standard are a backup camera, airbags, antilock brakes and a stability system, most of which are required by law. Even the Trekking Plus adds only front and rear parking sensors. That means forward automatic emergency braking, blind sport warning, lane keep assist and adaptive cruise control all get bundled into the Advanced Driver Assistance Group ($1,395), which is offered only on Trekking and Trekking Plus models. As the rest of the class and the industry as a whole heads toward offering these features standard on all trim levels — even less expensive ones — it's glaring to trend in the other direction.
The 500X's strength is its style; it has a unique look that will appeal to some. Just know that putting form over function comes at a cost, and at the end of the day it wasn't one I was willing to pay.
Cars.com's Editorial department is your source for automotive news and reviews. In line with Cars.com's long-standing ethics policy, editors and reviewers don't accept gifts or free trips from automakers. The Editorial department is independent of Cars.com's advertising, sales and sponsored content departments.