2019 Ford Ranger: 7 Things We Like, 4 Things We Don't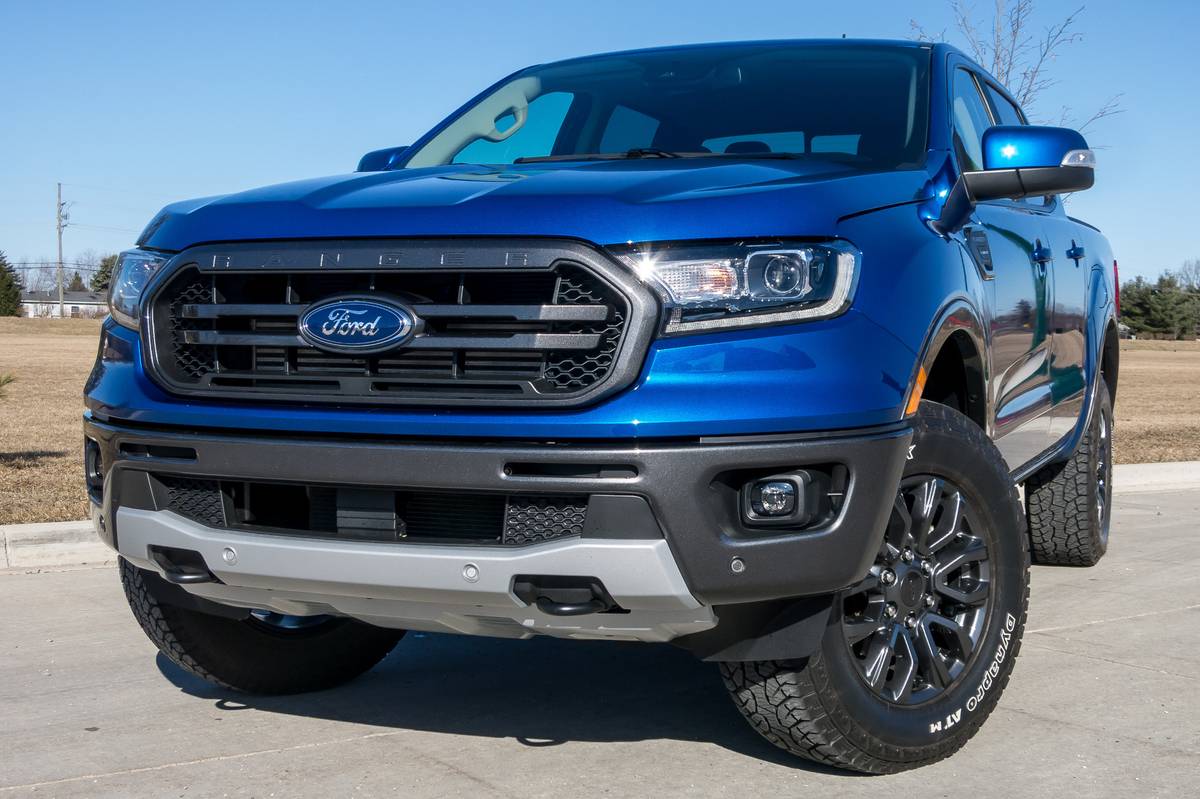 To Ford truck fans — or anyone in the market for a smaller pickup than available full-size models like the F-150, Chevrolet Silverado 1500 and Ram 1500 — your wait is finally over. That's because the 2019 Ford Ranger marks the return of the Blue Oval brand's small truck back to the U.S. market. The previous generation disappeared after the 2011 model year, and the truck world had been a lonelier place ever since.
Related: 2019 Ford Ranger Review: It's New to You
Was it worth the wait? For the most part, yes. Without giving the game away, the new Ranger is an extremely strong competitor to its closest rivals, which include the Chevrolet Colorado, GMC Canyon, Jeep Gladiator, Nissan Frontier and Toyota Tacoma. On the road and during our test drive of two Rangers in different trim levels, we found the driving dynamics have more in common with a comfy SUV versus a rough-riding work truck.
That's not to imply the Ranger can't get the job done. A class-leading payload capacity and strong tow rating put this Ford toward the head of its class. And while the Ranger offers only one choice of engine and transmission, the one it offers is very good.
You can find our full review of the 2019 Ford Ranger by Cars.com's Aaron Bragman via the related link above, but for the lowdown on this truck's highlights, keep reading. We've also listed a few items that hold the Ranger back from being a knockout punch to the competition.
Here are seven things we like, and four that we're giving the side-eye to, about the 2019 Ford Ranger:
Things We Like
1. Better Late Than Never
Has it really been less than a decade since the Ranger was last on sale? For whatever reason, the absence feels much longer. Maybe that's because sales of trucks and SUVs remain red-hot, and the lack of new models and added competition in the compact and mid-size pickup segment seems a bizarre oversight by many automakers, Ford included. With companies like Volkswagen, Hyundai and even Tesla looking at (or already committed to) entering the pickup truck market, Ford was wise not to wait any longer to bring the Ranger back to the U.S. — and we're happy it didn't.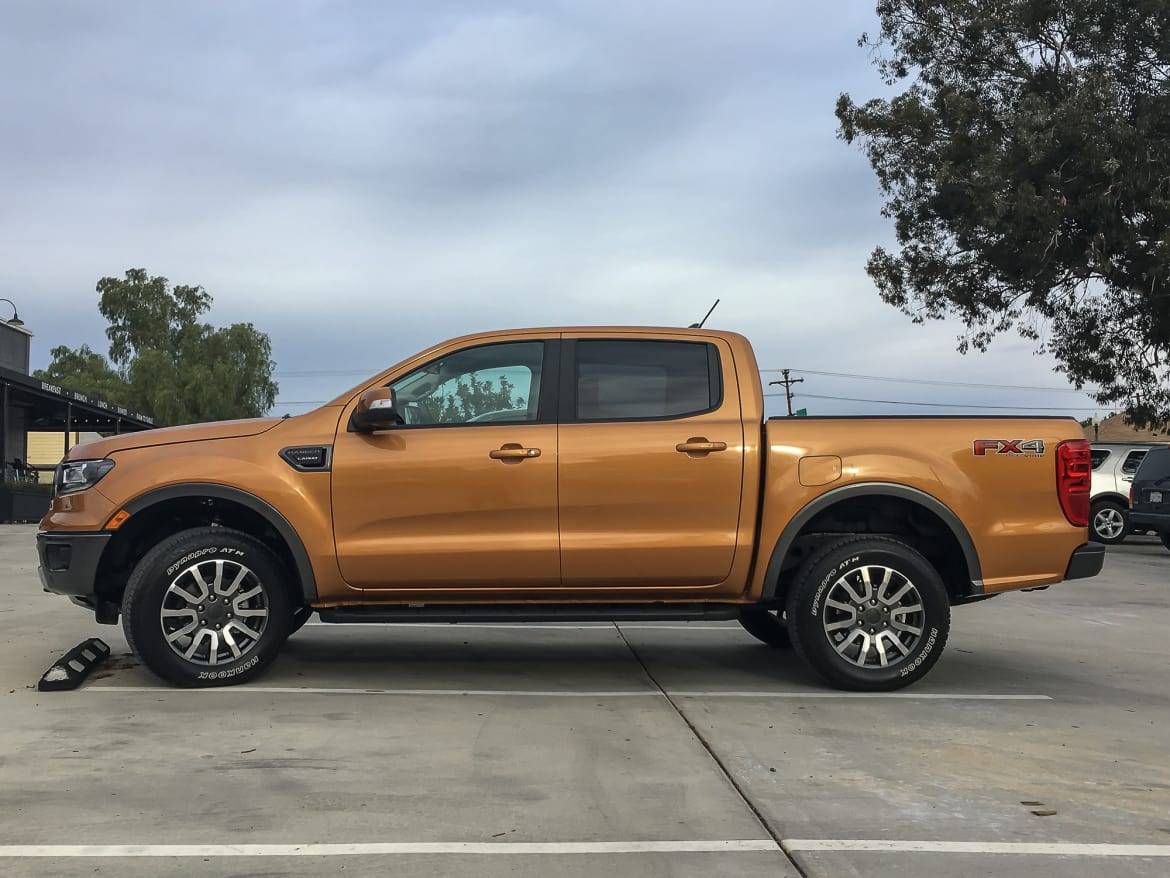 2. You Won't Mistake It for Anything Else
Trucks are usually the last place you expect to find cutting-edge design or seductive shapes, but there's no arguing the 2019 Ford Ranger is a handsome design. It looks a bit like some older Ford products because, well, this version of the Ranger was introduced globally back in 2011, with a refresh dating back to 2015. We're simply the last to get this variant but, thankfully, the design has held up well.
3. Only One Engine, But It's a Good One
Many trucks offer a dizzying array of engines, transmissions and even different degrees of chassis. With the Ford Ranger, life is simpler. That's because standard on every model is a 2.3-liter turbocharged four-cylinder that produces 270 horsepower and 310 pounds-feet of torque. In Bragman's review, he praised this punchy motor for how it "spools up quickly and shoots you forward."
4. SUV-Like Ride and Handling
Pickup trucks can be handy when it comes to working hard, though sometimes their stiff ride and imprecise steering can be a huge pain in the neck. In the Ranger, you could close your eyes and think you're behind the wheel of a family-friendly SUV. The ride is composed, and the handling is sharp and direct.
5. Smart Transmission, Strong Brakes
 Like the engine, you only get one choice of transmission in the Ranger. The 10-speed automatic does an excellent job balancing power no matter if you choose rear- or four-wheel drive. When it comes time to bring things to a controlled stop, the brakes feel strong and solid.
6. A Comfortable Perch With a Nice View
Not everything is rosy when it comes to the Ranger's interior, though the front seats are not one of the problems. They're spacious and provide a nice view to the outside world. That's important, since the last thing you want is to have large blind spots on a work site, or poor visibility when driving along a rugged and rocky trail.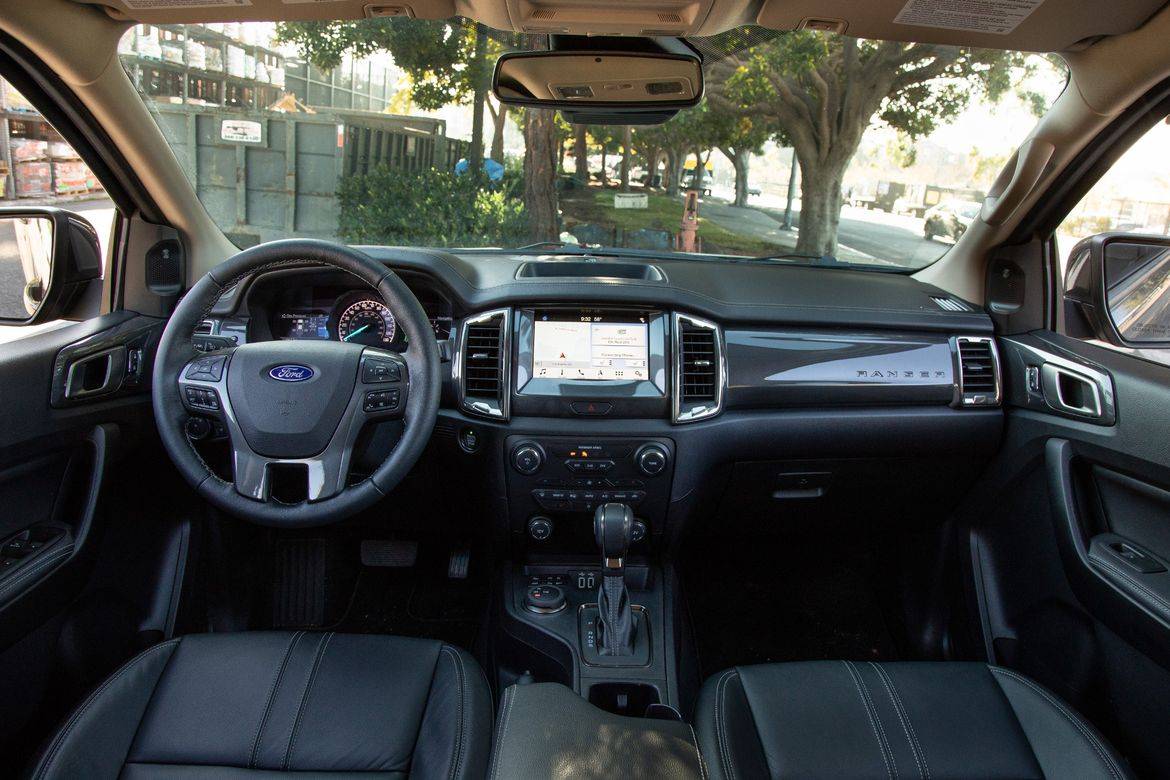 7. Plenty of Safety Features
The Ford Co-Pilot360 suite of safety features comes standard on Rangers in XLT and Lariat trim. Yet the standard XL model still includes forward collision warning, a rearview camera and automatic emergency braking. Adding Co-Pilot360 to the XL only costs an additional $735 and comes with blind spot monitoring, rear cross-traffic alert, trailer tow monitoring, automatic high beams and lane keep assist.
Things We Don't
1. Dated Interior
Remember when we told you this version of the Ranger has been around the block a few times? Step inside and you'll see what we mean. In our review, we said the dash looks like it came from "a 2012 Ford Fusion sedan." No offense to Fusion fans, but people expect more when shelling out 2019 levels of cash for a mid-size pickup. The Colorado, Canyon and Tacoma all have more modern designs and use more premium materials.
2. Antique Multimedia Systems in Lower Trims
A few iffy plastics are one thing, but the two entry-level infotainment systems look positively Commodore 64 in comparison to the Ranger's rivals. The base monochrome 2.3-inch screen is sad, while the 4.2-inch color screen in the XLT is barely OK. A richer-looking 8-inch screen is available, though you have to step up to the range-topping Lariat trim to get it.
3. SuperCab Isn't Super on Space
We can't be too harsh because a smaller cab is always going to make life for rear occupants … cozy. If you plan on transporting more than a couple of people in your Ranger with any frequency, please get the four-door CrewCab. There aren't acres of space, though it's vastly better than what you experience in the back of the SuperCab variant.
4. Limited Powertrain Choices
We heaped praise on the engine and transmission offered in the Ranger, but truck buyers can be fickle and want more choices. Chevy offers three engines in the Colorado, and GMC offers the same in the Canyon. The Toyota Tacoma has a four- and six-cylinder engine, though the latter is the one to have if you plan on doing serious hauling.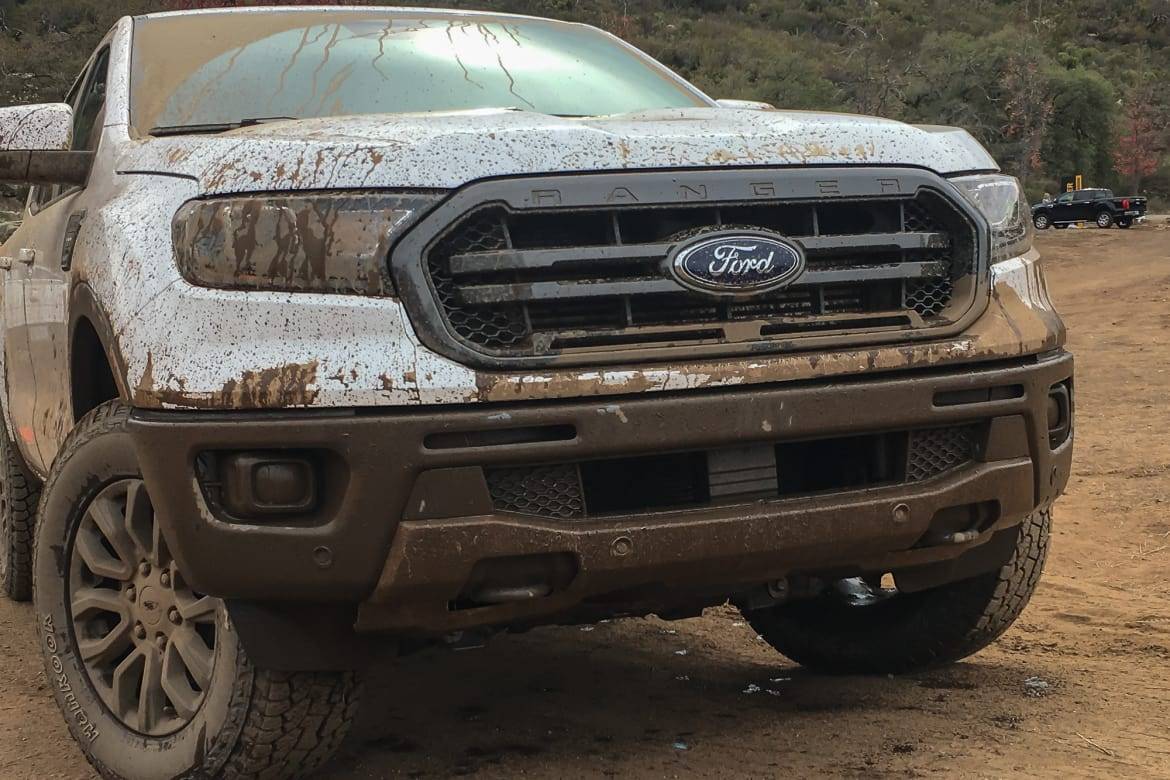 Cars.com's Editorial department is your source for automotive news and reviews. In line with Cars.com's long-standing ethics policy, editors and reviewers don't accept gifts or free trips from automakers. The Editorial department is independent of Cars.com's advertising, sales and sponsored content departments.