How Many States Require Front License Plates?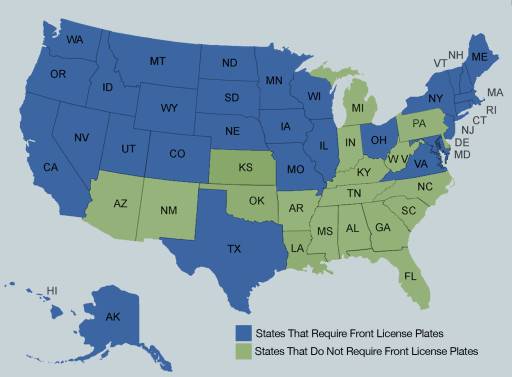 CARS.COM — In the 19 states that require vehicles to display only one license plate at the rear, most folks think that is how life should be.
In the other 31 states and Washington, D.C., being forced to mount a second license plate on the front of a vehicle isn't a big deal for many, but it sets some people off like a bottle rocket on the Fourth of July.
Related: Do You Know Your State's Windshield Law?
That was a surprising conclusion in a 2012 study by the Texas A&M Transportation Institute on the benefits and drawbacks of having two license plates instead of one.
"When we first started looking at this, I never really gave it much thought about why anyone would care about whether you have a front license plate," said Melissa Walden, a senior research scientist at Texas A&M and project manager of the study.
"But apparently, there are a good number of people who are concerned about it from purely from an aesthetic standpoint, and then they try to make a justification that it would be a great cost savings not to have a front license plate."
Indeed, the desire to not sully the design of a vehicle's finely sculpted nose has resulted in an aftermarket business in license plate brackets that don't require drilling and can be removed. Chevrolet has addressed the issue by offering an optional, removable front plate bracket on the 2014 Corvette.
Walden said when researchers began the study they expected law enforcement and safety to be the primary benefits from having two license plates. Turned out, though, it is revenue — and not from the higher price of sticking a second slice of metal to the front of a vehicle.
Instead, the study found that having a second plate makes it easier to photograph (and ticket) those who run stop signs and red lights, don't pay tolls or drive out of unattended pay garages and parking lots without paying. Linking automatic license plate readers to databases also makes it easier to track down scofflaws electronically instead of having human eyeballs view every image to identify license plate numbers.
That adds up to millions of dollars in cost savings and millions more in additional revenue collected, Walden said.
For example, in Colorado (a two-plate state) on the E-470 tollway around the Denver area tolls are collected electronically. One-third of the revenue collected in a 12-month period — $23 million — came from the ability to capture information from front license plates.
The study also found that two plates make it easier for the U.S. Customs and Border Protection to screen vehicles at border crossings. In Arizona (a one-plate state), 10 to 15 percent of parking transactions at Phoenix's Sky Harbor Airport have to be processed manually because sun glare prevents accurate reading of the rear plate. In Pennsylvania (also one plate), 16 percent of rear plates couldn't be read electronically on toll roads.
A frequent argument against having two plates is that it raises costs for the issuing state, and changing to one plate would save money.
Not so, Walden said.
"If you have two plates and then go down to one, the production costs go down, but it's by cents," she said. "We're not even talking about a dollar level, and the price is passed on to the customer. It's not like it's costing the state money because the plate cost is being passed on."
Also, users don't replace the plates on an annual basis, she added, and often keep them for five years or more, spreading the cost over long periods.
Still, that doesn't stop some disgruntled motorists in two-plate states from trying to change the law to require only one. The Texas Legislature, for example, discussed such an idea earlier this year, though Walden said it didn't get much traction. And a bill to move to a single plate is pending in the Ohio General Assembly.
Despite the cost arguments, Walden sees aesthetics as the real motivator for change.
"That is a huge argument, the fact that people didn't want to put license plates on the front of cars that don't come with a really evident location for a license plate," she said. "If you have this $100,000 car, you don't want to hurt the appearance of the car by putting a license plate on the front of it. They feel like that not only ruins the appearance of the car, but it somehow affects the value."
Though campaigns to change to one plate or add a second frequently pop up, Walden said states seldom change their license plate laws. Law enforcement officials in states that have two plates want to keep it that way, she said, and in states that have one the feeling is, "We can't do anything about it, so we'll just deal with it."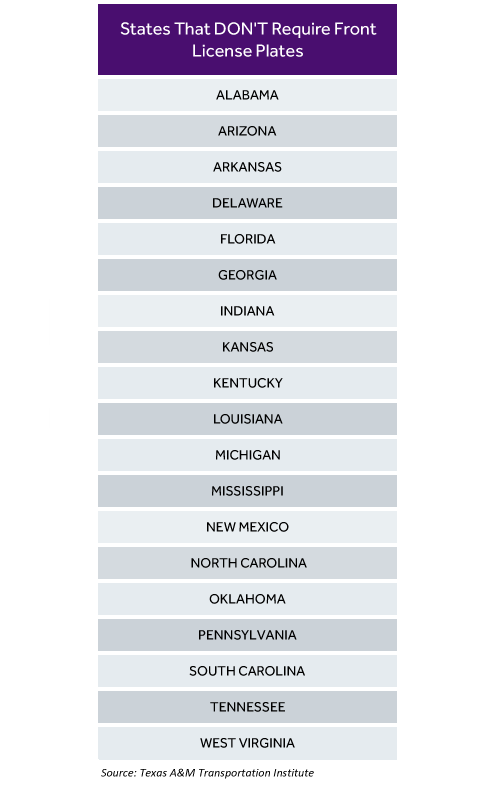 Cars.com's Editorial department is your source for automotive news and reviews. In line with Cars.com's long-standing ethics policy, editors and reviewers don't accept gifts or free trips from automakers. The Editorial department is independent of Cars.com's advertising, sales and sponsored content departments.