Jaguar Nails SUV Efficiency With Diesel F-Pace 20d
CARS.COM — While no one was looking — well, actually, while everyone was looking at Volkswagen, which had to remove from the U.S. market its VW and Audi clean-diesel SUVs because they, uh, weren't — Jaguar and its sister company Land Rover moved on in.
Related: Our view: 2017 Jaguar F-Pace
On the heels of two 2016 Range Rover models powered by an optional 3.0-liter diesel V-6, Jaguar's new 2017 F-Pace SUV came along with an optional diesel 2.0-liter four-cylinder. Rated at an EPA-estimated 26/33/29 mpg city/highway/combined, the diesel F-Pace, designated the 20d, has quietly become the most efficient luxury SUV on the new-car market apart from one gas-electric hybrid. It's also much more efficient than the gas-powered F-Pace 35t, rated 18/23/20 mpg.
Because of the 20d's small engine, shared with the compact XE sports sedan, I wondered how the F-Pace would perform, so I put a few hundred miles on one to find out.
Typical of diesels, there's a brief delay when you plant your foot, but then the F-Pace 20d charges off the line nicely. It cooperates well with the eight-speed automatic transmission and is equipped with Dynamic (sport), Normal, Eco (efficient) and Snow modes that affect the engine and transmission responsiveness in normal driving, but not the total power. All-wheel drive is standard on all F-Paces, so all of the healthy 318 pounds-feet of torque finds its way to the road.
The sound is unmistakably that of a diesel engine. It's not as muted as in the Land Rovers, but it's less audible than in the XE sedan, where we thought it was a bit too intrusive. The conditions were optimal, namely the warmth of Nevada. When cold, diesels clatter more until they reach operating temperature.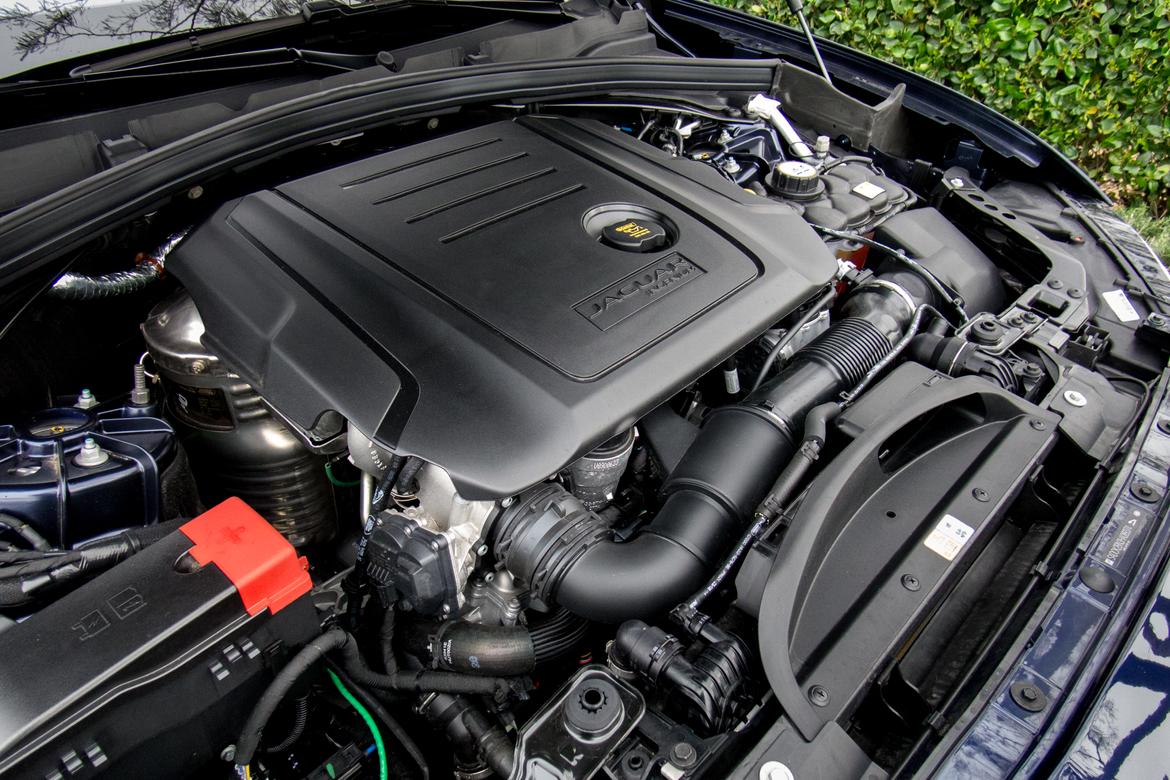 Where the 20d is less impressive is in passing power. It's leisurely, especially at highway speeds, as the 180-horsepower specification suggests. Contrast the supercharged 3.0-liter gasoline V-6, which has a rated 340 horsepower and the superior passing performance you'd expect. With 332 pounds-feet of torque, though at higher rpm, it compares to the diesel. Both engines have a 5,290-pound maximum trailer rating. Clearly, the 20d is an efficiency play.
In my testing, efficiency is what it delivered. Over a 130-mile hilly interstate drive in Nevada, the F-Pace 20d reported an average 34.5 mpg at an average speed of 58 mph. After a return trip of 141 miles at an average of 55 mph, the trip computer read 38.6 mpg.
This is exactly the kind of mileage you want to see from a vehicle with modest power. Unquestionably, some shoppers will think the 20d isn't gutsy enough for a luxury vehicle — especially a sporty one. That's why it was wise for Jaguar to price it lower than the gas version by $1,400 at $42,985 (including destination) for the base 20d.
While Volkswagen has developed a fix for, and recalled, noncompliant 3.0-liter diesel V-6 engines in its older Touareg and Audi's Q7, the move hasn't translated to a return of TDI engines to 2017 models. Though Volkswagen hasn't ruled it out, the company has no current plans to reintroduce new TDI models under either brand, according to a spokesman. BMW's X5 35d has returned for 2017, but its more powerful 3.0-liter diesel V-6 is rated 23/29/25 mpg. Though Mercedes had several Bluetec diesel models in 2016, none has been certified yet for 2017 due to more stringent and time-consuming EPA testing in the wake of Volkswagen's deception. That leaves the F-Pace as the choice for luxury SUV shoppers who value the efficiency aspect of diesels.