What Difference Does Wheel Size Make?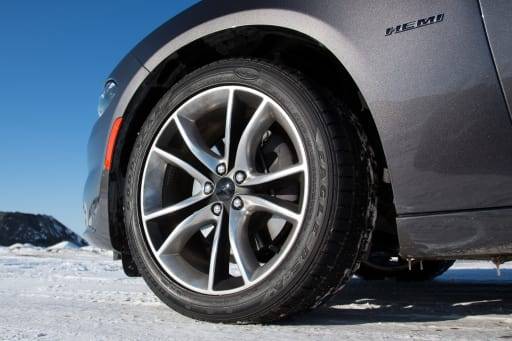 CARS.COM — Larger wheels give cars a more aggressive stance and greater stage presence, which is why automakers install king-size rims on concept cars. They look cool.
Related: More Service Coverage
Whether you move to a larger-diameter wheel as an option on a new vehicle or as aftermarket wheels for the car you already own, there are plusses to plus-sizing, but some minuses as well. When you move to a larger wheel diameter (such as from 17 to 18 inches), you need new tires to match. Those tires need a lower profile (or sidewall height)  to maintain adequate clearance when they go over bumps and potholes, which makes the suspension fully compress and rebound. If the wheel diameter increases by one inch, the height of the tire should decrease accordingly to compensate, in order to keep the overall diameter the same.
For example, if the original stock tire size is 215/65R17 and you buy 18-inch wheels, the right tire size for the larger rims might be 225/55R18, with the differences being the larger-diameter wheel size, wider tread (225 millimeters instead of 215) and lower profile, 55 instead of 65. That means that the height of the sidewall is 55 percent of the width of the tread.
If you change to larger wheels without taking sidewall height into consideration, you not only run the risk of damaging the suspension, wheels or tires, you'll also get incorrect speedometer readings because the wheels are turning at a different speed than before. By matching lower-profile tire sizing to larger-diameter wheel size, speedometer and odometer readings should change only a little, if at all. With larger wheels and lower profile tires — and the resultant shorter sidewalls — they're stiffer and there's less of an air and rubber cushion than before, increasing the chances that hitting a large pothole could damage the tire, wheel or both.
While larger-diameter wheels and tires should improve handling and high-speed performance, lower-profile tires also tend to have a firmer ride and may be noisier than the smaller, standard rubber.
Some potential performance benefits may be offset by the additional weight of the larger tires and wheels. An 18-inch tire, for example, will probably weigh at least a couple of pounds more than a 16- or 17-inch tire. That could also be true of a larger-size wheel. A steel wheel weighs more than an aluminum alloy wheel, so the latter enhances performance by reducing the unsprung weight. But replacing a standard 17-inch alloy wheel with an 18- or 19-inch alloy rim will add weight — unless it's an expensive, lightweight type.
Bigger wheels cost more money. The bigger you go, the more expensive the wheels and tires. If you buy larger wheels as part of an option package on a new vehicle, or get them as standard equipment on a higher trim level, the initial cost may not be that high. But when it comes to replacing a damaged wheel or tire (or just the replacement tires when the tread is worn), the extra cost can be substantial.
For example, when Cars.com compared the replacement costs of some wheels and tires, a standard 16-inch steel wheel for a Toyota Camry was $172 to replace at a dealership. A 17-inch alloy wheel on a Camry XLE, however, was $379. For an 18-inch alloy wheel on a Chevrolet Traverse, one dealer quoted us a price of $371, but for an optional 20-inch wheel, the price was $569.
Cars.com's Editorial department is your source for automotive news and reviews. In line with Cars.com's long-standing ethics policy, editors and reviewers don't accept gifts or free trips from automakers. The Editorial department is independent of Cars.com's advertising, sales and sponsored content departments.