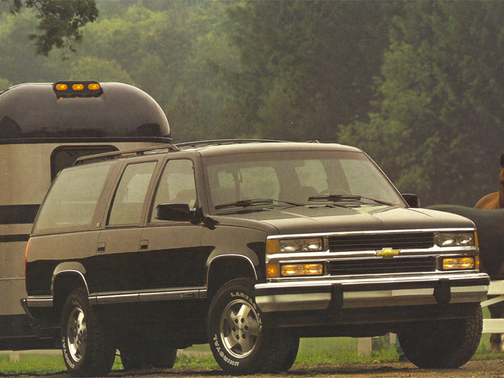 Get notified when this car becomes available.
6 trims
Starting msrp listed lowest to highest price
1992 Chevrolet Suburban review: Our expert's take
The secret to success is to keep your traction while those around you are losing theirs.
The sun was shining when we climbed aboard the 1992 Chevy Suburban for a quick jaunt to the store.
The wife needed but one item, meaning we both grabbed a cart as we walked through the automatic doors. Two hours later, when we had consumed the cash in our wallet and purse and reached the limit on one of our credit cards, we headed out the door for the hunt for red Suburban.
In the time the wife was doing her utmost to pull the economy out of recession, vehicles in the lot had been covered by several inches of snow and sleet.
Drivers attempting to pull out of their spaces were having difficulty gaining a foothold. Those who made it to the stop sign at the exit to the lot either slid into and through the intersection when they braked, or slid into oncoming lanes or the ditch when they pulled away from a stop.
Once we found the Suburban and performed the chorus-line leg kick required to get into the cab, which seems to rest 12 feet off the ground (when you have a 29-inch inseam, the step-in height of a full-size Suburban resembles that of Mt. Everest), the wife summed up the gravity of the situation:
"Tip one bag and the dog gets your dinner," she said.
No fear. The four-wheel-drive Chevy Suburban is one big security blanket. The 1992 Suburban is huge, in order to carry the family and guests while hitching up the boat and heading for the resort. While managing a big, heavy (5,000-pound) utility vehicle in a snowstorm didn`t sound appealing, our test vehicle came with four-wheel drive, to help keep all that size and weight under control.
We reached down and engaged four-wheel drive on the floor-mounted transfer case and pulled out from the parking spot with ease. The four-wheel anti-lock brakes (only rear-wheel anti-lock in the 1991) ensured a straight stop at the sign.
The four-wheel drive pulled us into traffic without the rear end heading north while we ventured south. No shopping bags tipped or tilted, guaranteeing that the Maltese wouldn`t have our seat at the supper table that evening.
One thing four-wheel drivers find in terrible weather is that they can get and keep going when others can`t, but that means they aren`t going to go much faster than all those front- or rear-wheel-drive cars blocking their path.
Despite four-wheel drive, we moved as tip-toe slowly as the guy in the rear-wheel-drive Ford ahead of us. Still, while he probably was sweating apricots as the roads became more treacherous with each block, we were able to sit back and relax with confidence that the journey would take longer than normal, but that our only enemy was the clock.
The trek home brought up another item of note for those in a vehicle with anti-lock brakes-maybe you can stop in a straight line on snowy or icy roads, but those behind you wi thout such brakes might not. Keep an eye peeled in the rearview mirror until anti-lock brakes become more common.
You`ll also find that the 5,000-pound Suburban requires that you apply foot to brake pedal a moment or two sooner than in a lighter sedan or a smaller utility vehicle. Even anti-lock brakes can`t make a 5,000-pounder perform like a ballerina.
The Suburban for 1992 has been totally redesigned into a less bulky, more stylish machine, with extensive use of galvanized body panels to prevent the rusty pockmarks so common on previous models.
The more aerodynamic styling makes for a quieter ride, with less wind noise. That it now rides and handles more like a full-size pickup than a Greyhound bus is another plus, brought on by the fact the Suburban for 1992 is built off the C/K platform.
Chevrolet adopted a few new dimensions in the design revamp. The Suburban now sits on a 131.5-inch wheelbase, a 2-inch increase from 1991, though it h s the same 219.5-inch length. Width and height have been reduced slightly, achieving the more aerodynamic look without sacrificing interior hip or arm room.
The Suburban is powered by a 5.7-liter, 210-horsepower V-8, teamed with a four-speed automatic transmission, rated at 12 m.p.g. city/16 highway. That`s slim mileage if you use the vehicle for one-person commutes, but more acceptable if you have the entire family on board and can amortize the cost per person moved rather than per mile traveled. The Suburban holds up to nine people and can tow up to 10,000 pounds, a 500-pound increase from 1991.
When 10 inches of snow are on the pavement, the last thing you look for on the way home is the mileage rating sticker. Too bad the Suburban doesn`t offer air bags, which would make it the ultimate family hauler. A driver`s side air bag won`t arrive in the Suburban until the fall of `94, for the `95 model year.
The 5.7 does an admirable job moving the Suburban`s poundage, but you must accept that you won`t lead many charges away from the stoplight. The four-wheel-drive Suburban is meant to keep you going at a steady pace in a straight line, not dashing down the road daring Blazers to catch up.
The independent suspension, which isolates occupants from bumps and jolts, and the longer wheelbase, which puts a bit more distance between occupants and axles that transmit road harshness, make for a pleasant ride in a massive machine. The responsive power-steering system also contributes to an unusually limber feeling for such a large vehicle.
The four-wheel-drive Suburban is offered in half-ton (C/K 1500) or three- quarter-ton (C/K 2500) versions. We drove the C/K 2500, with a base price of $21,559. The typical power brakes and power steering are standard. Our test vehicle was loaded with options, including tinted glass at $305; rear heater, $205; air conditioning front and rear, $450; on- and off-road 16-inch radial tires, a $56 upgrade; AM/FM electronically tuned stereo with cassette player and digital clock, $150; roof luggage rack, $126; rear-window wiper with electric defogger, $154; and a $4,589 preferred equipment group, including goodies such as power windows and door locks, power driver`s seat, electric remote mirrors, tilt steering wheel and cruise control.
A host of other non-essentials, from a premium speaker system to two-tone paint, ran the sticker to $29,652, to which a $640 freight charge was added.
Consumer reviews
Rating breakdown (out of 5):
Comfort

—

Interior

—

Performance

—

Value

—

Exterior

—

Reliability

—
Warranty
New car and Certified Pre-Owned programs by
Chevrolet
Certified Pre-Owned program benefits
Maximum age/mileage

5 model years or newer/up to 75,000 miles

Basic warranty terms

12 months/12,000 miles bumper-to-bumper original warranty, then may continue to 6 years/100,000 miles limited (depending on variables)

Powertrain

6 years/100,000 miles

Dealer certification required

Roadside assistance

Yes
View all cpo program details

Have questions about warranties or CPO programs?

All model years for the Chevrolet Suburban

Show more years

Show fewer years