Going for 10.6: Drag-Strip Testing the 2021 Dodge Charger SRT Hellcat Redeye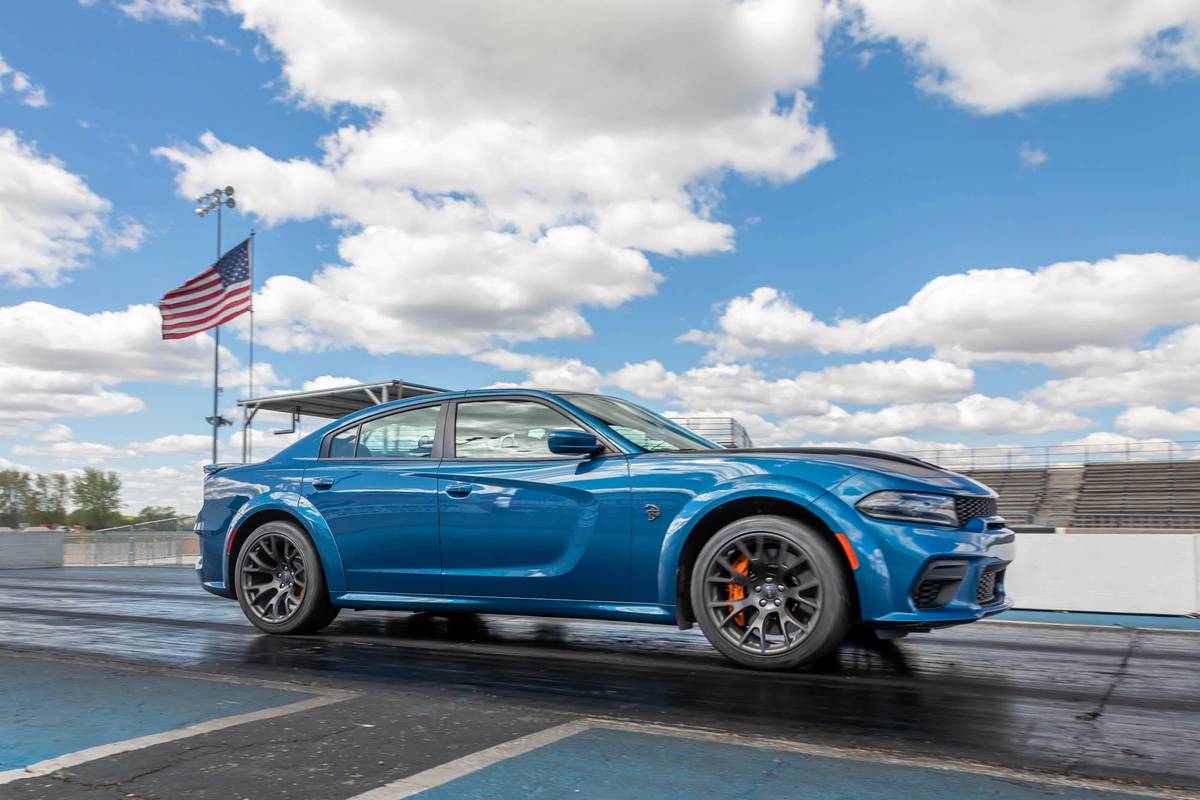 Dodge makes a bold claim that the 2021 Charger Hellcat Redeye — a 797-horsepower, four-door family sedan that fits three car seats across in the backseat and has a grocery bag hook in the trunk — can not only hit 10s in the quarter-mile, but deep 10s: 10.6 seconds at 129 mph. Why is that significant? It puts it into supercar territory — and also Tesla Ludicrous-mode territory (though it's not quite Plaid-mode quick).
We gave the Charger SRT Hellcat Redeye its best chance by taking it to Great Lakes Dragaway in Union Grove, Wis., to see if 10.6 seconds is crazy or doable on a quarter-mile drag strip. The Charger is disadvantaged by only having rear-wheel drive, and at the drag strip is slowed by not coming with sticky drag radial tires like other special editions and Hellcats — our car had street-oriented summer tires. But while it may seem silly to take this car to a strip, there are several features that make the Charger right at home there. Plus, if there's a drag strip near you, it's likely less than $60 to bring your own car to experience its full acceleration capability in a controlled environment.  
Related: 2021 Dodge Charger SRT Hellcat Redeye: You're Not Actually Surprised, Are You?
The Setup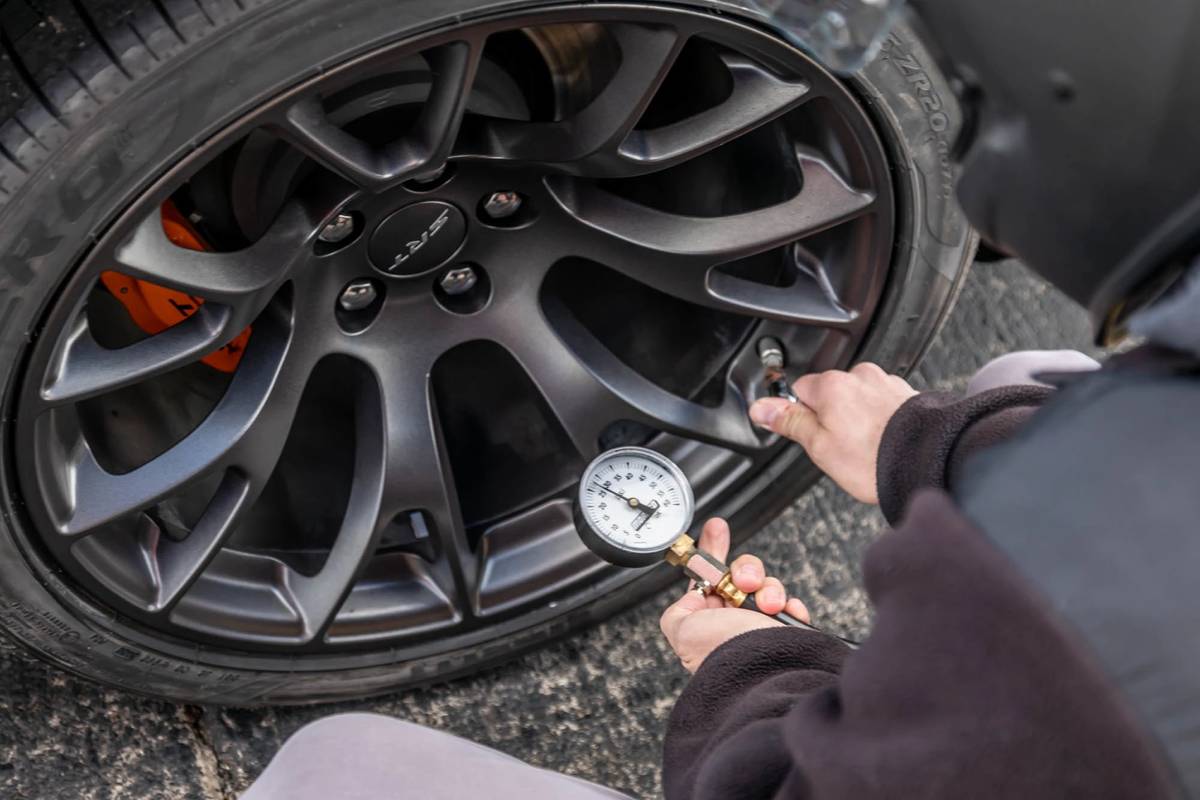 We had cool spring weather on our side with a high of 51 degrees and power-making dense air for the Charger SRT Hellcat Redeye's larger, Demon-derived supercharger to ingest. The corrected density altitude for the weather was between 900 and 700 feet below sea level, according to the DragTimes Density Altitude Calculator (the Dragaway's elevation is 216 feet above), so basically really, really good air. The one thing going against us — I know, already making excuses — was 12-15 mph head and crosswinds.    
With the conditions mostly on our side, the rear tires were set to 26 pounds per square inch while hot, per the Dodge engineering team's recommendation via a phone chat prior to the test day, and the drive modes optimized for drag racing. That puts the suspension in the softest street mode for more weight transfer, the transmission in its most aggressive Track mode for the quickest shifts and stability control in Sport mode, which disables straight-line traction control but keeps stability control on.
We also enabled the Power Chiller, which helps keep intake air temperatures down by lowering the coolant temps of the supercharger's intercooler system by routing its fluid through a chiller unit cooled by air-conditioning refrigerant.
The Passes
The Charger's first pass was a "Hey, let's get to know each other" run, and we clicked off 11.46 seconds at 126 mph with an ugly launch: wheelspin, chattering wheel hop and the realization that it was going to be a long day just to crack into the 10s, let alone 10.6. Quietly, I was hoping for a 10-second pass right out of the gate considering I drove the related 2019 Dodge Challenger SRT Hellcat Redeye to 10.8 seconds in two to three passes a few years ago. Consider my ego destroyed at this point.   
From there, we slogged through several runs, lowering the tire pressure after it crept back up, but still couldn't muster better than an 11.1 with the run falling apart at the launch. I was two-footing the accelerator and brake to raise engine speed between 1,300 and 1,600 rpm and leaving with minimal accelerator trying to set the weight on the rear tires before unleashing wide-open throttle. The 60-foot time reflects launch quality, and I was stuck in the range of 1.69-1.76 seconds, either overpowering the tires or being too soft — we needed to be in the 1.55-second range, according to Dodge.
It was time to take a break and let the car cool down. While we waited with the engine off, the Race Cooldown feature blasted the engine cooling fan and ran the supercharger intercooler's electric coolant pump to keep water temps down. We then readjusted the tires that had crept up from 26 psi to 27-28 psi. After a 40-minute break, it was back to the burnout box.
This is when the car, or the track with the sun beating down on it, started coming around. One of the car's drag-racing-specific tools is a Line Lock feature that locks the front brakes and lets the rears spin freely for heating the tires. Getting the tires at the right temps was imperative for a proper launch, and the engineers told us that even hot-lapping required a meaty burnout because the tires cool down very fast. Activating the feature includes hitting a button in the touchscreen, then applying a required amount of brake pressure before holding the "OK" button on the steering wheel, releasing the brake and mashing the accelerator for glorious, smoke-billowing burnouts before releasing the "OK" button to roll to the starting line as quickly as possible before the tires cool off.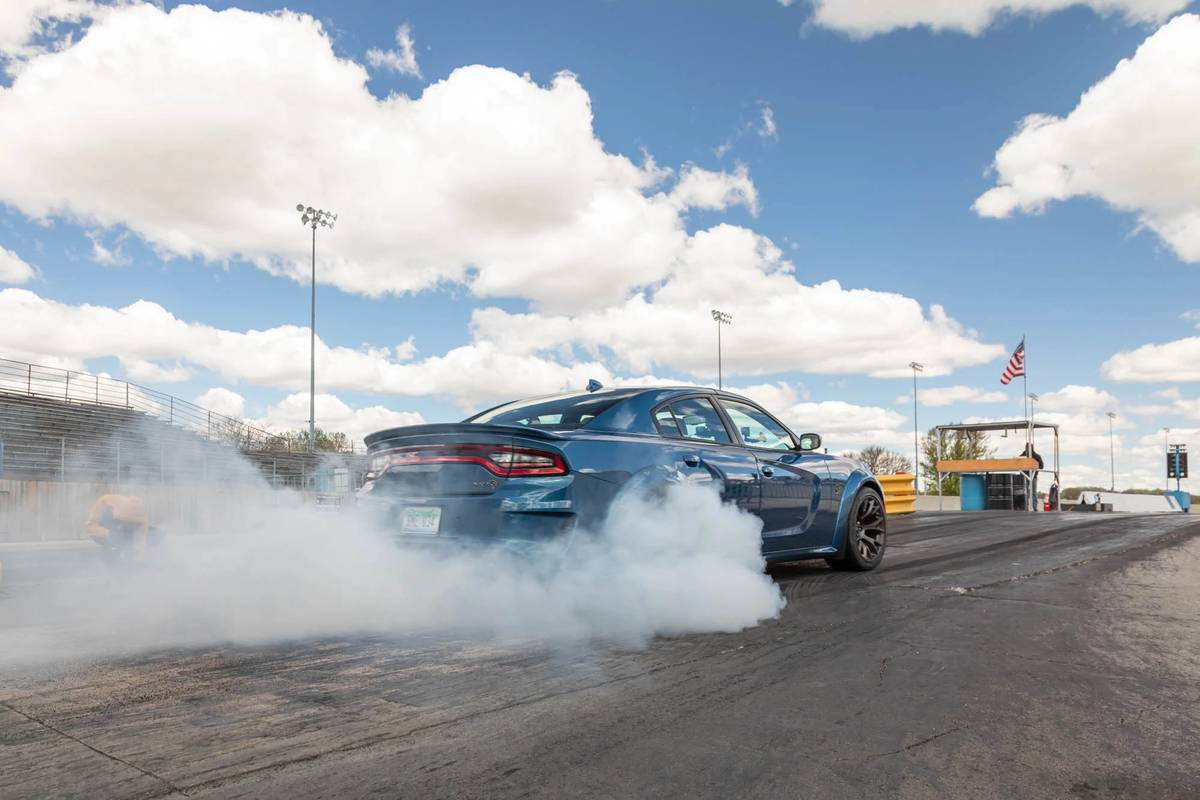 The first pass after the break was 11.006 seconds — so, so close. Then a breakthrough: 10.98 at 126 mph, even with a nasty bout of wheel hop that hammered through the driveline, making our first 10-second pass of the day with a 1.66-second 60-foot time. Still a way to go, though. Another 1.66-second 60-foot but quicker, faster 10.89 pass at 127 mph followed.
The Fastest Pass
At this point, we were on pass number 11 or 12 within an hour and 15 minutes of starting, slowly chipping away by hundredths of seconds. The best pass of the day came with a clean but still gingerly launch, as the tires verged on breaking traction and wavered in and out of hopping but succumbed to neither, netting a 10.82 at 126 mph with a 1.61 60-foot time.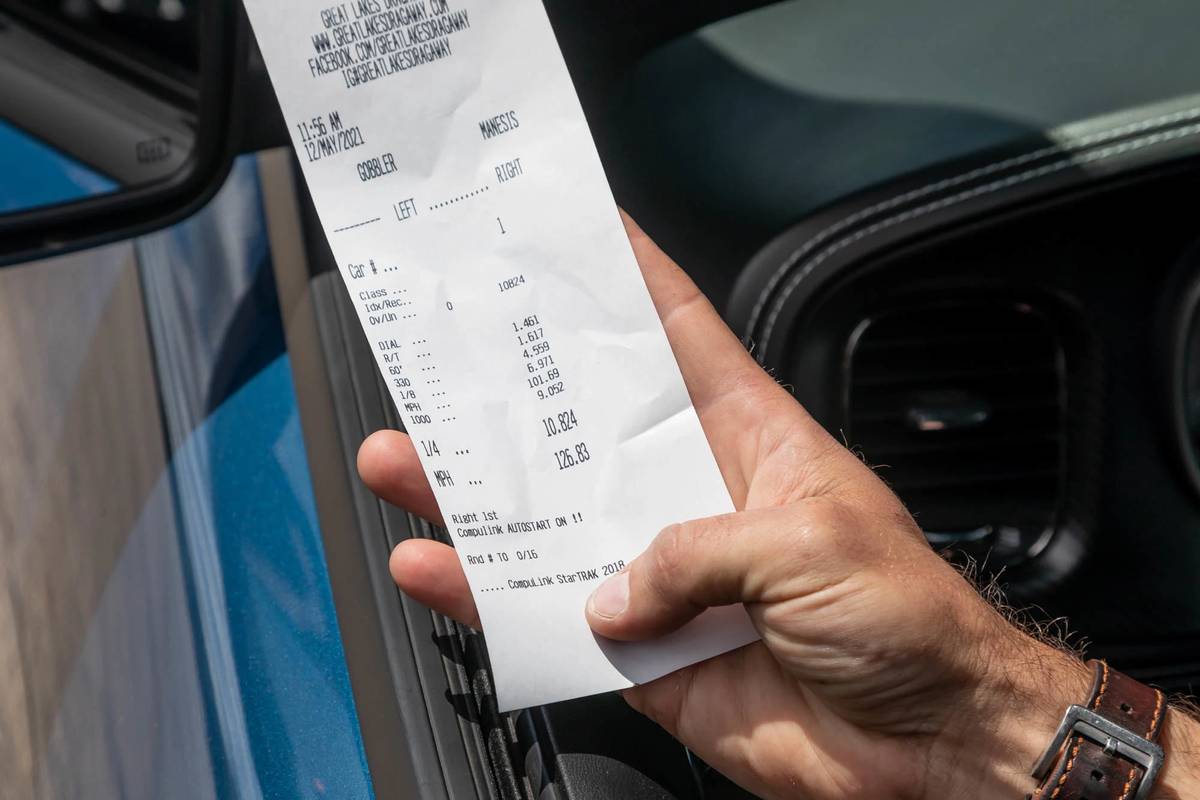 While we relied on the drag strip's timing system for final numbers in this "How fast can it go?" test to reflect what someone taking their car to the track should expect, I had a Racelogic Vbox hooked up for 0-60 mph times, which the drag strip's timing system doesn't clock. We measured a wild 3.01-second 0-60 on that fastest pass. I also observed the car's Performance Pages acceleration timer that measured quarter-mile times, which were about a tenth slower than the track's readout, and the Vbox's times were about three- or four-hundredths slower than the track when calculating for 1-foot rollout.
More From Cars.com:
In the end, was it a 10.6? No, and I even would have counted a 10.699 as a 10.6, so we ended the day 0.13 second off the mark. What does this all mean? Well, if you have access to a drag strip that will let you make a dozen passes in great weather and lay down sticky traction compound (a requisite drag-strip technique), then you, too, could come close to 10.6 seconds in the quarter-mile in an as-tested $92,000 2021 Dodge Charger SRT Hellcat Redeye.
I'm still miffed about that 12-15 mph headwind — our finish line trap speed was down 2-3 mph from the advertised 129 mph — but I wouldn't even bother trying what we did. If you're going to the drag strip in one of these beasts as an owner to chase quarter-mile times, go ahead and buy a set of drag radials to save yourself a lot of effort; you should fly past 10.6 seconds.
Cars.com's Editorial department is your source for automotive news and reviews. In line with Cars.com's long-standing ethics policy, editors and reviewers don't accept gifts or free trips from automakers. The Editorial department is independent of Cars.com's advertising, sales and sponsored content departments.