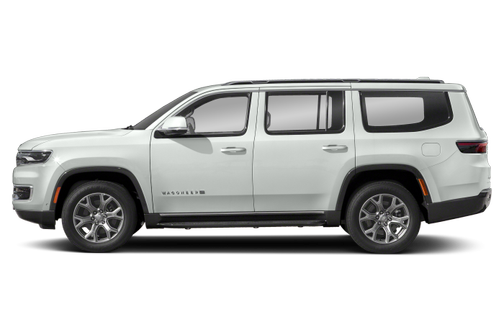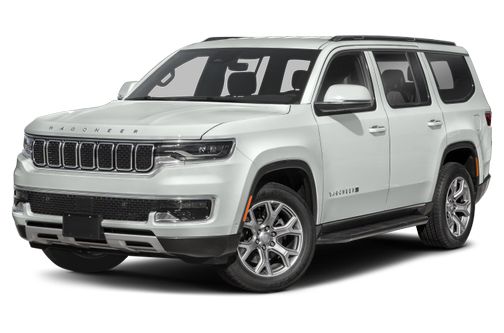 Key specs
Base trim shown
Overview
The good:
Beautiful interior appointments
Spacious seating in any row
Standard V-8 power
Surprisingly agile handling
State-of-the-art multimedia system
Low step-in height
The bad:
A couple of questionable interior design details
Polarizing exterior styling
Really, really expensive
Booming cylinder deactivation noise
A couple of flimsy interior materials
Tech systems' learning curve
6 trims
Starting msrp listed lowest to highest price
Notable features
Seven- or eight-seat, full-size three-row SUV
5.7-liter (Wagoneer) or 6.4-liter (Grand Wagoneer) V-8 engines
Eight-speed automatic transmission
Rear- (Wagoneer) or four-wheel drive (Grand Wagoneer, optional on Wagoneer)
Uconnect 5 multimedia system
Available Amazon Fire TV integration
Optional passenger display touchscreen
2022 Jeep Wagoneer review: Our expert's take
The verdict: A brilliant new competitor for traditional full-size SUVs, the Wagoneer and luxurious Grand Wagoneer are a stylish, powerful, comfortable duo loaded with new tech and capability.
Versus the competition: The Wagoneer is set to be a highly competitive entry versus the likes of the GMC Yukon, while the high-end Grand Wagoneer's posh cabin and over-the-top V-8 viably push it into Lincoln, Cadillac and even Land Rover territory.
Over the past few decades, if you wanted a full-size SUV in this country, your choices were limited to Ford, GM, Nissan and Toyota. Conspicuously absent from that group was the automaker formerly known as Fiat Chrysler Automobiles, currently known as Stellantis — and we could never really figure out why that was. All a true full-size SUV really is is a passenger pickup with a permanently affixed roof over the cargo area, and Stellantis has had an excellent full-size truck platform in the Ram 1500; it even came with a coil-sprung rear axle, optional air suspension and a variety of powertrains. Well, for 2022, the company has rectified this omission with this: the 2022 Wagoneer and Grand Wagoneer, by Jeep.
Related: 2021 Jeep Grand Cherokee L First Drive Review: A Benchmark Just Got Better (and Bigger)
Notice I did not say "Jeep Wagoneer" — that's not how Jeep wants you to think about these. Wagoneer is set to become a halo brand for Stellantis, initially sharing Jeep showroom space but eventually spawning its own independent line of more premium vehicles, and possibly its own dealerships well down the road.
But first, we have these two models: the 2022 Wagoneer is the Chevrolet Tahoe/Ford Expedition competitor, with lower pricing, fewer features and less bling. The Grand Wagoneer is the more luxurious, premium model, meant to go head-to-head with the Cadillac Escalade, GMC Yukon Denali and Lincoln Navigator. They're both big, in-your-face SUVs with a lot of styling, plenty of space and some novel new technology. But are these latecomers to the SUV party good enough to draw people away from the established players?
Styling in Two Flavors: Bling or Less Bling
The Wagoneer will still be the model most people see on the streets, given its lesser price (more about this later) and greater availability. But telling the difference between the Wagoneer and Grand Wagoneer isn't quite as easy as telling the difference between the visually distinctive but mechanically similar Chevy Tahoe and Cadillac Escalade, though there are things to look for. It starts up front: The Wagoneer has badging script along the hood, while the Grand Wagoneer integrates it into a different grille entirely. Both models have LED headlights, but the Grand uses projector-style LEDs. The two models have slightly different taillight treatments, as well, but the best way to tell the two apart is by the amount of chrome present and the color of the roof. The standard Wagoneer has black trim surrounding its windows and liftgate glass, while the Grand Wagoneer has chrome just about everywhere. The roof on all Wagoneers is body-colored, while the Grand Wagoneer gets a black-painted roof. 
Aside from those details (which make a bigger visual difference between the two than you might imagine), the styling is much more formal and upright than many of the latest big SUVs on the market, with an emphasis on a big greenhouse and huge windows. It's a bit more polarizing than the styling on a lot of the latest Jeeps, but it certainly is attention-grabbing — during a brief drive from New York City out to Westchester County, New York, bystanders gawped and stared, and even approached us to ask what we were driving. We can understand their confusion — while the Wagoneer and Grand Wagoneer script is writ large across the vehicle in several spots, the word "Jeep" appears only in a couple of places and in extremely small font, almost as an afterthought. In fact, there are only three places on the outside of the truck that the Jeep logo appears — see if you can find them.
Top-Notch Interiors
One of the highlights of any of the latest round of Jeeps is just how well done the interiors are. Indeed, this has been a strong point of many Stellantis products for some time now, even leading us to declare the Ram 1500 our 2020 Luxury Vehicle of the Year based on the strength of its luxurious interior. The Wagoneer doesn't disappoint in this area, either. The base Wagoneer is nice, but not blow-you-away impressive — there's a fair amount of black plastic in there, possibly more than there should be for a vehicle this expensive, but it's a good match for the Tahoe or Expedition. But the Grand Wagoneer ups the ante with even better materials and technology; it's this model that's the truly impressive one. We often wondered what the Stellantis designers could craft if they were given free rein to do so, and the top Grand Wagoneer Series III interior is exactly that: acres of sumptuous leather, real wood, bright real metal trim and an astonishing number of display screens. Jeep says that there are over 75 inches of screen real estate in the Grand Wagoneer, including the displays in the dash (four of them) and multiple screens in the second row.
But all the screens in the world won't mean anything if the interior isn't properly spacious, and the Wagoneer and Grand Wagoneer deliver here, as well. You have a choice of seven or eight seats, with best-in-class numbers for several second- and third-row dimensions, but the bottom line is that the Wagoneer interior is extremely spacious regardless of where you're sitting. Up front, there's plenty of room in any dimension, and it's the same with the second row. The seven-seat version with the fixed center console does push you out to the doors a bit, as the console itself seems abnormally wide. Opt for the eight-seater's second-row bench in the base Wagoneer, however, and that's not an issue. The third row is comfortable even for full-size humans, and it's easy to get into thanks to a second row that folds substantially forward, allowing for a large ingress-egress area. The second row also slides fore and aft, allowing all passengers to negotiate better legroom amongst themselves. The Wagoneer's independent rear suspension also means that there's a low load floor in back and third-row passengers aren't sitting with their chins on their knees. In short, interior space and comfort easily match anything from GM or Ford, and easily bests the rather cramped current-generation Nissan Armada. 
Outward visibility is a point of pride for the Jeep designers. They intentionally gave the Wagoneer a tall, upright roofline profile to maximize window space. As a result, the Wagoneer looks and feels tall, with a lot of greenhouse for you to look out of and a low beltline that helps create an airy feeling in the entire truck. The overhead multipanel moonroof in vehicles so equipped only boosts that spaciousness, providing a remarkably well-lit interior. But the remarkable thing is that despite the Wagoneer's height, it doesn't have a high step-in rise to overcome. There's no huge climb up into the cabin; it's pretty easy to set yourself into the Wagoneer's comfortable chairs, especially with the automatic folding running boards available on some versions. 
Tech You've Never Seen Before
Jeep is including the latest Uconnect 5 multimedia system in the Wagoneer and Grand Wagoneer, and it's a solid improvement over what was already one of the best, most intuitive and easiest-to-use systems on the market. For a casual user just getting to spend a few hours with a Wagoneer, the new Uconnect 5 can be a bit daunting with its options, complexity and customization ability. But for an owner who's going to spend years with it, the level of customizability available for home screens, quick-find features and easy one-touch actions is impressive. The 12.3-inch digital gauge cluster in the Grand Wagoneer is equally impressive with its clarity and customizability, but even lesser Wagoneer models with a smaller 10.25-inch standard digital screen look good. There's a lot of multimedia tech to wade through, but don't let it intimidate you — a few minutes of familiarity and setting up screens how you like them will create an experience to everyone's liking, and with stored presets for different drivers in Uconnect 5, they can be switched easily. 
There are a few additional features for these big new SUVs that haven't been seen before. First is the addition of a 10.25-inch screen in the dashboard visible only to the front passenger, not the driver. It can display all manner of things from navigation to Amazon Fire TV to monitoring the rear seats via the Jeep FamCam system or even controlling what they're watching on the rear-seat entertainment system. The screen can even play that Amazon Fire TV content for the front passenger's entertainment, but it won't play while driving despite the driver being unable to see it (just in case, I suppose). There's also something called Relax Mode that syncs all the screens to play one of several high-definition videos of anything from an aquarium or a forest to a bonfire, accompanied by soothing music, because Jeep's research shows that a significant number of people use their vehicles to "hide out for a while"; now they can do that and run a relaxation program to chill out in isolation. If chilling isn't your goal when hiding out in your Wagoneer, fire up the optional McIntosh premium audio system, something we saw first in the 2022 Grand Cherokee L and which also appears here — it sounds fantastic. 
The Grand Wagoneer also has a digital "comfort panel" on the center console that allows easy controls for a number of areas from front and rear climate control to seat massage and position. In the regular Wagoneer, it's a simple, shiny black plastic articulated panel covering a storage bin (and it feels a little cheap and flimsy), but in the Grand Wagoneer, it's a high-definition articulated touchscreen. Despite the significant use of touch-sensitive controls in the Grand Wagoneer, they're accurate enough and provide haptic feedback sufficient to not trigger my "I hate touch-sensitive controls" angst. 
Is the interior perfect? No, there are a couple of questionable design areas, the first being that oddly flimsy articulating door on the Wagoneer's center console storage bin, which seems chintzy for an SUV this pricey. Two more areas come to mind, most notable being the lower black plastic panel on the center console that houses the optional air suspension and Selec-Terrain mode settings, both of which are backlit and slope away from the driver, making them difficult to read and use. And finally, we're not sold on the "Grand Wagoneer" script in what looks like big stuck-on letters along the passenger-side wood panel. That doesn't strike us as classy or expensive-looking, it just seems like an odd, slightly garish afterthought. 
Dynamically Excellent
So they're fun to look at, wonderful to sit in and great to play with, but how do the new Wagoneer and Grand Wagoneer feel out on the road? Again, Jeep scores some top marks here. During a briefing for the SUVs prior to our drive, Jeep engineers promised that the Wagoneer would feel like the smallest big truck we'd ever driven — and they were not wrong. 
The biggest difference between the Wagoneer and Grand Wagoneer comes under the skin. The Wagoneer comes with a standard 5.7-liter Hemi V-8 engine making 392 horsepower and 404 pounds-feet of torque and supplemented by Jeep's e-Torque mild-hybrid system, which employs a belt starter-generator that can provide up to 130 pounds-feet of "launch torque" for snappier acceleration. It's mated to a standard eight-speed automatic transmission and comes in either rear-wheel drive or a choice of two four-wheel-drive systems: Quadra-Trac I full-time AWD or Quadra-Trac II that features a low range for off-road duty. Wheels are standard 20-inch models with optional 22-inchers. 
On the Grand Wagoneer, things change around a bit. The only engine is the monster 6.4-liter Hemi V-8 cranking out 471 hp and 455 pounds-feet of torque — no hybrid systems here, though it does feature cylinder deactivation. It's mated up to the same eight-speed automatic transmission, but there's no 4×2 version of the Grand Wagoneer — it's four-wheel drive only, and a choice of the Quadra-Trac II system or the optional Quadra-Drive II system that adds an electronic limited-slip differential. The electronic Selec-Terrain feature comes with the Quadra-Trac II or Quadra-Drive II 4×4 systems and offers up a variety of terrain modes that adjust the various vehicle systems appropriately. Should you desire a Wagoneer that can do Jeep things, an off-road package is available that adds things like skid plates and smaller wheels with larger all-terrain tires, but it should be noted that neither of these vehicles has received the "Trail Rated" badge, meaning you're not going to throw them at overly challenging off-road obstacles like a Wrangler or even a Grand Cherokee. I did some brief off-roading in a Wagoneer with 18-inch wheels, and even a mildly challenging (by Jeep standards) off-road course saw the SUV come away with damage to its running boards. Pro tip: Keep the Wagoneers on the road and you'll be happier for it. 
That's because out on the road, either of these beasts is simply lovely to drive. Acceleration from either powertrain is immediate and forceful, but the base 5.7-liter provides so much punchy torque accompanied by a resonant V-8 burble (an engine you can't get in any Ford or Lincoln SUV anymore) that it almost makes the 6.4-liter in the Grand Wagoneer seem silly. The 5.7-liter is so good that upgrading to the Grand Wagoneer for its engine doesn't make sense, meaning that the only reason to do so and spend the extra money is for the more exclusive creature comforts and the mild styling differences. Either engine can tow a maximum of 10,000 pounds, also a best-in-class figure according to Jeep, so the big engine isn't for a better towing number — it's a prestige item only.
Handling is equally exceptional, with light, quick-ratio steering that is communicative and responsive. Body control is excellent, and while you'll still feel all of the Wagoneer and Grand Wagoneer's heft, it doesn't wallow or feel tippy in corners or transitions. It really does drive like a smaller vehicle, allowing you a greater degree of confidence in around-town maneuvers or twisty back roads. And either model is a supremely good highway cruiser, with a stability and refinement that belies its pedestrian pickup truck origins. It may have started life as a lowly Ram 1500, but finishing school has transformed the Wagoneer into a refined, sophisticated luxury limousine and all-purpose transport worthy of going up against the best in the field. 
There's only one complaint with the Wagoneer's operation: the cylinder deactivation function. Whenever it cuts in and the vehicle operates in four-cylinder mode, something happens to the resonance of the Wagoneer's exhaust, sending an unpleasant booming drone through the cabin. It happens with either model but seems more noticeable in the Grand Wagoneer. Thing is, it's a recurring complaint with Stellantis Hemi engines — we've experienced this exact issue for years now in Dodge Challengers, Jeep Wranglers, Ram 1500s, anywhere that the cylinder deactivation happens on a 5.7 or 6.4-liter V-8. The way to get around it is to leave the Wagoneer in Sport mode, which kills the cylinder deactivation (and any efficiency gains) but does make the Wagoneer a bit more frenetic in around-town driving, so it's an imperfect solution. You'd think that Stellantis engineers would've found a way to quell this intrusive noise by now, but it would seem not. It's the only real blemish on, specifically, the Grand Wagoneer's otherwise stellar luxury experience.
More From Cars.com:
Hope You're Sitting Down …
… Because we're about to talk about how much these beasts cost. First, before we do, keep in mind a couple of things: They have standard V-8 engines, best-in-class tow ratings, a plethora of standard safety systems, optional semi-autonomous driving features and a host of other technologies and features that aren't even available on some competitor vehicles. That said, the base Wagoneer Series I 4×2 starts at five bucks short of $60,000, including a jaw-dropping $2,000 destination fee. The Series II 4×2 jumps $10,000 to $69,995, while the Series III 4×2 starts at $74,995. Add $3,000 to the Series II or Series III to get four-wheel drive. 
The Grand Wagoneer just takes off from there and doesn't seem to stop. A Series I starts at $88,995, the Series II rings in at $95,995 and the top Series III will hit $105,995. There's a special "Obsidian" trim in there, as well, with special blacked-out everything that rings in at $100,995. Completely loaded, a top-spec Grand Wagoneer Series III will hit $113,000, making it the most expensive Jeep-branded vehicle the company has ever produced. 
But that's not out of the realm of competitiveness, compared with contemporary SUVs. A basic Chevy Tahoe or GMC Yukon starts in the low $50,000 range, undercutting the Wagoneer by thousands, but when you start adding basic options, those models quickly climb to the low-to-mid $60,000 range and become a much better match (especially a Yukon Denali). At the top end, both the Lincoln Navigator and Cadillac Escalade 4x4s start at a tick less than $81,000, nearly $8,000 less than a Grand Wagoneer. At the lower trims, the Wagoneers don't seem terribly price competitive, but in the mid-level and high-end trims, they match up a lot better. Still, that's a huge asking price for the new SUVs. We'll see what the public's reaction to it is.
Worth the Price? 
That's the big question. There's no debating that the new Wagoneer and Grand Wagoneer are top-notch efforts: feature-laden, super-comfortable, stylish and capable additions to the top end of the Jeep showroom. Even if they're not technically being advertised as Jeeps, the family resemblance and name itself tie them to the brand, moving it even further upscale as prices continue to climb for one of Stellantis' most profitable brands. I'd stack them up against the domestic competition without reservation, and I don't think prospective customers will have any problem doing the same. 
Related Video:
Cars.com's Editorial department is your source for automotive news and reviews. In line with Cars.com's long-standing ethics policy, editors and reviewers don't accept gifts or free trips from automakers. The Editorial department is independent of Cars.com's advertising, sales and sponsored content departments.
---
More from our experts:
Warranty
New car and Certified Pre-Owned programs by
Jeep
New car program benefits
Bumper-to-bumper

36 months/36,000 miles

Corrosion

60 months/unlimited distance

Powertrain

60 months/60,000 miles

Maintenance

60 months/unlimited distance

Roadside assistance

60 months/60,000 miles
Certified Pre-Owned program benefits
Maximum age/mileage

5 model years or newer/less than 75,000 miles

Basic warranty terms

3 months/3,000 miles

Powertrain

7 years/100,000 miles

Dealer certification required

Roadside assistance

Yes
View all cpo program details

Have questions about warranties or CPO programs?

Compare the competitors

2022

Lincoln Navigator L

$80,630

starting MSRP

All model years for the Jeep Wagoneer