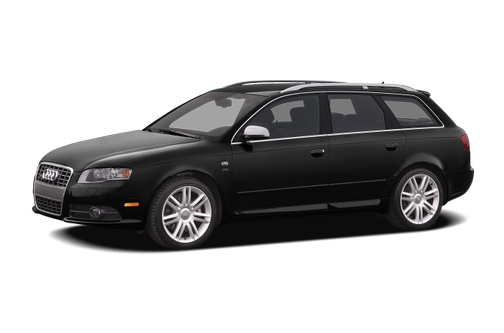 Key specs
Base trim shown
Overview
The good:
Exuberant performance
Handling
Refinement
Ride on smooth pavement
Seat comfort and support
The bad:
Manual-gearbox operation
Some driveline whine with manual
Wind rush in convertible with top down
Fuel economy
Backseat legroom
4 trims
Starting msrp listed lowest to highest price
Notable features
340-hp, 4.2-liter V-8
Manual or automatic
Quattro AWD
Three body styles
Standard sunroof
High-performance capabilities
2007 Audi S4 review: Our expert's take
The verdict:
Versus the competiton:

Audi S4 Cabriolet is what happens when you cross a sleek European convertible with a muscle car.
This is a stealthy hot rod, a stoplight runner? with the thunderous roar of a high-performance V-8 contained in a tidy Teutonic package of grace and refinement.
The marriage may seem incongruous, and the cliche "autobahn burner" comes to mind, but the time-tested formula of big-engine-in-small-car seems to hold up pretty well.
Audi began stuffing the 4.2-liter V-8 into the S4 in 2004, with sedan, wagon and convertible models, but this was my first taste of the performance treatment for the compact A4.
No doubt, the ragtop version delivers as a fast, maneuverable and luxuriously enjoyable machine. But part of me found the Cabriolet to be somewhat overblown. A V-8-powered sedan or wagon seems more purposeful than what should be a more-relaxed image for a sophisticated convertible.
There's also the issue of fuel mileage, with the S4 Cabriolet scoring a resounding $1,700 gas-guzzler tax on top of its already formidable bottom line. Compact cars are not supposed to slurp gas like full-size SUVs.
S4 drives with Audi's usual tight responsiveness, with a supple suspension that feels firm but never harsh or punishing. There is some cowl shake on rough pavement, but not too bad.
Audi's signature quattro all-wheel drive improves handling and provides all-weather tractability. But despite the tuned suspension and romping engine power, the Cabriolet comes across as more of a lush cruiser than a sporting machine. Not a bad thing, and S4 will dice through the curves when you ask it to.
And it's certainly fun to flex all that muscle.
PERFORMANCE: The rumble of the 340-horsepower V-8 is a continuous reminder that this little car means business. Acceleration is brisk, though with more than two tons to drag along, maybe not as fast as you might expect. Zero-to-60 time is 5.8 seconds, according to Audi. ?The six-speed manual is butter smooth, and the engine sings sweetly at the upper rpm limits. Very nice, though I wish it didn't guzzle so much $3-a-gallon gas.
DRIVABILITY: S4 boasts Audi's typically responsive steering, solid chassis and strong brakes, making the convertible easy and fun to drive. The roofless body gets quivery over rough pavement, especially on corners, with some dashboard shake. ?The suspension is firm but provides a comfortable ride. Quattro all-wheel-drive comes standard, making S4 feel sure-footed and balanced. ?Among the other electronic safety and handling features: stability program, differential lock, antilock four-wheel disc brakes, brake assist, full-side airbags, pre-tensioning seatbelts and active rollover protection, which sends up roll bars if the system senses an impending rollover.
STYLING: The Cabriolet has a classy, sophisticated appearance, with a good-looking fabric roof that goes down with the push of a button. Most other luxury convertibles have gone over to retractable hardtops. ?The styling of the Audi's signature deep-grille design is different from the other A4 and S4 models. Spoked alloy wheels and low-profile tires establish the performance flair.
INTERIOR: Another good-looking, nicely- tailored Audi interior, with sporty interior trim tastefully done in leather and metal tones. Front seats are comfortable and supportive, but the back seat is cramped. ?A full cadre of luxury features comes standard. The interface between the navigation video screen, audio system and climate control is better than most, but still pretty fiddly.
BOTTOM LINE: With luxury, performance and top that goes down, S4 Cabriolet offers a lot car for a lot of money, zipping past $60,000 with options.
Audi S4 Cabriolet
Base price: $55,700. Price as tested: $63,445.
OPTIONS * Navigation system, $1,950. * Convenience package with auto-dimming mirrors, Homelink transmitter, seat and mirror memories, adaptive front lighting, $1,050. * Paint upgrade, $475. * Heated front seats, $450. * Carbon-fiber beltline trim, $400. * Gas-guzzler tax, $1,700. * Shipping, $720.
Vehicle type: Four-passenger, two-door convertible, all-wheel drive. Engine: 4.2-liter V-8, 340 horsepower at 7,000 rpm, 302 pound-feet torque 3,500 rpm. Transmission: Six-speed manual. Wheelbase: 104.5 inches. Overall length: 180 inches. Curb weight: 4,211 pounds. EPA rating: 14 city, 21 highway.
HIGHS: Slick drivability, nice interior, engine power. LOWS: Guzzles gas, cramped back seat, pricey.
Warranty
New car and Certified Pre-Owned programs by
Audi
Certified Pre-Owned program benefits
Maximum age/mileage

5 model years or newer/less than 60,000 miles

Basic warranty terms

1 year/unlimited miles after expiration of new vehicle limited warranty or from date of sale if the new vehicle limited warranty has expired

Powertrain

N/A

Dealer certification required

Roadside assistance

Yes
View all cpo program details

Have questions about warranties or CPO programs?

All model years for the Audi S4

Show more years

Show fewer years