$4,765–$10,125 Inventory Prices
Key Specs
of the 2014 Mitsubishi Mirage base trim shown
Body Type:

Combined MPG:

37 Combined MPG

Engine:

74-hp, 1.2-liter I-3 (regular gas)

Drivetrain:

Front-wheel Drive

Transmission:

2-speed CVT w/OD
From the Cars.com Vehicle Test Team
The Good
Value for the money
Fuel economy
Many available tech features
The Bad
Rudimentary cabin materials
No telescoping steering wheel
Slow, loud powertrain
Anonymous styling
Complicated Bluetooth system
Backseat passenger room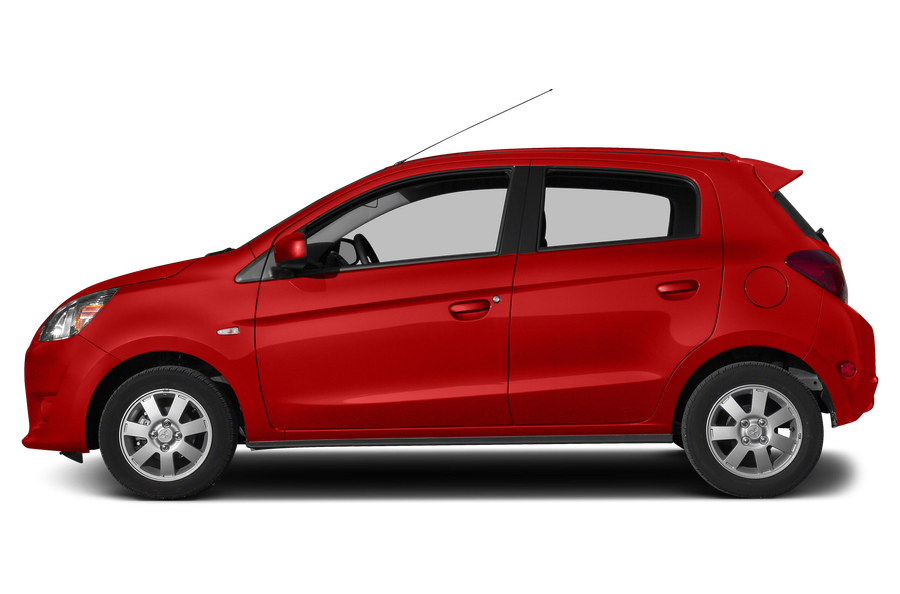 Notable Features of the 2014 Mitsubishi Mirage
New entry-level offering from Mitsubishi
Five-seat hatchback
Tiny three-cylinder engine
Manual or automatic transmissions
Standard automatic A/C, power accessories
Available Bluetooth, parking sensors, navigation system
2014 Mitsubishi Mirage Road Test

When the 2014 Mitsubishi Mirage was introduced at the 2013 New York Auto Show, many of us Cars.com editors thought the microcar was a joke. While there's nothing funny about its excellent fuel economy, a more-thorough evaluation did indeed prove that gas mileage is the Mirage's only facet worth smiling about. Turns out, "Mirage" is an appropriate name: Once you drive it, you'll hope it disappears.
The 2014 Mitsubishi Mirage takes the term "entry level" to a new low with its crude powertrain, cut-rate cabin and unpleasant road manners; not even bargain-basement pricing can redeem it.
Mitsubishi is resurrecting the Mirage name after a decade-plus hiatus. The car is available as a four-door hatchback and seats five … technically. It competes against other tiny entries like the Chevrolet Spark and Scion iQ (compare them here). The Smart ForTwo is similarly sized, but has only two seats.
Exterior & Styling
The Mirage is probably the most unremarkable-looking car on the road today. Those familiar with the boxy Mitsubishi compact sedan from the late '90s and early 2000s will scratch their heads at the latest iteration of the nameplate and its unbecoming, blob-like silhouette.
Resurrecting a familiar name makes sense from a marketing and brand-recognition standpoint, but the only thing the two generations share is a name, and I doubt owners of the old one will want anything to do with the new shapeless econo-box. In fact, one of our editor's kids ... Read more
From the 2013 New York International Auto Show, Cars.com's Kelsey Mays takes a look at the 2014 Mitsubishi Mirage.
Latest 2014 Mirage Stories
Very economical and reliable car
Exactly as advertised, Most inexpensive car on the market with the highest MPG anywhere. Averaged over 45 MPG, sometimes got 50 per tankful. No frills, not the most exciting car on the road, but it's ... Read full review
Very practical car
I've purchased 3 of these cars. They're perfect for in town and rural driving. I have the stick shift model and my spouses' is the CVT. They're always reliable and get very impressive MPG. In the ... Read full review