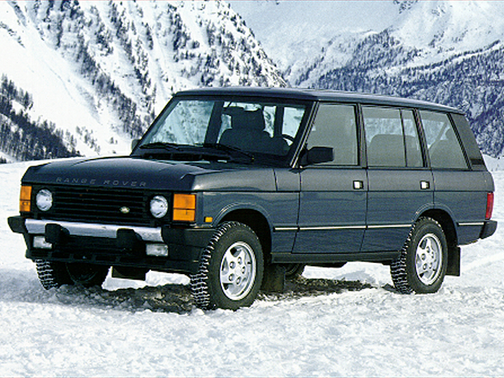 No 1993 Land Rover Range Rover inventory available
Get notified when this car becomes available. Sign Up.
Sign up to get notified
We understand it can be frustrating when the car you are interested in isn't available. Sign up to get notified when this car becomes available.
Already have a profile? Sign in.
Key specs
Base trim shown
Length not available, Height not available

Drivetrain not available
2 trims
Starting msrp listed lowest to highest price
1993 Land Rover Range Rover review: Our expert's take
Something has been nagging at me since I first test drove a Range Rover almost two years ago.
At that time, I felt $42,000 was far too much to pay for a sport-utility vehicle.
Since then I realized that I overlooked a thing or two.
The Range Rover is not just a sport-utility vehicle. It happens to be the very best off-roader money can buy.
Then it struck me: If you want the best – be it a Rolex watch or an Armani suit – you are going to pay something extra for the privilege of owning and flaunting it.
That's the way it is with luxury items, and the Range Rover is no exception.
Yes, you could very easily gad about town in a Ford Explorer or a Jeep Grand Cherokee, but those two vehicles don't convey the same message as the Rover, and they won't behave with the same refined manners when the going gets rough.
At fifty grand, the Range Rover County LWB – like a Jaguar or a Mercedes-Benz – is a status symbol that tells people you've made it.
PERFORMANCE
The appearance of Range Rovers hasn't changed much over the years, but almost everything else has. The test vehicle was outfitted with a new engine, a 4.2-liter fuel-injected aluminum V-8 that is rated at 200horsepower.
Performance is up, too – way up. At 4,574 pounds, the Range Rover is no lightweight. The powerful new engine delivers plenty of low-end torque for slow-speed maneuvers through bad terrain.
On the street, the Rover offers decent performance. In older models with the 3.5-and 3.9-liter engines, the Rover fell just short of allowing you to feel comfortable with its street performance.
Specifically, you were cautious about merging into traffic, especially when accelerating up interstate ramps. Now, the Rover is far easier to drive.
Some might say that the engine is noisy. Actually, you can hear it breathing heavily, especially when you take the vehicle off the road and wend your way over hills and through thick sand.
But the fuel-injected engine makes a pleasing sound. In a sense, it inspires your confidence in the vehicle.
Fuel mileage was the same as it has always been: poor. I averaged about 14 miles per gallon of premium unleaded in combined city/highway driving.
HANDLING
The 1993 Range Rover charges into new territory: It's the world's first sport-utility with a height-adjustable electronic air-suspension system.
This amazing piece of technology has completely transformed the way the Range Rover handles on the road and off.
A book could – and probably will be – written about how the system works. Briefly, Rover engineers have done away with the steel coil springs that have been used in the Range Rover since 1970. (Such springs still are used on every other sport-utility on the market.)
Instead of springs, the Range Rover rides on what are essentially four bags of air. Inside, the driver can change the vehicle's height a total of 5.1 inches.
Raising and lowering the vehicle is no gimmick to impress other drivers at stoplights. Say you want to put a heavy object in the vehicle through its tailgate – you just press a console-mounted button and the vehicle drops, making it easier to lift parcels into it.
Press another button and the Rover raises 1.6 inches higher than its normal ride height, allowing you to cross deep streams and climb steep hills without problems.
Land Rover of North America, the U.S. distributor of the vehicle, says the Range Rover can be safely driven through water up to 22 inches deep.
On the road, where Range Rovers are driven most of the time, the vehicle is far more predictable and stable in its handling than the old coil-sprung model.
High winds do not affect the Rover as much as they used to. And the body still leans considerably in turns, but you never get the feeling that it is unwieldy. Actually, the more you push the Rover to test its limits, the more it impresses.
In the Rover most minor bumps are dispensed with in the same manner as a Jaguar or a Mercedes-Benz. That is, the Rover has a soft and comfortable ride.
The power disc brakes are strong and powerful and come equipped with a state-of-the art anti-lock system that operates on all four wheels.
Less impressive is the power-assisted steering. On the road, it feels somewhat wooden. For instance, after a sharp turn, the wheels do not center themselves quickly. The steering consists of the old worm-and-roller type, not the more modern and precise rack and pinion.
FIT AND FINISH
The Range Rover gets high marks for the way it is bolted together. But I wonder how it will hold up over the years. Not well, I suspect.
I drove the test vehicle through several old orange groves and over many deep trenches. I heard no rattles or squeaks.
But I've looked at several 3-and 4-year-old Rovers and I have spotted things such as pieces of interior trim that are falling off or showing premature wear. Such things should embarrass the manufacturer of such an expensive vehicle.
Also, there are a few interior features that look old or are difficult and cumbersome to use. The air conditioner, for example, has five levers and is confusing to operate. And as the vehicle has grown more complex over the years, the dash and console have become home to many more buttons and switches than it originally was designed to accommodate.
The squarish instrument housing looks particularly dated.
On the plus side, the stylish leather-covered seats – front and rear – are great. They offer numerous adjustments and are excellent on long trips. There's plenty of padding for off-road adventures.
The LWB in the name stands for Long Wheelbase. It is 8 inches longer than the original model, which is still available. Most of that room was used between the front and rear seats. By the way, you can get only the 4.2-liter engine in the LWB. The regular Range Rover is equipped with the 3.9-liter unit.
There's real wood on the door panels, shifter, dash and console – not the fake stuff you find in Jeeps and Fords.
The test vehicle came outfitted with a sunroof and a CD player, two nice touches for such a vehicle.
There has been some talk of Lexus building a Range Rover-type vehicle.
I asked Land Rover's Bill Baker if he were worried about Lexus muscling into Rover territory. "I don't care what Lexus does. I know what we have coming," he said.
By 1995, a stylish new body is scheduled to be fitted to Range Rover's chassis. With such a change on the way, one wonders whether Rover will close the last gap in its reputation and build a vehicle that has the durability of a Mercedes-Benz or Volvo.
Truett's tip: For 1993, the Range Rover has a new suspension system, a longer wheelbase and a more powerful engine. If you buy a Range Rover and drive it only on the street, you'll never realize the amazing ability of the vehicle.
All model years for the Land Rover Range Rover
Show more years Show fewer years