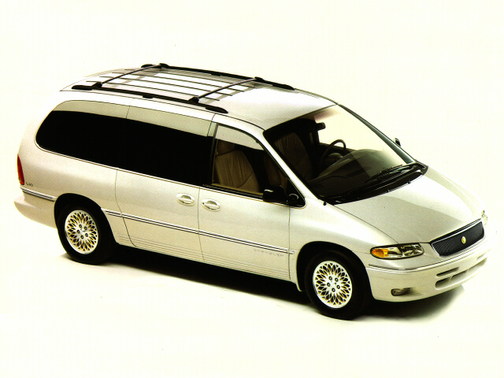 No 1996 Chrysler Town & Country inventory available
Get notified when this car becomes available. Sign Up.
Sign up to get notified
We understand it can be frustrating when the car you are interested in isn't available. Sign up to get notified when this car becomes available.
Already have a profile? Sign in.
Key specs
Base trim shown
3 trims
Starting msrp listed lowest to highest price
1996 Chrysler Town & Country review: Our expert's take
THE BILLBOARD spoke highly of the Buffalo Lodge and Grill. We figured it had to be as good as McDonald's. We stopped for breakfast.
The place turned out to be far better than any fast-food eatery. The food was great. The service was superior. Grill manager Kit West was genuinely nice. And the price for three people barely scratched $20.
We left feeling that the Buffalo Lodge and Grill folks knew how to run a business, that they took pride in providing top-quality service at a better-than-fair price, and that they actually cared about their customers.
At the end of our 8,000-mile, crisscross-country journey, we had similar feelings about the people who made the 1996 Chrysler Town & Country minivan — indisputably the best minivan on the market.
The Chrysler T&C never faltered, not in the mountains of Colorado, nor on the high-speed, long stretches of practically empty, rural highways that run through Wyoming and Montana. The T&C handled the hilly, urban congestion of Seattle with aplomb, as it did the intense, 100-plus-degree heat of Texas and central Georgia.
Chrysler invented the minivan market in 1984. If the tested T&C is representative of the company's 1996 minivan line, Chrysler now has reinvented that market and redefined the standards of minivan excellence.
Background: Minivan sales in general are slowing down, partly because more people are turning to four-wheel-drive, sport-utility vehicles — such as the Ford Explorer and Jeep Grand Cherokee — as their family vehicle of choice. But minivans still account for 1 million new-vehicle sales annually in the United States, a bit more than 5 percent of all new cars and trucks sold in this country.
That's a multi-billion-dollar market — enough to attract 20 minivan competing models, not one of which, so far, has managed to overtake Chrysler. Chrysler holds a 38 percent share of U.S. minivan sales, considerably less than its overwhelming 50 percent share in the 1980s, but still enough to maintain its dominance of that segment.
Obviously, Chrysler wants more; and as evidenced by its 1996 T&C, the company is going all out to get it. Here's how:
* The T&C and companion Plymouth Voyager and Dodge Caravan minivans have better interiors than any of their rivals, including the Ford Windstar, Chevrolet Lumina and Nissan Quest. The T&C's interior is well designed, making it easier for passengers to move around. Cargo volume in the tested T&C is 22 cubic feet with rear and center seats and 167 cubic feet without those seats.
* The new Chrysler minivans have the easiest-to-remove rear seats, because they're equipped with rollers. This makes more sense than the Honda Odyssey's foldaway rear seats. Honda misses the point. Rear seats mean extra weight. Extra weight means more fuel consumption. If you don't need those rear seats on a long trip, you want 'em out of the minivan. Period.
* Optional, dual-side sliding doors equipped with the best door handles on any car or truck sold in America. The Chrysler T&C handles were actually designed to fit the hand. They feel good! And the driver's-side sliding door just makes sense, especially if you're chauffeuring an elderly person who needs help to get in and out of the vehicle.
Other pluses include standard front discs/rear drum brakes with anti-lock backup; dual-front air bags; 1997 standard side-impact barrier protection; standard, four-speed automatic transmission; and a huge, tall windshield that enhances visibility and decreases driver fatigue.
The tested T&C was equipped with a 3.8-liter V-6 rated 166 horsepower at 4,300 rpm, with torque set at 227 pound-feet at 3,100 rpm. More economical four-cylinder and smaller six-cylinder engines are available. But the 3.8-liter V-6 is recommended for people who take long trips.
Complaints: The new Chrysler minis have lots of storage space. But some turkey in the company's design department failed to put storage pockets in the doors of the T&C. Lots of complaints about this from riders and minivan visitors.
Praise: It's simply the best minivan.
Head-turning quotient: The crisscross-country trip took two weeks, sometimes driving as much as 14 hours a day. We could've eliminated two days if we hadn't spent so many hours in rest-stop and motel parking lots answering questions about the new T&C. People, especially veteran Chrysler minivan owners, loved the looks of the thing.
Ride, acceleration and handling: Triple aces, even over rough roads and at high elevations. Braking was excellent.
Mileage: About 19 miles per gallon (20-gallon tank, estimated 365-mile range on usable volume of 87-octane unleaded), mostly highway, running with three occupants and 250 pounds of cargo, with air-conditioner full blast.
Sound system: Electronically controlled eight-speaker AM/FM stereo radio and cassette with graphic equalizer. Chrysler Infinity system. Excellent.
Price: Base price on the tested T&C is $23,960. Dealer's invoice is $21,800. Price as tested is $26,560, including $2,040 in options and a $560 destination charge.
Purse-strings note: The T&C is the top of the 1996 Chrysler minivan line. Less expensive models include the Dodge Caravan and Plymouth Voyager. Compare with Ford Windstar, Chevrolet Lumina/Pontiac Trans Sport, Mercury Villager/Nissan Quest, Toyota Previa and Honda Odyssey.
Warranty
New car and Certified Pre-Owned programs by
Chrysler
Certified Pre-Owned program benefits
Maximum age/mileage

5 model years or newer/less than 75,000 miles

Basic warranty terms

3 months/3,000 miles

Powertrain

7 years/100,000 miles

Dealer certification required

Roadside assistance

Yes
View all cpo program details

Have questions about warranties or CPO programs?

Compare the competitors

1995

Dodge Caravan

$16,145

starting MSRP

All model years for the Chrysler Town & Country

Show more years Show fewer years