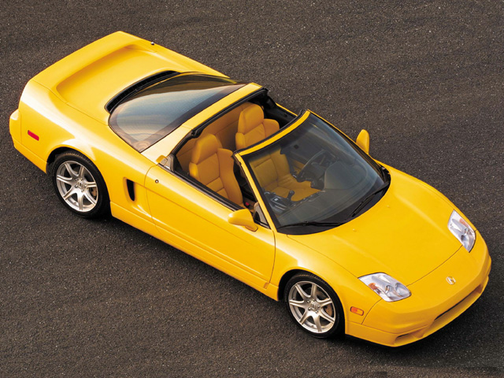 Key specs
Base trim shown
174.2" x 46.1"

Dimensions

Rear-wheel drive

Drivetrain
View all 2002 Acura NSX specs .
2 trims
Starting msrp listed lowest to highest price
2002 Acura NSX review: Our expert's take
The 2002 Acura NSX may be the most subtle exotic car on the road today.
I say subtle because it is often dismissed by high-performance snobs just because it's built by Honda.
I say subtle because most people don't know what they are looking at when they see one, and have never heard of it when they are told.
That is unfortunate for both groups — the supposedly all-knowing and the know-nothings.
When you think exotic — beyond high cost, incredibly powerful engines, muscular lines, minimal ground clearance, cockpit-like compartment — you also think about hard-to-find parts, expensive repairs and oil changes, and a finicky car.
The NSX has many of these traits, except the expensive to fix or maintain part or the unreliability.
It is, after all, a Honda.
That may be why some seekers of the exotic have turned away from the NSX as though it is some pretender to the world of high-performance, luxurious cars.
Perhaps the $90,000 price tag is just, well, too common, for their tastes. Why drop 90 Gs on a reliable car when you can spend two and three times that on a car that's finicky?
I admit, the NSX has gotten a bit long in the tooth since its introduction in 1991. In the first two years of sales, about 4,500 folks scooped them up for about $60,000.
Sales dropped to a few hundred per year after that, and Acura did little to the car to attract a new band of buyers. It got a bit more power (though it remains below 300 horsepower), a removable roof, a manual option for its automatic transmission, and a sixth gear for its manual transmission.
Acura also stuck stubbornly to pop-up headlamps that absolutely destroyed the looks of the car when engaged.
For 2002, some major tweaking has gone on.
First, fixed headlights have been installed, and they bracket a sharper hood that is set off by front fenders that look just plain Italianate in their sculpting. More than one person — people don't see many of these on the road — asked if it was some kind of Ferrari.
Body cladding is sharper around the lower edges, and the cladding itself has been lowered. It has also been given bigger tires, a thicker rear antiroll bar, and a wider rear stance.
The suspension is a double wishbone setup with gas-filled shocks front and rear. Steering is electric power-assist.
The engine remains either a 3.0-liter making 252 horsepower or a 3.2-liter (as tested) that produces 290 horsepower.
Now there are those who claim this is still way too little horsepower, though it is certainly more than you can sanely use on public roadways. After all, you're using that horsepower to move an aluminum-bodied car that barely weighs more than 3,000 pounds.
In fact, on those public roads, you can only let this car hint at its capabilities.
Touch the gas midway through a sharp corner, and it feels like it is sitting itself do wn, even as it carves a smooth track, like sharp downhill skiing.
Touch the gas again from a standing stop — and touch it just a bit harder at each upshift — and you can tell it would rocket forward if you could just let it run.
I'd love to get this car out on a racetrack, say Miami/Homestead, where you can run the road course, come out at a 90 degree left hand turn and find yourself hurtling down a Winston Cup straightaway.
The car is an absolute joy to drive.
Its steering is precise. It sits flat in corners and moves like a bug on water in and out of commuter traffic lanes.
The driver's seating position — low with a clean line over the sloped hood and muscular front fenders — is so comfortable you feel as if a 10-hour drive would be like sitting in a refined, Italian chair at home.
The shifter (six-speed manual in the test car) is tight and very precise, among the best I've ever used. Bringing the car to near redlin (8,000 screaming rpms) before each shift up led to confident "snicks" as the shifter went gear-to-gear.
Standard safety features include air bags, traction control, ABS, and side impact door beams.
Interior features include leather seating, automatic climate control, power seats for driver and passenger, and power windows and door locks.
The removable roof panel comes at no extra cost, as do Xenon high-intensity discharge headlights, 17-inch forged alloy wheels, power door mirrors, and a body-integrated rear spoiler.
Acura plans further upgrades to the NSX over the next four years, with a new skin possible for 2004 and a complete makeover for 2006.
There are even reports of a version of the NSX that would have a gasoline engine providing 300 horsepower to the rear wheels while an electric motor sends 100 horsepower to the front wheels. That would look good at the line next to a Honda Insight or Toyota Prius.
In the meantime, the NSX moves subtly along as an exotic car and something of a cult favorite. The upgrades for 2002 are solid, but I can't wait to see this car reborn.
2002 Acura NSX 3.2
Base price: $89,900
Price as tested: $89,745
Horsepower: 290
Torque: 224 lb.-ft.
Wheelbase: 99.6 inches
Overall length: 174.2 inches
Width: 71.3 inches
Height: 46.1 inches
Curb weight: 3,164 lbs.
Seating: 2 passengers
Fuel economy: 19.9 miles per gallon
Source: Acura Division, North American Honda Corp.; fuel economy from Globe testing.
Nice touch
I'd like to think I had something to do with this decision because of my ragging on Acura executives up close and personal one summer in Maine, but they have finally stopped charging $90 for floor mats. Ninety bucks for rugs in a $90,000 car seemed a bit ridiculous.
Annoyance
Besides introducing some bold new colors, Imola orange (as tested) and Long Beach blue, Acura has decided to carry those exterior colors into the panels of the leather seats. Maybe it was the orange, but it struck me as garish.
New car program benefits
Bumper-to-bumper

48 months/50,000 miles

Corrosion

60 months/unlimited distance

Powertrain

48 months/50,000 miles

Roadside assistance

48 months/50,000 miles
Certified Pre-Owned program benefits
Maximum age/mileage

6 years old and newer from their original in-service date, with 80,000 miles or fewer at time of vehicle delivery.

Basic warranty terms

2 years/100,000 miles

Powertrain

7 years/100,000 miles

Dealer certification required

Roadside assistance

Yes
View all cpo program details

Have questions about warranties or CPO programs?

All model years for the Acura NSX

Show more years

Show fewer years