$18,040–$25,840 MSRP range
Key Specs
of the 2017 Jeep Patriot base trim shown
From the Cars.com Vehicle Test Team
The Good
Inexpensive base model
Available off-road low-range gear
Visibility
The Bad
Anemic power (2.0-liter engine)
Steering wheel doesn't telescope
Noisy interior at highway speeds
Continuously variable automatic transmission option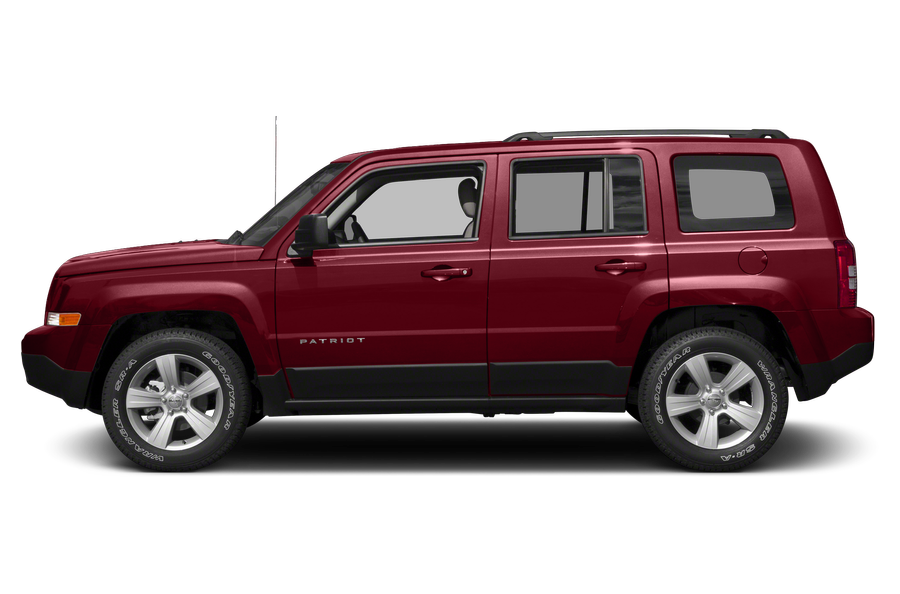 Notable Features of the 2017 Jeep Patriot
Five-seat compact crossover
Choice of four-cylinder engines
Manual or automatic transmission
Front- or four-wheel drive
Off-road model available
Flip-down liftgate speakers available
2017 Jeep Patriot Overview
Vehicle Overview
What it is: The Jeep Patriot compact SUV shares its platform with the Jeep Compass and is the less expensive model of the two. It seats five and comes with a choice of four-cylinder engines and front-wheel drive or one of two full-time four-wheel-drive systems. The more capable four-wheel-drive system gets Jeep's Trail-Rated designation, meaning it can meet certain off-road standards for traction, water fording, ground clearance and more. Patriot competitors include the Ford Escape, Honda CR-V and Subaru Forester.
New for 2017
There are no significant changes.
Significant Standard Features
158-horsepower, 2.0-liter four-cylinder engine
Five-speed manual transmission
Front-wheel drive
Seats five
60/40-split folding backseat
Fog lights
Bluetooth connectivity
Cruise control
Required in every new car: front airbags, antilock brakes and an electronic stability system
Significant Available Features
172-hp, 2.4-liter four-cylinder
Six-speed automatic or continuously variable automatic transmission
Off-road package with upgraded four-wheel-drive system
Remote keyless entry
Air conditioning
Power moonroof
Backup camera
Navigation system
Leather-trimmed seats
Heated front seats
Heated power-adjustable side mirrors
Vehicle Overview
What it is: The Jeep Patriot compact SUV shares its platform with the Jeep Compass and is the less expensive model of the two. It seats five and comes with a choice of four-cylinder engines and front-wheel drive or one of two full-time four-wheel-drive systems. The more capable four-wheel-drive system gets Jeep's Trail-Rated designation, meaning it can meet certain off-road standards for traction, water fording, ground clearance and more. Patriot competitors include the Ford Escape, Honda CR-V and Subaru Forester.
New for 2017
There are no significant changes.
Significant Standard Features
158-horsepower, 2.0-liter four-cylinder engine
Five-speed manual transmission
Front-wheel drive
Seats five
60/40-split folding backseat
Fog lights
Bluetooth connectivity
Cruise control
Required in every new car: front airbags, antilock brakes and an electronic stability system
Significant Available Features
172-hp, 2.4-liter four-cylinder
Six-speed automatic or continuously variable automatic transmission
Off-road package with upgraded four-wheel-drive system
Remote keyless entry
Air conditioning
Power moonroof
Backup camera
Navigation system
Leather-trimmed seats
Heated front seats
Heated power-adjustable side mirrors
Latest 2017 Patriot Stories
My first Jeep and I am love.
I love all the features this jeep has, from the heated seats, the anti-glare rear-view mirror, and even the vents are cool. I am very pleased with the gas mileage too. I had a small car before and was ... Read full review
Very happy with my Jeep!
I've been very happy with my Jeep Patriot from Concord Cars! They have exceptional service, and I've really enjoyed driving my new vehicle! Nothing but good to say about Jeep! Read full review
Recalls
The 2017 Jeep Patriot currently has 0 recalls
All Model Years for the Jeep Patriot