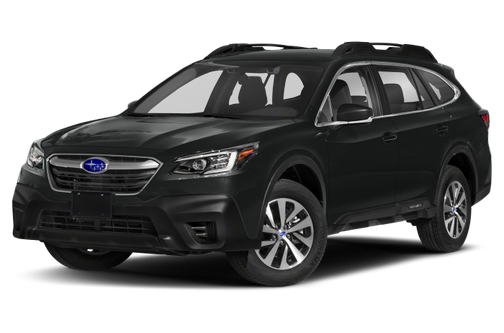 Key specs
Base trim shown
8 trims
Starting msrp listed lowest to highest price
2022 Subaru Outback review: Our expert's take
Subaru has a bit of a problem: What do you do when half a dozen automakers have stolen the formula for your most popular product: the Subaru Outback, a lifted, beefy, quasi-off-road-ready, mid-size family station wagon? Seems competitors from Audi to Volvo have a similar product these days, and even Buick got in on the action for a while with the Regal Tour-X. Well, the answer Subaru has put forth is to take the things that make the Outback so popular with its intended audience and turn those up a notch. And that has generated the 2022 Subaru Outback Wilderness.
Related: 2022 Subaru Outback Wilderness: 4 Things to Know About the Most Capable Outback
The Wilderness trim is new and will be to Subaru's crossovers what the STI trim is to the company's sports cars: more of what customers love about their Subarus, but instead of go-fast bits and rally-inspired styling, we're getting lifted suspensions, more capable tires, rugged styling and modified parts meant to emphasize the outdoorsy attitude so many Subie owners jive to. We took a new 2022 Outback Wilderness for a spin in Southeast Michigan for an afternoon driving it over a mixture of suburban streets, interstate highways and some aggressive off-road terrain to see if the changes to make this new "Outback Plus" have turned an already capable family wagon into something more.
It Looks That Way for a Reason
The most obvious changes to the Outback Wilderness are the styling modifications that set it apart. Almost all the chrome is gone, inside and out, replaced with blacked-out trim, "anodized copper" plastic bits and flat plastic trim on the bumpers, wheel arches and side sills. I don't know that the Outback needed oddly shaped, massive plastic wheel arch trim, but that's exactly what it has now. A careful look at the new trim reveals thought behind the actions. The foglights are now hexagonal pattern LEDs and they've been moved inboard to the center of the new bumper, away from the corners where they're more likely to be damaged. Those wheel arches have flares that considerably stick out from the body to deflect rocks and stones from the paint. It also helps emphasize the new height at which the Outback Wilderness sits, nearly an inch taller than the regular Outback thanks to new shocks and springs.
There's a host of off-road goodies attached to the new Outback Wilderness that aim to better preserve it in challenging off-road situations. An aluminum skid plate has been affixed up front, and you can choose from a host of additional steel underbody bits to protect the rest of the Wilderness' tender parts, like the gas tank. The tires are actual all-terrain Yokohama Geolandar A/T rubber, with much more aggressive tread patterns than you'll find on a typical Outback or on many other crossovers and SUVs for that matter. They wrap unique black-painted 17-inch wheels of which there are five on the Wilderness, including a full-size spare under the cargo area that's identical to the other four wheels and tires on the car. If you puncture a tire on the trail, you can throw on the spare and get back to where you came from without an issue.
Up top is something that Outback owners have been clamoring for: a roof rack strong enough to mount a rooftop tent. It's a ladder-type rack, not the swing-away crossbar version seen on lesser Outbacks. It has a dynamic maximum load rating of 220 pounds, which is a considerable amount, but it has a static max load rating of 700 pounds. That means you can mount your tent up there, and when you've reached your remote campsite, unfold it and sleep two full-sized humans without risk of damaging the roof. Note the difference between static and dynamic load ratings, however — you cannot leave anything more than 220 pounds up there if you plan to drive anywhere, as it will damage the rack, the roof and make the car much more susceptible to tipping over in an emergency situation.
It Does Not Drive Like a Regular Outback
Sum up all the changes to the Outback Wilderness over a standard Outback or an Onyx Edition XT and you come up with a car that's clearly meant to be more capable in the muck. Even Subaru admits that the changes do take their toll on the on-road driving experience, trading on-pavement sophistication for a much more capable dirt-road experience. As such, on the pavement around suburban Detroit, the Outback Wilderness feels decidedly taller, softer, more roly-poly in the corners. It's cushier than the more buttoned-down, almost European-feeling regular Outback. I've likened the lesser Outback to a budget Volvo V90 Cross Country — tight, refined, with an excellent balance of ride and handling. The Outback Wilderness is clearly skewed toward specialty rough-road driving. It feels more like the taller Subaru Ascent crossover than a family wagon. It's not unpleasant or unsettling, just clearly a different animal than the basic Outback.
But then you get off the pavement and the Wilderness really shines. The Wilderness is indeed the Outback Plus you've been waiting for if you live on a dirt road, if you're a frequent outdoor adventurer, if you camp in truly out-of-the-way spaces or if your commute involves logging trails. Washboard dirt road surfaces don't faze it in the slightest thanks to the softer suspension, tall sidewall tires and highly damped steering. It might be slightly louder on-road because of the more aggressive all-terrain tires, but their extra grip is welcome in the dirt. The Outback Wilderness will power up or down some extraordinarily steep hills, and it can climb over some significant obstacles with its extra ground clearance that has increased its ride height and dramatically improved its approach, breakover and departure angles.
While it doesn't have true four-wheel drive or a mechanical torque-vectoring system, the electronic enhancements it does have amplify its mountain goat feel, including the revised continuously variable automatic transmission ratios that boost low-end torque. The only engine available is the turbocharged 2.4-liter boxer four-cylinder that's optional on lesser Outbacks; its 260 horsepower and 277 pounds-feet of torque is more than adequate to keep the Outback moving smartly. The new gearing, extra weight and all-terrain tires catch up to you at the pump, however: The Outback Wilderness gets the worst EPA-estimated fuel economy out of the Outback lineup: 22/26/24 mpg city/highway/combined. Compare that to other turbocharged Outbacks' 23/30/26 mpg get or the non-turbo models' 26/33/29 mpg.
Changes have also been made to the Subaru X-Mode. There are two levels: Snow/Dirt and Deep Snow/Mud, and each one changes tuning of the throttle response, wheel-slip allowance, all-wheel-drive response, automatic hill descent control and more. The Snow/Dirt selection is the one I preferred on my romp around Holly Oaks ORV Park just north of Detroit. Despite the Subaru staff's suggestion to use the Deep Snow/Mud setting to help keep the revs up, I found the far less jumpy throttle response of the Snow/Dirt setting to be a much smoother, more controllable experience. The throttle response for Deep Snow/Mud is far too twitchy and sensitive when trying to climb a rutted, bumpy grade as the terrain causes your foot to jerk on the pedal, setting up an unsettled and unpleasant pogoing motion to the powertrain. Better to use Snow/Dirt on most terrain, unless you're actually facing deep snow or lots of slippery mud.
Outdoor-Ready Insides
Like the Outback Onyx Edition XT, the Wilderness trim features Subaru's StarTex wetsuit-like neoprene material for the seats. It's water resistant, wipeable and looks good with the contrasting copper accents that will be a Wilderness signature element. Like the outside of the Wilderness, the interior is almost entirely devoid of shiny chrome, replaced instead with anodized copper and dark gunmetal accents. Rubber floormats are standard, and there are thoughtful, useful ruggedized touches throughout the interior, such as a black headliner that won't show dirt scuffs if you rub a mountain bike tire against it or vinyl second-row seatbacks that can be washed off if your dirty gear touches them. The rest of the interior is the typical comfortable, well-made, relatively spacious and easy-to-see-out-of Outback design, one that's proven popular with families.
Subaru's massive vertically oriented multimedia system is also present, but navigation is still an option. We're of mixed opinion on Subaru's big touchscreen and icon system — it's quite similar to a smartphone interface with all the good and bad that portends. It has a lot of information in a small space, but it can often be tricky to find what you're looking for in quick fashion. All of Subaru's standard safety equipment is also present, again for better and worse. The trademark EyeSight forward collision safety system is still overly sensitive, the automatic cruise control still beeps annoyingly at seemingly everything, the lane keep assist still feels like it fights you on the highway. I continue to find myself disabling half of the automatic safety system minders in any Subaru I get in just so that I can peacefully drive the car, which is not really something you want customers to do when they get in one of your vehicles. Suffice it to say, they're all there if you want them.
It Doesn't Cost As Much As You'd Expect
So what's the Outback Wilderness' pricing? Not as plus as you'd think. The starting price for the new 2022 Outback Wilderness is just $38,120 including destination charge. Moonroof, navigation and reverse automatic braking safety system will run you $1,845, making a loaded Outback Wilderness just $39,965. That's a screaming deal for a highly capable, off-road-ready, unique adventure vehicle that already comes with a lot of specialized equipment and purposeful modifications that others would need to add to competitor vehicles.
So yes, while purists may lament that the Outback isn't a proper four-wheel-drive adventure vehicle, Subaru customers are likely going to snap up the new Outback Wilderness in record fashion. It's a little more capable, a little more rugged, a little more specialized and a little more useful for people who do go off into the wilderness with their Outback. For those customers, the new Wilderness will be spot-on perfect.
Cars.com's Editorial department is your source for automotive news and reviews. In line with Cars.com's long-standing ethics policy, editors and reviewers don't accept gifts or free trips from automakers. The Editorial department is independent of Cars.com's advertising, sales and sponsored content departments.
Warranty
New car and Certified Pre-Owned programs by
Subaru
Certified Pre-Owned program benefits
Maximum age/mileage

5 years/80,000 miles

Basic warranty terms

Coverage available for purchase

Powertrain

7 years/100,000

Dealer certification required

152-point inspection

Roadside assistance

Yes
View all cpo program details

Have questions about warranties or CPO programs?

All model years for the Subaru Outback

Show more years

Show fewer years